Handel's Messiah and A Nova Christmas
Centennial Hall and Trinity Episcopal Church
Friday, December 14, through Sunday, December 16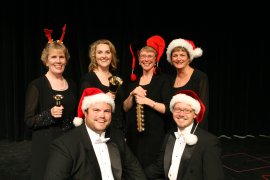 The older I get, the more I enjoy knowing that some holiday traditions always endure, such as the day-long playing of Christmas tunes in the Reader offices, or the City of Davenport inadequately plowing our Western Avenue parking spaces.
Okay, so I don't enjoy that second one so much. But two other seasonal events should bring a smile to area faces.
On December 14, Davenport's Trinity Episcopal Church presents the Nova Singers' annual A Nova Christmas concert, which will find the professional vocal ensemble performing selections from its newest CD, Mid-Winter, a combination of standards such as O Little Town of Bethlehem and Mary Had a Baby alongside new arrangements of We Three Kings and Thou Shalt Know Him.
And at Augustana College's presentations of The Messiah, occurring December 14 through 16, Handel's masterpiece will again to brought to life by a thrilling, 250-voice chorus in the school's Centennial Hall. For those who don't know, this annual tradition originated in 1879, after theology professor Olaf Olsson saw The Messiah during a trip to London, and found himself so inspired that he returned to Augie and founded the Handel Oratorio Society - still active after 128 years. You know, I tried initiating a society here once, after returning from a screening of Hairspray. But it only lasted a week.
Todd did look cute in that dress, though.
Tickets to A Nova Christmas are available by calling (309) 341-7038; for Messiah tickets, call (309) 794-7306.
Jennifer Daniels
Augustana College
Friday, December 14, 8 p.m.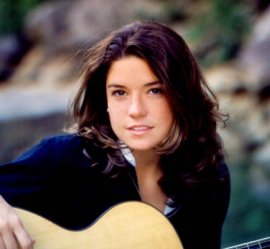 I'm not one who generally rushes out to buy a new album just because it received a rave review. In researching singer-guitarist Jennifer Daniels, however, I came across this quote in the weekly newspaper Creative Loafing Atlanta, in reference to the musician's third CD: "If you're in need of an antidote to all things Britney-like, Daniels' latest effort Summer Filled Sky is like taking 12 doses of sanity in a world gone wrong."
I'd like half a dozen, please.
Performing at Augustana College's Tredway Library on December 14 - in the building's Brew by the Slough café - Daniels is a passionate vocalist whose sound has been compared to Ani DiFranco's and Sarah McLachlan's, and whose songwriting skills led the All Music Guide to rave: "Jennifer Daniels exudes a persona that is equally gutsy and sensitive, penning confessional tales and attaching them to memorable melodies and rich arrangements."
While at Augustana, expect Daniels to perform holiday hits from her new Christmas LP A Thrill of Hope, but from what I can tell, there's not much you shouldn't expect, as Performing Songwriter magazine stated that "Daniels flirts with rock, pop, and anything else that comes into her musical path."
That racket you're currently hearing is the sound of hundreds of Augustana guys quickly learning to play guitar.
For more information on Daniels, visit (http://www.jenniferdaniels.com).
The Damwell Betters
Rock Island Brewing Company
Thursday, December 13, 10 p.m.
Recently - and to my great surprise - I discovered that my dad thinks my language in Reader articles is frequently, shall we say, inappropriate. I would, therefore, like to apologize to my father and anyone else I may have offended, and assure everyone that I plan to significantly clean up my act.
Now, on to business.
On December 13, the Rock Island Brewing Company hosts the five-piece rock outfit the Damwell Betters. The Damwell Betters' blend of punk, alt-country, and pop has damn well electrified the Springfield, Illinois, music scene; music promoter Brian Reilly is quoted as saying, "You know a night with the Damwell Betters is gonna be a crowd-pleaser."
As Tom Irwin stated in the Illinois Times, the Damwell Betters combine "classic rock and country Americana to make a mix you damn well don't want to miss," and the group's CD Make Love Not Babies, he added, "is a tight, resourceful recording that is heartfelt and powerful ... a complete package of music to damn well rave about."
And how cool to learn that the Damwell Betters are composed less of friends than brothers, as the group's MySpace page lists the band as including "Josh Damwell, Patrick Damwell, Jordan Damwell, Joe Damwell, and Marc Damwell."
So that's the Damwell Betters. How'd I do, Pop?
For more information on the group's RIBCO appearance, visit (http://www.ribco.com).
Galen Abdur-Razzaq
The Redstone Room
Sunday, December 16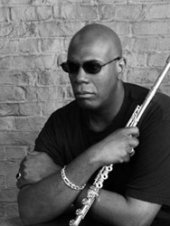 The artists brought in for the monthly Third Sunday Jazz Matinee & Workshop Series at the Redstone Room are such topnotch musicians that it's easy to overlook their talents as educators.
Take, for instance, Galen Abdur-Razzaq, who brings his superior jazz-flute skills to the Davenport venue on December 16. A graduate of Rutgers University, Abdur-Razzaq has played alongside such noted recording artists as pianist Billy Taylor, drummer Eddie Gladden, and trombonist Clifford Heath, and has been one of the country's most sought-after jazz performers for more than 30 years.
Yet as adept as Abdur-Razzaq is on the jazz flute, he has been equally lauded for his gifts on the dais; as the featured artist with the Orlando-based entertainment company Flute Juice Productions, Abdur-Razzaq offers lecture-circuit presentations titled "Women & Jazz" (on styles ranging from early ragtime to post-bebop), "Tune Up" (on the works of Fletcher Henderson, Duke Ellington, and John Coltrane), and "History of Jazz" (on ... well ... everything).
Impressive stuff, and based on that accompanying photo, I'm thinking that if the music-and-education thing still doesn't work out for him, he can always get cast as James Bond in A View to a Trill. (You have no idea how hard I laughed when I came up with that pun. And ... yep ... it sounds like I'm the only one who did laugh.)
More information on the Third Sunday series is available by visiting (http://www.redstoneroom.com).
My Fair Lady
Hancher Auditorium
Wednesday, December 12, through Saturday, December 15
A revival of Lerner & Loewe's beloved musical My Fair Lady will be performed at Hancher Auditorium December 12 through 15, and boasts the participation of four-time Tony-winners Cameron Mackintosh and Trevor Nunn, and two-time Tony-winner Matthew Bourne. Jeez, it's not enough that all these guys owned Broadway at one time or another ... now they're taking over Iowa City?!
Then again, when the producer and director of Cats and Les Misérables and the choreographer of Broadway's Mary Poppins and Swan Lake team up, you let 'em take over anything they want to.
With a score that includes such classics as "The Rain in Spain," "I Could Have Danced All Night," "Wouldn't It Be Loverly," and "On the Street Where You Live," this visiting production was described by Florida's Sun-Sentinel as "without a doubt one of the year's best musicals, regardless of vintage." Yet despite it currently enjoying a 50th anniversary, producer Mackintosh believes My Fair Lady to be more relevant than ever; citing the English precursor to American Idol, Mackintosh has touted the show's "timely story of a girl from the gutter being given the chance to prove that she's the fairest lady of them all" by saying, "Pop Idol, eat your heart out!"
I'm assuming that Mackintosh would hold the same opinion about American Idol. Though I imagine Jordin Sparks might have something to say about Phoenix, Arizona, being considered a gutter ... .
Tickets can be reserved by calling the Hancher box office at (319) 335-1160.