Go Fish
Adler Theatre
Thursday, December 18, 7 p.m.
Jamie Statema, Jason Folkmann, and Andy Selness are the men of Go Fish, one of the most unique groups in the music industry. In 1993, Statema formed Go Fish - then a Christian-influenced a cappella group aimed at adults - and their first independent project, recorded in 1995, sold more than 100,000 copies.
Despite their early success, they felt the need to switch things up, and in 2003 released their first children's a cappella record, Splash. "If this was all over today, I would look back and remember the first weekend we did our kids' concerts," says Statema on the band's Web site (GoFishGuys.com). "Because after eight years of doing Go Fish, we all knew what those years were for - without a doubt, we knew where God wanted us. It was a crazy journey to get to that place, but so clear how necessary those years were to prepare us for what we're doing now."
Since Splash, the men have stuck to recording children's albums, their most recent being Party Like a Preschooler. All the members of the group are married, and Statema and Selness are now both parents, making their outreach more personal. "When you have children, you want to protect them with everything you have, but you can't," says Statema. "And so, when you open that door and let someone else play a part in the life of your child, that is a huge thing, especially when that person is talking about principles for living. We take that responsibility extremely seriously."
Go Fish performs at 7 p.m. on December 18, and for more information on the event, visit AdlerTheatre.com. - Ashley Allen
Groovatron
Bent River Brewing Company
Saturday, December 20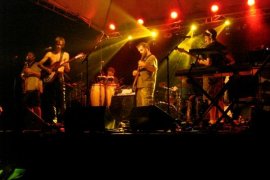 The musicians of Groovatron, who play the Bent River Brewing Company on December 20, were the recipients of Jambase.com's "Best Breakthrough Performance" citation following the 2006 Wakarusa Music Festival, and describing the band in Hittin' the Note Magazine, Jaime Lee wrote, "They play with abandon and, like any good spice, boast a flavor that is enhancing from beginning to end."
Ah ... just like the Reader staff.
Composed of Andy Dumareq, Nicholas Ferrer, Tony McCullough, Steve Pesich, Marc Quagliara, and Tony Qualls, Groovatron's blend of funk and progressive rock has found fans among music critics (Relix magazine's Mick Skidmore called the group "an exceptionally fine 21st Century band"), fellow rockers (members of Umphrey's McGree and the String Cheese Incident have sat in as guest musicians), and audiences at the 600-plus live shows Groovatron has thus far performed.
And if you visit Groovatron.com, you'll get an excellent sense of both the band's sense of humor - Ferrer, bless him, has a feature titled "Nick's Simpsons Quote of the Week" - and the completely unpredictable nature of Groovatron concerts, which, we are told, "can take any number of forms, from synchronized dancing and matching (and sometimes non-matching) costumes" to "full-blown skits including pajama jammy jams, beach parties, interstellar robot fights, and '70s funk parties."
Ah ... just like Reader staff meetings.
For more information on Groovatron's Saturday-night concert, visit BentRiverBrewery.com. - Mike Schulz
The Santaland Diaries
Harrison Hilltop Theatre
Saturday, December 20 and Saturday, December 27
See the guy in the accompanying photos? That's Mark.
Okay, you probably figured that out.
On December 20 and 27, the Harrison Hilltop Theatre presents actor Mark Lingenfelter in The Santaland Diaries, based on author David Sedaris' hysterical, unforgettable, true-life tale of the season he found himself employed as an elf at New York's Macy's department store. Lingenfelter assumes the one and only role in this one-act adaptation of Sedaris' holiday memoir, and while the actor's talents in such Circa '21 productions as Show Boat, Hello Dolly!, Joseph & the Amazing Technicolor Dreamcoat (a personal favorite of mine), and the current A Wonderful Life and Snow White make him an ideal casting choice, so does Lingenfelter's job history - during one season in New York, the man actually was an elf at Macy's.
And here's a little quiz to get you in the proper spirit for this hilariously untraditional holiday presentation and its original creator's sardonic wit. Which of the following quotes is not attributed to David Sedaris?
1) "If you're looking for sympathy, you'll find it between 'shit' and 'syphilis' in the dictionary."
2) "I always got along with all types of people - popular people as well as drug addicts."
3) "I haven't the slightest idea how to change people, but I still keep a long list of prospective candidates just in case I should ever figure it out."
4) "I recall thinking that the computer would never advance much further than this. Call me naïve, but I seemed to have underestimated the universal desire to sit in a hard plastic chair and share at a screen until your eyes cross."
5) "I've considered taxidermy. I always thought it was a shame you couldn't do that on people."
6) "Seven beers followed by two Scotches and a thimble of marijuana and it's funny how sleep comes all on its own."
For more information on, and tickets to, Santaland Diaries, visit HarrisonHilltop.com. - Mike Schulz
Answer: B. That one's actually a quote by David's sister - humorist Amy . Man, family dinners when they were growing up must've been nuts, huh?
American Stars: Former American Idol Stars in Concert
Adler Theatre
Saturday, December 20, 8 p.m.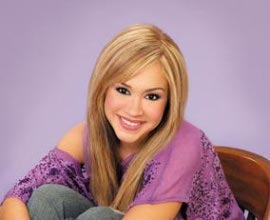 Davenport's Adler Theatre plays host to the national tour of "American Stars: Former American Idol Stars in Concert" on December 20, a holiday-themed evening featuring the musical talents of Chizekie, Diana DeGarmo, David Hernandez, and Kimberly Locke. If you've been a loyal Idol fan over the years, these names will no doubt be familiar to you. If you haven't, here's a convenient go-to guide, so when you hear Saturday's screaming at the Adler, you'll know a little something about whom they're screaming for:
| | | | | | | |
| --- | --- | --- | --- | --- | --- | --- |
| | Appeared in American Idol Season __ | Age | Born in ___ | Musical genres | Post-Idol Highlights | Song you might not want to bring up in her/his presence * |
| Chikezie | 7 | 23 | Inglewood, California | Soul, R&B | Album Chikezie Eze; single "I Have Dreams" | Luther Vandross' "If Only for One Night" |
| Diana DeGarmo | 3 | 21 | Birmingham, Alabama | Country, pop, R&B | Album Blue Skies; Broadway's Hairspray | Melissa Manchester's "Don't Cry Out Loud" |
| David Hernandez | 7 | 25 | Phoenix, Arizona | Soul, pop, gospel | Singles "Yo Name"; "Hold On" | The Beatles' "I Saw Her Standing There" |
| Kimberly Locke | 2 | 20 | Hartsville, Tennessee | Country, pop, R&B | Albums Based on a True Story; Christmas; One Love | Natalie Cole's "Inseparable" |
For more information on the "American Stars: Former American Idol Stars in Concert" event, visit AdlerTheatre.com. - Mike Schulz
* Yeah, these were all sung on the contestants' final nights of American Idol. If you get to meet the performers after their Adler show, be a sport and don't tell 'em I told you.
A Nova Christmas
First Congregational Church in Moline, First Lutheran Church in Galesburg
Friday, December 19, and Saturday, December 20, 7:30 p.m.
Neither a PBS special nor the promise of the most scaldingly hot holiday season ever, A Nova Christmas is actually the annual presentation by the Nova Singers, the 20-voice professional ensemble that has performed public concerts - and has participated in state, regional, and national music conventions - since the group's inception in 1986.
Taking place at Moline's First Congregational Church on December 19 and at Galesburg's First Lutheran Church on December 20, this year's Nova Christmas concerts will, as ever, find the ensemble performing under the direction of noted Knox College professor Laura Lane. Yet the Nova Singers will also be sharing their church venues with two groups no less enthusiastic than the Galesburg-based group, albeit considerably shorter: Members of the Holiday Children's Pops Children's Choir will lend their talents to Friday's Moline program, while the Carl Sandburg Children's Choir will take part in Saturday's Galesburg concert.
Among the inclusions in this season's Nova Christmas presentations will be a series of holiday-themed folk and jazz numbers, an audience sing-along of familiar yuletide tunes, new arrangements of traditional Christmas songs from Spain, beloved carols from England, the haunting "Carol of the Bells," and what is sure to be a Nova Christmas highlight: a performance of composer Morten Lauridsen's a cappella classic, "O Magnum Mysterium." Which, as a Christmas gift to myself, is what I'm officially changing my name to.
Tickets to the Nova Christmas concerts are $15 for adults and $10 for seniors, with students admitted free, can be reserved by calling (309) 341-7038; for more information on the Nova Singers themselves, visit http://deptorg.knox.edu/novasingers. - O Magnum Mysterium