Holiday Train
Downtown Davenport
Friday, December 5, 7 p.m.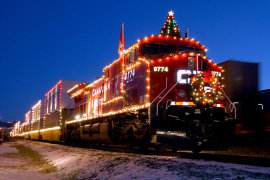 On Friday, the Quad Cities will see the arrival of the Holiday Train, a decade-long tradition of Canadian Pacific that supports area food banks while raising awareness in the fight against hunger during the holiday season. Almost 1,000 feet long and carrying 14 rail cars that will be decorated with hundreds of thousands of lights, the Holiday Train has helped raise more than $3.5 million and generate 1.8-million pounds of food donations since 1999, and includes a box car that has been modified to transform into a traveling stage.
This year, the Quad Cities area was selected as one of only 11 communities in Canadian Pacific's newly acquired Midwest DM&E territory. Churches United will receive the proceeds of this particular stop, which will benefit local food pantries, and although the event is free, cash and food donations will be accepted. For every dollar donated, Churches United can buy seven pounds of food.
The rolling fundraiser will offer a warming area with hot chocolate, cookies, and performances by choirs and bands, and performing on the stage this year will be award-winning blues artist Shaun Verreault and award-winning singer/songwriter Melanie Doane. People are encouraged to bring lawn chairs and blankets, and for those who choose to drive by to make a donation and see the train, there will be a drive-through area available.
Friday's event will begin at 7 p.m. at the Florian Keen parking lot next to Modern Woodmen Park, and the train is scheduled to roll into town at 8 p.m. For more information on the event, call Anne Wachal at (309) 786-6494. - Ashley Allen
Christmas in the Village
The Village of East Davenport
Friday, December 5, and Saturday, December 6
With Christmas approaching, we tend to look back on holidays past and fondly recall our favorite traditions. For instance, "Hot Cockles" was a popular Christmastime game during medieval times in which one player was blindfolded while the other players took turns striking the blinded player, and that player had to then guess the name of the person delivering each blow.
A significantly more enjoyable tradition, though, is the Village of East Davenport's annual Christmas Walk and Christmas in the Village, taking place on Friday, December 5, and Saturday, December 6, from 6 to 9 p.m.
Christmas Walk visitors will have the opportunity to view living merchant windows and a living nativity in St. Paul's Garden. Visitors are encouraged to visit with Santa, ride in horse-drawn carriages, sip hot cocoa or cider, nibble on cookies, and warm up at any of the several fire pits located throughout the Village. Visitors will also be able to enjoy wagon rides, carolers from local schools and churches, roving musicians and music ensembles, the Candy Cane Corner, the Jersey Ridge Jingle, and Saturday's 9 p.m. finale, which includes fireworks.
Christmas in the Village also takes place on December 13 and 14, and admission is free. For more information, visit VillageofEastDavenport.com. - Ashley Allen
Seussical Jr.
St. Ambrose University's Galvin Fine Arts Center
Saturday, December 6 and Sunday, December 7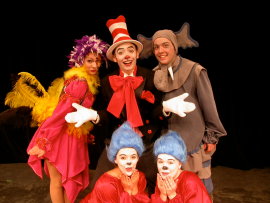 On December the sixth, and again on that Sunday,
St. Ambrose (in Davenport) gives you a fun way
To hang with your kids and enjoy a great show
that I'm betting a bunch of you already know.
It's the Seussical musical, playing this weekend,
though parts of the piece are substantially tweak-ened,
'Cause this one is Seussical - Junior Edition.
Yet don't be afraid of some glaring omission -
With all of your favorite characters in it,
plus Seussical's humor still up-to-the-minute,
The show will retain all its magical power.
And this one clocks in at just under an hour!
The Cat in the Hat and the Grinch and the Whos,
and those costumes with all of their eye-catching hues,
Will be there for your kids' (and your own) entertainment.
Not bad when just seven, eight bucks is your payment!
The music is pretty, the gags are quite funny -
You'll likely get more than its worth from your money.
(And wait until Horton the Elephant croons
His "Alone in the Universe." Everyone swoons.)
Now the Web site for Galvin will give you some facts
On the cast and the crew, but for tickets, relax,
Because using the phone is how that job gets done.
Just call (333) 563-6251. - Mike Schulz
Parker House and Theory
Rock Island Brewing Company
Thursday, December 4, 10 p.m.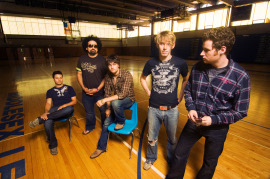 Composed of guitarists Eric-jon Tasker and Carlos Foglia, bassist Colin Lewis, drummer Marcos Valles, and keyboardist Andy Wesby, the musicians of Parker House and Theory - playing the Rock Island Brewing Company on December 4 - share a common bond: While students at Boston's Emerson College, all were either acting or film majors.
And I've finally found the band I want to ditch this Reader job for.
Playing their self-described "funky rock with undertones of R&B and soul," Parker House and Theory's ensemble has achieved considerable success since the group's 2006 debut EP: a Boston Music Award for Best Funk/Jam Band; performances alongside The Wailers, Of a Revolution, and Jurassic 5; a full-length CD in this spring's Automatic Stranger; and a thumbs-up from the Boston Globe, who called them "one of the next generation of acts to watch."
It's refreshing, though, to see success not resulting in any animosity within Parker House and Theory, as the group appears so tightly knit that the band members' composed each other's Web-site biographies. Isn't that cool? Check out ParkerHouseAndTheory.com, and read about how Foglia's "driving rhythms and heartfelt riffs have taken flight and inspired the band," or how Tasker "shapes the Parker House sound with full harmonies and hoppin' rhythms," or how "Wesby's stories, when told, unfold with embellished and relished gross fabrications ... ."
Granted, the writing-each-other's-bios thing might be more cool for some band members than others ... .
Parker House and Theory shares Thursday's bill with Dead Larry, and more information on the night is available at RIBCO.com. - Mike Schulz
Nuncrackers and Christmas at the Figge
Prospect Park Auditorium and Figge Art Museum
Thursday, December 4, through Sunday, December 7
Fans of the Quad City Music Guild will, on December 7, be given an unusual opportunity: the chance to spend the afternoon in Moline, enjoying the vocals of gifted Music Guild singers, and then spend the evening in Davenport, enjoying the vocals of ... gifted Music Guild Singers.
Sunday's first event finds its Music Guild talents at the Prospect Park Auditorium for the theatre's wintertime musical comedy Nuncrackers. The third sequel in creator Dan Goggin's popular series finds the habit-wearing heroines producing their own cable-access holiday special, and Music Guild's presentation - running December 4 through 7 - features David Bailey, Christine Goodall, Jill King, Heather Roman, Jessica Myers, and Terese Touvelle all taking part in the nonsecular fun. Myers and Touvelle, by the way, are the ones in the photo, conversing with Sister Mary Annette. (Say it out loud. Yeah, now you get it.)
And more Music Guild veterans are on hand in Sunday night's Christmas at the Figge, the annual madrigal dinner hosted by the area's 16-member ensemble, the Quad City Singers. The evening features a full, Renaissance-themed meal - complete with English wassail and "Figge pudding" - and performing a series of holiday classics and contemporary hits, the group's vocalists (under the direction of Lori Potts) include such familiar Music Guild presences as Sheri Hess, J. Adam Lounsberry, Kevin Pieper, Jenny Winn, and Christopher and Erika Thomas.
Beyond their Music Guild connection, though, Nuncrackers and Christmas at the Figge might have more in common than you'd think. Don't believe me? Try guessing which of the following songs will be sung at Prospect Park, and which will be heard at the Figge:
1) "All I Want for Christmas"
2) "Parade of the Wooden Soldiers"
3) "Breath of Heaven"
4) "The Three Kings"
5) "Here's a Pretty Little Baby"
6) "Baby, It's Cold Outside"
7) "A Christmas Carol"
8) "Mid-Winter"
9) "The Christmas Box"
10) "Christmas Time is Nunsense Time"
A) Nuncrackers
B) Christmas at the Figge
More information on Nuncrackers is available at QCMusicGuild.com , and reservations for Christmas at the Figge can be made by calling (309) 792-2808. - Mike Schulz
Answers: 1 - A, 2 - B, 3 - B, 4 - A, 5 - B, 6 - B, 7 - A, 8 - B, 9 - A, 10 - A. Of course, I don't have a full set list for the Quad City Singers' program, so I guess they could performing that last one, too. That'd be weird, though ...