Shooting Spires
Mixtapes
Sunday, February 17, 6 p.m.
When I first landed on the MySpace page for musician B.J. Warshaw's one-man band Shooting Spires - playing East Moline's Mixtapes on February 17 - I immediately went to the ever-telling "Sounds like" sidebar, found Warshaw's response to be "The sweet embrace of agoraphobia and insomnia," and thought, Woody Allen would love this guy. And then I learned more about the artist and thought, Maybe not.
Sure, the legendarily neurotic auteur would likely be intrigued by the critical accolades lavished upon the musician's electronic experiment; the Seattle Weekly stated that "Warshaw's gripping, soulful vocals add a triumphant air to the thunderous drums, squealing electronics, and overdriven guitars," and reviewing Shooting Spires' self-titled 2007 CD, The Onion's Jason Heller wrote that "the record fizzes and shivers with atmospheric pop" and "settles indelibly into the gray matter."
But it's admittedly tough to imagine Woody grooving to a blend of electronic guitar, sax, and percussion, even though Warshaw's site does describe the music as "therapeutic underscore to lyrics about failed relationships, redemption in the face of seemingly inescapable cycles, the persistent threat of personal and global catastrophe, and finding solace in decay."
I take it back. Woody Allen would love this guy.
More on Shooting Spires is available at (http://www.shootingspires.com).
Light Up the Sky
Richmond Hill Barn Theatre
Thursday, February 14, through Sunday, February 24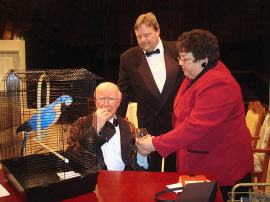 For the venue's first production in its 40th season, the Richmond Hill Barn Theatre is presenting the Moss Hart farce Light Up the Sky beginning February 14, and it's exactly the sort of show that actors are likely to have a ball in. You know why? Because it gives them the chance to poke fun at the most dreaded of stage villains: theatre critics.
Granted, they'll also be poking fun at plenty of others. Hart's popular Broadway hit, first produced in 1948, concerns a group of theatre veterans - and one newbie playwright - whose excitement about their show's out-of-town opening quickly turns to horror when the first reviews come in, giving its performers the chance to satirize gruff producers, aggrieved directors, and self-centered performers.
Yet let's be honest - given Hart's setup, you just know that we reviewers are in for a bit of a bruising here, too. So if you'll allow me a brief message to familiar area performers Dave Rash, Molly McLaughlin, Don Hazen, David Bailey, Greg and Jan Golz, and the rest of the Light Up the Sky cast: Have a great time with those theatre-critic gags. But if you could do my ego a favor, try not to look like you're enjoying them so much.
For tickets, visit (http://www.rhplayers.com).
Christina Jennings
Redeemer Lutheran Church
Saturday, February 16, 7 p.m.
On the Web site for the latest Quad City Arts Visiting Artist, the "biography" section states that this performer is "praised for virtuoso technique, rich tone, and command of a wide range of literature," and that the Houston Press raved about the artist's "distinctive voice, charisma, and a pyrotechnic style that works magic on the ears."
It's like we're the same person! Except Christina Jennings is a widely respected flutist, university professor, and graduate of the Juilliard School, and I'm, you know, really not.
In addition to racking up critical huzzahs, Jennings - currently in residency with Quad City Arts, and offering a public concert at Bettendorf's Redeemer Lutheran Church on February 16 - has performed with the Utah Symphony, the Park Avenue Chamber Orchestra, and Mexico's Orquestra de Camera, and has earned First Prize citations at the Houston Symphony and William C. Byrd competitions; Jennings has also presented master classes at the University of Wisconsin at Madison, the Peabody Institute, and her esteemed alma mater, and currently teaches at the University of Colorado.
She has, in short, achieved everything I would've hoped to had I pursued the flute as a youth, which I didn't because I didn't think it was manly enough. I played clarinet instead.
Shut up.
For more information on Christina Jennings, visit (http://www.christinajennings.com).
Walter Beasley
The Lodge Hotel
Saturday, February 16
Famed writer Anaïs Nin was once quoted as saying, "Jazz is the music of the body." Of course, for Anaïs Nin, it's likely that everything was the music of the body.
But that's no reason not to treat yourself to the jazz masters appearing locally this weekend: Vocalist Semenya McCord, who performs in the Redstone Room's Third Sunday Jazz Matinée & Workshop series on February 17, and Walter Beasley, the saxophonist who brings his acclaimed sound to The Lodge Hotel on February 16, as the featured entertainer for the Smooth Jazz Valentine's Concert & Dinner.
Certainly, jazz fans would be remiss in seeing only one of them. McCord - a graduate of Galesburg's Knox College who currently teaches voice both there and at the neighboring Carl Sandburg College - was named "Outstanding Jazz Vocalist" at the 1988 Boston Music Awards for her traditional and contemporary stylings, and received 1990's Martin Luther King Jr. award for musical excellence.
As for Beasley, whose career finds him alternating gigs and professorial duties at the Berklee School of Music, his Ready for Love CD reached number two on the Billboard Contemporary Jazz Chart, and his recent For Her was described by Saxophone Journal as "full of exciting and memorable melodies, stimulating improvised solos, an occasional love ballad, and velvet-like washes."
And wherever she is right now, Anaïs Nin just fainted.
For information on McCord's workshop and concert, visit (http://www.redstoneroom.com); for more on Beasley's performance, visit (http://www.smoothjazzseries.com).
Leo Kottke
Englert Theatre
Wednesday, February 13, 8 p.m.
5 Reasons for Admiring Folk Guitarist Leo Kottke
1) Kottke suffered significant hearing loss after a childhood accident involving a firecracker, suffered further hearing loss after his stint with the United States Navy Reserve, and, beginning in the 1960s, still managed to forge a successful career as a musician. (Shows tenacity.)
2) Kottke suffered from tendonitis and nerve damage to his hands in the 1980s, and began studying jazz and classical techniques in an attempt to master a new, less painful style of picking. (Shows malleability.)
3) Kottke has performed with the likes of Lyle Lovett and Chet Atkins, has recorded songs by Johnny Cash and the Byrds, and is a frequent guest on National Public Radio's Prairie Home Companion. (Shows a respect for the classics.)
4) Kottke has recorded songs titled "The Brain of the Purple Mountain," "When Shrimps Learn to Whistle," and "Even His Feet Look Sad." (Shows a sense of humor.)
5) Kottke has described his voice as "geese farts on a muggy day." (Shows that self-deprecation can be funny. As can fart jokes.)
Leo Kottke performs at Iowa City's Englert Theatre at 8 p.m. on February 13, and information is available by visiting (http://www.englert.org).