WoolEye
Bent River Brewing Company
Saturday, February 23
When I began researching the Colorado musicians of WoolEye - who play the Bent River Brewing Company on February 23 - it was pretty clear that Mike Rouse, Glen Manna, Matt Goldberg, and Luke Emig were talented. Performing a mixture of rock, funk, jazz, and psychedelia, the group has shared the stage with the likes of Tea Leaf Green, New Monsoon, and Garaj Mahal, and has certainly garnered the attention of home-based music critics; the Durango Telegraph wrote that "WoolEye's high-energy shows are marked by solid songwriting, meaningful lyrics, and powerful rhythms," and on the syndicated radio program The Colorado Rave, Carmen Allgood described the band as "poetry in motion."
Yet further research indicated that WoolEye is more than talented; they might actually be blessed.
In an interview with the Colorado independent Cairn Magazine, lead vocalist Rouse explained how, during a blinding snowstorm on a recent winter tour, the headlights on their vegetable-oil-powered bus suddenly went out; running late for a gig, the band pressed on by duct-taping flashlights to the front of the bus, and were eventually pulled over by the police. Were they issued a ticket? Given a warning, even? Nope. They received a police escort to their concert, and their arrival was greeted with a standing ovation.
No word on the exact definition of "WoolEye," but I'm thinking "lucky as hell" isn't far off.
More information on WoolEye's Bent River concert is available at (http://bentriverbrewery.com).
The Number 14
Hancher Auditorium
Sunday, February 24, 2 p.m.
Here's one for the parents of young children: Would you like your kids to learn how to behave responsibly on the bus? Then, for heaven's sake, do not bring them to Hancher Auditorium's presentation of The Number 14 on February 24. After this ride, your youngsters may not want to sit ever again.
Called "delightful, dazzling, brilliant, and astounding" by the New York Daily News, this production by Vancouver's Axis Theatre Company finds six performers portraying some 60 eccentrics on a city bus - among them a pair of Shakespearean hams, kindergarten students led by a boozy teacher, and a real-estate saleswoman who simultaneously talks on the phone, brushes her teeth, and changes her pantyhose - and has been presented more than 1,100 times (over four continents) during its 16-year run.
Though this vaudeville-meets-Mr.-Bean slapstick seems all but indescribable, suffice it to say that The Number 14 is a blend of mime, song, dance, clowning, puppetry, commedia dell'arte, and gravity-defying acrobatics, and the New York Times' Lawrence Van Gelder wrote that "no one who has ever ridden a bus through urban streets for any length of time will fail to respond to this pageant with either a smile, a nod, or a shudder of recognition." Which, of course, begs the question: What kind of crazy-ass bus rides has Van Gelder been taking?
For tickets to The Number 14, visit (http://www.hancher.uiowa.edu).
The Skyla Burrell Band
Blueport Junction
Saturday, February 23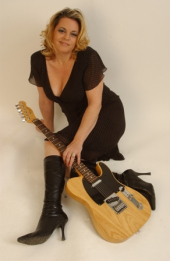 On February 23, Blueport Junction plays host to the Skyla Burrell Blues Band, and after the release of the group's first studio CD - 2004's Working Girl Blues - Music Monthly Magazine wrote, "With a great voice, impressive songwriting abilities, and superior chops on the guitar, don't be surprised if you hear more about Skyla Burrell and her band down the road." That's right, folks - "down the road" is now!
Of course, in the four years since Working Girl Blues debuted, Burrell and fellow musicians Mark Tomlinson, Chris Sellman, and Ezell Jones have accomplished far more than just appearing on the What's Happenin' page. Semifinalists in the 22nd-annual International Blues Challenge, the Pennsylvania-based group has received international airplay for its sophomore effort Livin' Day to Day, has toured both America and Europe - performing 465 shows in 2006 and 2007 - and has continued to wow music critics; Downbeat magazine described how the band's "strength and understatement unite in an easy, fluid balance without sucking up to rock," while Fly magazine stated that "Burrell's voice is as deep and wide in range as the mighty Mississippi itself." And during the group's Blueport Junction set, there'll be an easy way to tell if that rave is mere hyperbole: Just step outside and judge for yourself.
For more information, visit (http://www.skylaburrell.com).
ACTING SMART
Helpful Tips on Appearing More Intelligent Than You Actually Are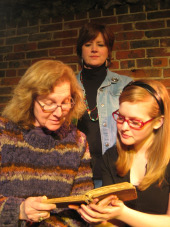 From February 22 through 24, Rock Island's theatrical venue The Green Room will present the comedy/drama Eleemosynary, with 7:30 p.m. performances on Friday and Saturday, and 2:30 p.m. performances on Saturday and Sunday. (Pictured are cast members Susan McPeters, Angela Elliott, and Abby Van Gerpen.) If the subject arises in conversation and you want to join in, here are five ways to do so without making an ass of yourself.
1) Know what the play is about. Described as "a whimsical treat" by CurtainUp's Rich See, Eleemosynary concerns three generations of women - a free-wheeling eccentric, her tightly wound daughter, and her daughter, who is vigorously pursuing the National Spelling Bee championship - and their attempts to connect as a family, despite the characters uttering such sentiments as "I spend my spare time being thrilled not to be around my mother" and "Never have a child, but never have a daughter."
2) Know who it's written by. Eleemosynary's author is playwright Lee Blessing, the Tony Award-nominated writer of A Walk in the Woods, whose credits also include the Hamlet satire Fortinbras (recently produced by St. Ambrose University), and the baseball-themed The Winning Streak (recently produced by New Ground Theatre).
3) Know how to pronounce "eleemosynary." It's el-uh-MOS-uh-ner-ee.
4) Know what "eleemosynary" means. Most commonly, it's an adjective synonymous with "charitable."
5) Know how to use it in a sentence. Say "I can't believe how much information and entertainment we get from the River Cities' Reader for free! We're so lucky to have such an eleemosynar y publication in our area!" Then smile, walk away, and have the same conversation with others.
For more information on Eleemosynary, visit (http://www.thegreenroomtheatre.com).
Holes
Davenport Junior Theatre
Wednesday, February 20,
through Sunday, February 24
Author Louis Sachar's National Book Award winner Holes - an adventure set in a boys' juvenile detention center - is one of the most widely read of modern young-adult novels, and it spawned a 2002 stage adaptation and a 2003 film adaptation. How well do you know the material?
Match the real name of the Camp Green Lake inmates with their more familiar nicknames. Answers at the bottom of the page:
1) Alan A) "Armpit"
2) George B) "Barf Bag"
3) Hector C) "Caveman"
4) José D) "Dirt"
5) Lewis E) "Magnet"
6) Ricky F) "Squid"
7) Stanley G) "Zero"
8) Theodore H) "Zigzag"
Scores:
8 correct: Awesome! You're obviously a fan, and should definitely attend the Davenport Junior Theatre's new production of Holes.
6-5 correct: Nice job! For a perfect score on your next Holes quiz, though, you may want to catch a local performance between February 20 and 24.
4-3 correct: Not bad. But a little more Holes knowledge wouldn't hurt, and Junior Theatre's stage presentation is only $5 for ages four and older.
2-1 correct: Hmm. Not so good. You really need to see Holes as quickly as possible, and Davenport's version features direction by Junior Theatre alum Cindy Smysor and actual jail overalls on loan from local police departments.
0 correct: Wow. Call Junior Theatre's Kathleen Lafrenz at (563) 888-2216 and ask if there's any hope for you.
Answers: (1) F (2) D (3) G (4) E (5) B (6) H (7) C (8) A