Quad City Symphony Orchestra
Adler Theatre and Centennial Hall
Saturday, March 1, and Sunday, March 2
The latest Quad City Symphony Orchestra concerts fall under the title Legends of Love, and will include performances of Prokofiev's Romeo & Juliet, Wagner's Prelude to Tristan & Isolde, and Debussy's Prelude to the Afternoon of a Faun. I'll admit I'm not familiar with this last piece, but based on what I know about the characters in the first two, I'm now a little concerned about what happens to the faun.
The fifth of the symphony's six Masterworks Series presentations, Legends of Love will be performed at Davenport's Adler Theatre at 8 p.m. on March 1 and Augustana College's Centennial Hall at 2 p.m. on March 2, and will feature a guest performance by the Philadelphia Orchestra's principal trumpet player, David Bilger, praised by the New York Times for his "easy brilliance." (He should have quite the opportunity to display it, as Arutiunian's Trumpet Concerto is also on the program.)
And conducting the works is the nationally acclaimed Mark Russell Smith (pictured), the current music director and conductor for the Richmond Symphony Orchestra, and former director for Massachusetts' Springfield Symphony Orchestra; under his leadership, the Springfield Union-News described this organization as "tremendously talented players with implicit confidence in their leader." I'd say the same about us here at the Reader, but our office leader is Jeff, so ... .
For more information on the Legends of Love concerts, visit (http://www.qcsymphony.com).
Charlie King and Jim Scott Benefit Concert
Davenport's Unitarian Church
Friday, February 29, 7 p.m.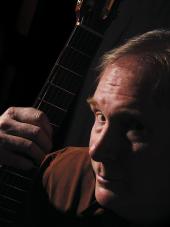 On February 29, Davenport's Unitarian Church (at 3707 Eastern Avenue) presents songwriting storyteller Charlie King and folk singer/composer Jim Scott (pictured), award-winning musicians who headline a special benefit concert for the Centro Maya Xe'Kiyaqasiiwaan - a Guatemalan school for children with disabilities.
Admission is $8 in advance or $10 at the door, but if you're one of those thrifty types who wants to know exactly what that money helps fund, here's a short list of what, since 2002, the Unitarian Church has done to support the Centro Maya:
· Provided $30-a-month food assistance for 16 families, including 87 children;
· Provided funding for the installation of electricity;
· Funded a worker program for the employment of older youths;
· Helped pay for the heart surgery of a three-year-old girl;
· Helped pay for the hospitalization of a paralyzed woman; and
· Provided food and cooking supplies after the devastation of Hurricane Stan.
Eight to 10 bucks ain't lookin' so steep now, is it?
Tickets to the Charlie King and Jim Scott concert are available by calling (563) 359-0816, and more information on the Unitarian Church's programs and events can be found at (http://www.qcuu.org).
Bottle of Justus
Rock Island Brewing Company
Friday, February 29, 10 p.m.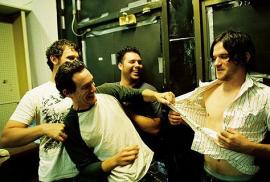 The musicians of Bottle of Justus - playing the Rock Island Brewing Company on February 29 - began their careers as Illinois State University freshmen in 1997, and a visit to the group's MySpace page (http://www.myspace.com/bottleofjustus) suggests that they haven't grown snooty after 10 years and five CD releases. "BOJ care not about how many brown M&Ms are in the bowl backstage," reads the site. "They will come to your town and grind out a show to remember, drink all your beer, and share the deli tray with the crowd." Let's hear it for solid Midwestern values!
Composed of Jeff Johnson on bass, Erik Bogodonas on percussion, Chris Quinlan on lead vocals and guitar, and Chris' twin brother Joe on lead guitar, the alt-rockers have shared stages with Cake, Dave Navarro, and the Lemonheads' Evan Dando, and have clearly inspired passionate support; describing Bottle of Justus on Melodic.net, Pär Winberg wrote, "This review is not a recommendation - it is a demand ... surf to their home page right away and take a listen. And be stunned."
That sort of fervor is understandable considering the band even let fans choose the song list for its live CD, Lemon Live; you might even say the group would happily give admirers the shirts off their backs.
Or fronts. Whatever.
Bottle of Justus plays RIBCO alongside King Solomon's Grave's Nathan Holley, and more information is available at (http://www.ribco.com).
Greening the Community Conference
Black Hawk College
Saturday, March 1, 9 a.m. - 4 p.m.
As a kid, I remember singing along to a song titled "It's Not Easy Being Green." The name of the artist is escaping me at the moment, but I'm thinking that whoever sang it was totally full of crap.
On March 1, Rock Island's University of Illinois Extension and Moline's Black Hawk College will show you just how easy it is being green in the Greening the Community conference, designed to educate participants on what they can personally do to help protect the future health of our planet. Beginning with a keynote speech by St. Ambrose University's Reverend Robert "Bud" Grant, the day allows attendees to choose from among 15 classes in four morning and afternoon sessions, among them the University of Iowa's David Ostenberg (pictured) on "Wind Power," the Waste Commission of Scott County's Erin Robinson on "Rethinking Recycling," the Iowa Department of Natural Resources' Lyndette Seigley on "Engaging Citizens in Improving Water Quality," and the NOAA/National Weather Service's Jeff Zogg on "Volunteer Environmental Monitoring."
The cost of the conference is $25, including snacks and lunch, and - .
Aw, man. I just remembered who sang "It's Not Easy Being Green." Sorry about that "full of crap" comment, Kermit.
The cost of the conference is $25, including snacks and lunch, and you can register for the event at (309) 796-0512 or (http://www.extension.uiuc.edu/rockisland).
Umphrey's McGee
Capitol Theatre
Thursday, February 28, 7:30 p.m.
"We're clear on this, right, Mike?"
"Yes, Jeff."
"So what are you going to write in your What's Happenin' piece?"
"I'm going to write that on February 28, Davenport's Capitol Theatre will celebrate its grand restoration in a formal opening-night concert with progressive rockers Umphrey's McGee."
"Good. What else?"
"I'm going to say that the Capitol is now under the management of the production company N-Vents, and one of its partners is Lon Bozarth, the former executive director of the River Music Experience."
"And what else?"
"I'm going to mention that Bozarth is anticipating bringing a wide variety of events to this historic, 1,500-seat theatre, and that the Capitol's Web site at (http://www.thecapdavenport.com) calls the venue, quote, 'completely equipped to accommodate corporate meetings, video presentations, and movies, speakers and seminars, pageants, opera, ballet, school graduations, small theatrical presentations, and touring music groups.'"
"And?"
"And tickets to the Umphrey's McGee show are $22 in advance and $25 at the door."
"And?"
"And more information is available by calling the Capitol box office at (563) 326-8820."
"And what else, Mike?"
"And I'm going to apologize for that crack I made about you in the symphony piece."
"That's right."