Moonalice
The Redstone Room
Wednesday, February 6, 9 p.m.
Remember Saturday Night Live back in the late-'80s and early-'90s, when the commercial breaks were preceded by shots of bandleader G.E. Smith wailing away on guitar? Wanna see him doing it on Wednesday night - live?
On February 6, Smith and his partners in the roots-y, blues-y, folk-y ensemble Moonalice play Davenport's Redstone Room, performing what the group's (or, as Moonalice refers to it, "tribe's") MySpace page calls "a fusion of sound, lights, and refreshing beverages that improves reality for people who get too much of the real thing during the daytime."
A Moonalice set finds its musicians swapping bass and lead-vocal duties among its entire sextet, and the outfit will release its T-Bone Burnett-produced debut CD this spring. But I think it's safe to say that the tribe's heritage is even more unique than its sound, as a visit to Moonalice's Web-site blog at (http://www.moonaliceband.com) provides such "According to Moonalice legend..." factoids as: "... centuries ago the tribe was captured by a rival group of accordion players," "... the chief with the longest hair got to sing lead vocal at the tribal show," and "... the earth rests on the shoulders of a howling monkey whose sweat has the healing power of a frosty energy drink."
Say what you will. I still trust this more than most Wikipedia entries.
Moonalice's local gig finds them opening for headliners Tea Leaf Green, and more information is available by visiting (http://www.redstoneroom.com).
Through Terror CD Release Party
The Redstone Room
Saturday, February 9, 10 p.m.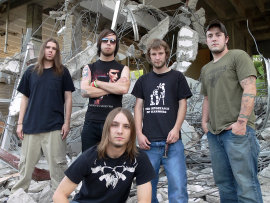 "What's this?" you may be asking. "Two Redstone Room bands on one What's Happenin' page?"
I know. Crazy, huh? But what's crazier is that we could have easily filled the entire page with the venue's upcoming musicians through February 11, and that's not even considering "Blues in the Schools" acoustic guitarist Fruteland Jackson, who performs below the Redstone Room - in the River Music Experience's Mojo's Coffee House - on February 6.
Here for the RME's annual Black History Month celebration, the Senegalese Gokh-Bi System brings African music, dance, and culture to the Redstone Room on February 7; singer-songwriter Chris Smither performs his lauded blues and folk stylings there on February 8; blues-based rockers Grace Potter & the Nocturnals return to the Davenport venue on February 11; and on February 9, the double-R hosts Quad Cities metal band Through Terror, in a CD-release party for the group's forthcoming From Shadows We Rise.
"So," you may also be asking, "how did you choose which band got the individual mention and accompanying photo?"
Simple. When I landed on Through Terror's MySpace page, I saw a post explaining how their equipment had been stolen in November, followed by this request: "If anyone has any information on who the [expletive] stole our [expletive], or sees any of our gear, let us know as soon as possible, so we can make whoever stole our [expletive][expletive] swallow their [expletive] teeth."
I ain't messin' with them.
For more on the group, visit (http://www.myspace.com/throughterror).
Yabba Griffiths and Traxx
Rock Island Brewing Company
Friday, February 8, 10 p.m.
"Tell me about your dream, Mike."
"Well, it was weird, doctor. I'm hanging out with reggae performer Yabba Griffiths, and we're talking about how he recorded in his native Jamaica in the 60's, and how he had a U.S. hit with 'Devil Woman' in the 70's, and how he relocated to Chicago in the 80's... ."
"Right... ."
"... and then we talk about Griffiths' impact on the area's music scene, winning Chicago Reggae Music Awards for Best Male Vocalist, Most Outstanding Showman, Most Talented Entertainer, and Outstanding Contributions to Reggae Music... ."
"Go on... ."
"... and then we discuss his band, Traxx, and how they've shared stages with such reggae groups as the Wailers and Steel Pulse and Yellowman, and how they've performed at the House of Blues and Rock Island's Ya Maka My Weekend festival... ."
"Uh huh... ."
"... and right when I'm about to ask him where they're playing next, I wake up."
"Hmm."
"What do you think it means? Is my subconscious telling me to ditch my job and join Yabba Griffiths and Traxx on tour?"
"No, Mike. I think it's telling you to write a What's Happenin' piece on their February 8 concert at the Rock Island Brewing Company."
"Oh... that makes perfect sense. Thank you, doctor... I swear, if it wasn't for you, I'd never know what to write for those things."
"And let's keep that information between us, shall we?"
More information on Yabba Griffiths and Traxx's RIBCO concert can be found at (http://www.ribco.com).
Godspell
The Center for Living
Saturday, February 9, through Saturday, March 22
Here's a trivia question for ya: In what show did Canadian performers Martin Short, Eugene Levy, Andrea Martin, and Dave Thomas find their first regular acting work?
That's right! Godspell!
Uh... that is what you guessed, right?
Each of them found their professional break in a long-running Toronto production of this beloved musical, and beginning this Saturday, Rock Island's The Center for Living offers its own, annual take on the show, with weekly presentations scheduled through the day before Easter.
For the two or three of you who don't know, Godspell presents a series of Biblical parables through vaudevillian skits and music by Wicked composer Stephen Schwartz, and has been a wildly popular mainstay of musical-theatre, adored not only for its score, but its adaptability - productions have been set on bare stages, on top of buildings, and once, even in a McDonald's.
Plus, in addition to Short and company, Godspell was a breakthrough for Alias actor Victor Garber, who played Jesus in Toronto (and the subsequent film version) and who, two decades later, portrayed the devil in Broadway's Damn Yankees. Show biz, I'm tellin' ya. It's either heaven or hell.
Tickets for the Center for Living's Godspell - performed by a cast of 10 and four musicians - are $10, and a full schedule of Saturday showtimes is available by visiting (http://center4living.com).
Michael Flatley's Lord of the Dance
Adler Theatre
Friday, February 8, 8 p.m.
Michael Flatley's touring spectacular Lord of the Dance lands at Davenport's Adler Theatre on February 8, and since I wanted to relay a true sense of the production's scope, I was graciously permitted 1,000 words in which to do so:
For tickets, call the Adler box office at (563)326-1111.