The John Wasem Band and Dave Tamkin & Co.
Rock Island Brewing Company
Thursday, January 17, and Friday, January 18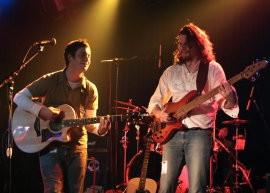 I frequently write about Chicago-based musicians in these pages, so on January 6, I traveled to the Windy City to experience some Chicago rock for myself. Of course, I could've just saved the gas money and enjoyed the Chicago talents at RIBCO this weekend: the John Wasem Band (pictured) on January 17, and Dave Tamkin & Co. on January 18.
A popular act at such noted venues as the House of Blues, Double Door, and the Abbey Pub, the John Wasem Band performs passionate acoustic and electric rock, fronted by its lauded singer/songwriter; reviewing a performance on (http://www.jambands.com), Brandon DeJaynes wrote that "Wasem's raspy vocals had enough grit to give the songs a dark edge, yet enough melody to keep it danceable."
And frequent touring artists Dave Tamkin & Co. - whose lead singer has shared the stage with the disparate likes of Little Feat, Guster, and the Violent Femmes - creates what Tamkin's Web site (http://www.davetamkin.com) describes as "a sonic percussive assault mixed with a vivid, melodic instrumental bed ... and they'll make you shake your ass." Sold.
So plan on RIBCO pulsing with the exciting sounds of the Chicago this weekend, and ... . What's that? What Chicago rock did I experience on my January 6 trip?
Uh ... the touring production of Jersey Boys.
I know. I'm almost dangerously under-qualified for this job. Please don't tell anyone.
For more information on the John Wasem Band and Dave Tamkin & Co. concerts, visit (http://www.ribco.com).
The OddTones Brass Band
The Redstone Room
Sunday, January 20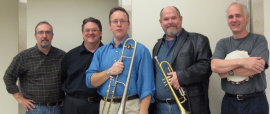 Well, I am outraged. I just received a press release stating that the OddTones Brass Band, featuring musicians from the University of Iowa and Iowa City West High School, will be spending January 20 at Davenport's Redstone Room. Have our morals lapsed so completely that we not only allow students into venues that serve alcohol - on a Sunday, no less! - but proudly advertise it in press releases? Of all the ... !
Oh, wait. It says here that the group is composed of educators from the U of I and Iowa City West. Guess I should've read the whole release before I started typing, huh?
Composed of guitarist Steve Grismore, trumpet player Brent Sandy, trombonist Rich Medd, tuba player John Manning, and percussionist Jim Dreier, the OddTones Brass Band will be here for the Redstone Room's monthly Third Sunday Jazz Matinee & Workshop Series, and individually, members have performed in symphony orchestras, brass quintets, improvisational ensembles, pit orchestras, and even salsa bands. The group performs a 6 p.m. concert of smoky New Orleans jazz in the tradition of past first- and second-line players, and their educational gifts will also be evidenced in a 3 p.m. workshop on the variety of instrumental combinations that lend themselves to jazz music and history.
So that's the OddTones Brass Band. And not once did I have to resort to some lame and potentially offensive joke about these guys being "old school." (Well, maybe once.)
For more information on the Third Sunday jazz series, visit (http://www.redstoneroom.com).
Classical Jam
Wallenberg Hall
Saturday, January 19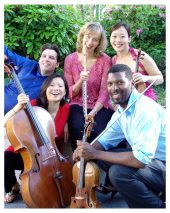 For the organization's latest Visiting Artist residency, Quad City Arts apparently decided that one world-class musician with intimidating professional credits wasn't impressive enough, so they went and secured five.
Violinist Jennifer Choi enjoyed a debut recital at Carnegie Hall, performed with the Vancouver Symphony Orchestra, and was lauded by the New York Times for her "brilliance and command." Venezuelan flautist Marco Granados has played with New York's Philharmonia Virtuosi and the Juilliard Chamber Orchestra, and was nominated for a Grammy Award. Percussionist Justin Hines has performed for the Aspen Chamber Music Festival, the Chamber Music Society of Lincoln Center, and several Tony-winning Broadway musicals. Cellist Wendy Law collaborated with the Borromeo String Quartet and the legendary Yo-Yo Ma, and has worked with the Boston, Singapore, and Hong Kong symphonies. And violinist Amadi Hummings has toured Israel, South America, India, and Japan - and once performed before the U.S. Supreme Court.
Put 'em all together, and you have the high-energy chamber musicians of Classical Jam. Which is odd, because that's what my mother always told me was in those old canning jars in the basement.
Hmm ... I wonder what's actually in those things ... .
Classical Jam performs a free, 7 p.m. public concert at Augustana College's Wallenberg Hall on January 19, and more information on the quintet is available by visiting (http://www.classicaljam.org).
Buddy: The Buddy Holly Story
Circa '21 Dinner Playhouse
Wednesday, January 16, through Saturday, March 22
"Mike?"
"Hey, it's Jeff! The flower of my heart!"
"Stop it. I read your preview on Circa '21's new musical."
"That'll be the day."
"I'm serious. The one on Buddy: The Buddy Holly Story."
"Oh, boy."
"Yeah. It's another one of your annoying, see-if-you-can-find-the-hidden-song-titles pieces. Rip it up."
"Maybe, baby ... ."
"Listen to me ... ."
"Jeff, think it over! I mean, why do fools fall in love?"
"It doesn't matter anymore ... ."
"Because when you've got love, everyday - every heartbeat - is a party! One you want to not fade away!"
"Rave on, Mike ... ."
"Remember Peggy Sue? When she wore Chantilly Lace and whispered words of love ... ?"
"Peggy Sue got married ... and then it was raining in my heart ... ."
"Well, all right, but there were also good times during those true love ways!"
"But then she started changing all those changes, and ... wait a minute ... . Damn it, Mike, now you've got me doing it!"
"It's so easy, isn't it?"
The rock 'n' roll revue Buddy: The Buddy Holly Story runs January 16 through March 22, and for live renditions of many of the 25 aforementioned songs (and others), call the Circa '21 box office at (309) 786-7733 extension 2.
Hispanic Film Festival
Augustana College
Wednesday, January 16, through Wednesday, February 6
Augustana College presents its 13th annual Hispanic Film Festival beginning January 16, and if the critics are to be trusted, Augie would've been hard-pressed to select a more impressive quartet.
The January 16 offering is the drama Family Law - Argentina's official selection for the 2006 Academy Awards - and Variety's Jonathan Holland wrote that the work is "deft, witty, and emotionally rewarding." January 23's Hermanas, also from Argentina, finds a woman attempting to escape her troubled family, and was called "perceptive and beautifully acted" by the New York Times' Jeannette Catsoulis.
Quinceañera, being shown on January 30, concerns racial, class, and sexual tensions in Los Angeles' Echo Park neighborhood; the Los Angeles Times' Kevin Thomas described this Sundance Film Festival prize-winner as "endearing" and "quite clear-eyed about human cruelty and indifference." And Pedro Almodóvar's Volver (pictured), with its Oscar-nominated performance by Penélope Cruz, wraps up the fest on February 6, and was deemed "bewitching," "heartfelt," and "one of 2006's most inspiring entertainments" by no less than Mike Schulz of the River Cities' Reader.
That's right: I totally mentioned our paper in the same breath as Variety and the New York Times and L.A. Times. I may not be qualified, but at least I'm shameless.
Free, weekly screenings in the Hispanic Film Festival take place in room 102 of the Augustana Science Building, and more information is available by calling Jeanneth Vásquez at (309) 794-7670.