What's Happenin': January 2 - 8
Patchouli
Quad City Arts Center
Friday, January 4, 7 p.m.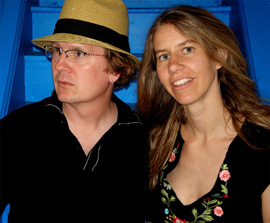 As one of my New Year's resolutions, I've decided to stop insinuating myself into these What's Happenin' pieces every week. I just think the constant self-references have become more obnoxious than amusing, so I'll endeavor to lend these pieces a more appropriate, journalistic tone from now on. Just thought you should know.
On January 4, Rock Island's Quad City Arts Center presents an evening of folk music with acoustic duo Patchouli, composed of guitarist Bruce Hecksel and lead vocalist Julie Patchouli, whom Relix magazine once called "a sweeter Joni Mitchell." Based out of Chicago and Minneapolis, the pair has incorporated elements of folk, flamenco, jazz, and world-beat rhythms into each of their nine CDs, and a visit to Patchouli's Web site (http://www.patchouli.net) not only gives insight into the environmental and theological inspiration behind the duo's spirited folk stylings, but offers great biographical information, such as the tidbit that Hecksel's electric guitar and amp were stolen at a Canadian music festival at 1991. Taking it as a sign, he switched to folk music, and never played electric guitar again.
You know, someone stole my running shoes once, and I took it as a sign, too, which is why you'll never catch me at the gym. Ha ha ha ... !
Oh, come on ... that was a joke, so it doesn't count as a self-reference, right ... ?
Ah, well. I made it to January 2. Not bad for me.
For more information on Patchouli's First Friday concert, visit (http://www.quadcityarts.com).
Drunk Dead Gorgeous
The Redstone Room
Saturday, January 5, 9 p.m.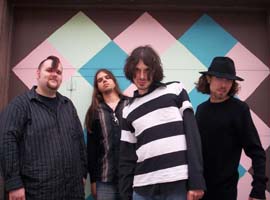 There's a lot I could tell you about Kewanee-based rockers Drunk Dead Gorgeous, who play the Redstone Room on January 5.
I could tell you about band members Derick Kapteina, Nick McClelland, Ian Moore, and Jesse Wagner, or about the group's lauded pop-rock sound, or about its debut album The Great Disillusion, which led the Reader's Jeff Ignatius to proclaim that Drunk Dead Gorgeous "creates unapologetic guitar rock that's heartfelt and played with passion."
But for a true taste of the Drunk Dead Gorgeous experience, visit the band's MySpace page, which, along with the expected links to photos and videos, features the DDG Newsletter - an entertaining blend of factoids (including the latest on the group's forthcoming CD), quotes (Howard Dietz: "Composers shouldn't think too much - it interferes with their plagiarism"), and eyebrow-raising cattiness (the "Ian vs. Jesse" piece is particularly enlightening).
Fun stuff, though you're advised not to trust the newsletter's "HorrorScope"; on the day I checked it, the reading for my astrological sign of Gemini was "You will die today," and nothing untoward happened to me whatsoever. Let's see what it says now ... .
"You will die today."
Uh -oh.
Drunk Dead Gorgeous plays the Redstone Room alongside Jaiguru and Harry Bailey's Transport, and more information on the night is available at (http://www.redstoneroom.com).
Twelfth Night Gala
Rock Island Masonic Temple
Friday, January 4, 8 p.m.
The Rock Island Masonic Temple, Friday, January 4, 8 p.m.
The second-annual Twelfth Night Gala - a fundraiser for the area's not-for-profit theatre ensemble the Prenzie Players.
Hors d'oeuvres. Live music. A silent auction.
The Prenzies enacting Shakespearean poetry and a scene from Romeo & Juliet.
Laughs, drama, a gathering of some of the area's most electrifying theatrical talents.
And Mike at an event with an open bar.
Yeah, that should pretty much do it.
For reservations, call (309) 912-3843 or e-mail (twelfthnightgala@prenzieplayers.com).
Steez
Rock Island Brewing Company
Thursday, January 3, 10 p.m.
We smokers are a literal dying breed, so permit me a message to fellow sufferers:
Are you searching in vain for a reason to visit an Illinois bar after January 1? How about a really good funk-rock band with a fondness for charitable organizations?
In addition to the ban on indoor smoking, the new year brings with it a performance from the Madison, Wisconsin, musicians of Steez, who perform at the Rock Island Brewing Company on January 3. With such instruments as the accordion, fiddle, and oboe lending distinction to the five-piece outfit's blend of originals and covers, Steez has been called "smooth as apple butter and thoroughly tasty" by Wisconsin's music journal Rick's Cafe, and has played fundraising concerts for such charities as the environmentally conscious Natural Heritage Land Trust and BioTour, and the leukemia organization L4L Wings of Hope.
Steez's sound has been described by The Onion as "a diverse mix of modern rock, Latin rhythms, and go-go beats," but I prefer the band's write-up on its MySpace page: "a fusion of sarcasm, Bob James creep, and the introduction of cocaine into the 1980s." God bless the MySpace "Sounds Like ... " tag, huh? After that description, I totally get their sound.
And if you'll permit me another personal message:
No, Mom, I did not do coke in the '80s.
For more information on Steez's RIBCO set, visit (http://www.ribco.com).
The Trans-Siberian Orchestra
i wireless Center
Friday, January 4, 8 p.m.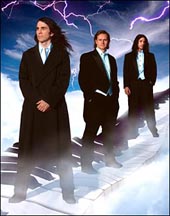 "Mike?"
"Jeff!"
"I just read your piece on the upcoming Trans-Siberian Orchestra concert ... ."
"Great!"
"I hate it."
"The group?"
"The piece."
"Man, you're getting hard to please. What didn't you like? My saying how this year's explosion of music and visuals is the rock outfit's largest tour ever, hitting 90 cities over a 10-week period?"
"No ... ."
"Was it my mention of the group's nearly three dozen performers and musicians, or how TSO's 2006 tour played to over a million fans, generating revenues of $40 million plus?"
"No ... ."
"So you didn't like my holiday song: 'On the 11th da-a-ay of Chri-i-istmas, my true love gave to me-e-e ... a pair of tickets to the January fourth Trans-Siberian Orchestra concert at the i wireless Center under the tre-e-e-ee!"
"That scans even lousier than your last holiday song, Mike, but that's not the problem, either."
"What's the problem, then?"
"You told me that one of your New Year's resolutions was to stop using me in your What's Happenin' pieces, and you've turned news of the Trans-Siberian Orchestra's local appearance into another excuse for a damned Jeff-and-Mike dialogue!"
"Hey, I made it to January 2. That's not bad for me."
For tickets, visit (http://iwirelesscenter.com).