U2 3D
Putnam Museum & IMAX Theatre
Wednesday, January 23, through Thursday, March 13
As a U2 fan of 20 years plus, I was pretty excited to tell you about the concert film U2 3D, which begins its run at the Putnam Museum & IMAX Theatre on January 23. Shot during the group's recent Vertigo Tour, the movie employs 3D technology to place you onstage alongside Bono and the Edge, and includes full performances of some 14 hits, including "New Year's Day," "With or Without You," and "Sunday, Bloody Sunday."
I was even more excited when I learned what a presentational feat U2 3D was. Billed as the screen's first digital-3D, multi-camera production (with nine pairs of cameras filming simultaneously), the movie blends stage footage from stops in nine cities around the globe - among them Buenos Aires, Sao Paulo, and Melbourne - and was edited together from more than 100 hours of footage.
And I was even more excited when the early reviews on U2 3D were raves. The Hollywood Reporter's Michael Rechtshaffen wrote that it "takes the well-traveled concert film to exhilarating new heights," and Variety's Phil Gallo called it "an enveloping experience" in which "performance, technology, and cinematography click at the same moment."
So I e-mailed my editor, Jeff, to let him know I was interested in doing a What's Happenin' piece on U2 3D, and how does he respond? "Here's a joke you can use free of charge: Even with his image three stories tall, Bono's ego is still bigger." (I would've been pissed off if I didn't kinda agree. Damn that Jeff!)
For more information and show schedules, visit (http://www.putnam.org).
World's Toughest Bulls & Broncs
i wireless Center
Friday, January 25, and Saturday, January 26, 7:30 p.m.
"Hello, readers! Allow me to introduce myself. My name is Nathaniel, and I'm the airborne bull you see in the accompanying photograph. On January 25 and 26, I'll be appearing in your community as part of the World's Toughest Bulls & Broncs show, and I'd like a moment to clear up a misconception about myself and my traveling brethren.
"Apparently, many believe we bulls to be fierce and savage creatures, interested only in trampling a series of Stetson-wearing passengers. But if you attend our performance at the i wireless Center, you'll see that we're far more complex, and dare I say sensitive, than our reputation suggests.
"Of course, our athletic prowess will be on display in the weekend's bull-riding events, with our equestrian friends engaged in saddle bronc, bareback, and barrel-racing competitions. But we're also patriotic (evidenced by our moving U.S. Army presentation), fascinated by history (as you'll see in Bob Johnson's authentic Overland Stagecoach Show), and we love children - our Kids' Korral will delight little cowpokes of all ages. Plus, this Saturday, we're proud to take part in Tough Enough to Wear Pink night, designed to raise awareness and funds for the fight against breast cancer.
"It's a truly fulfilling, multi-faceted life, and I do hope you'll make the time to visit - I'll happily gore a cowboy in the crotch just for you. Kidding! Kidding!
"Tickets are available by visiting (http://iwirelessCenter.com), and I thank you for your time."
The Divine Duke
Hancher Auditorium
Saturday, January 26, 7:30 p.m.
The legendary Duke Ellington was once quoted as saying, "By and large, jazz has always been like the kind of man you wouldn't want your daughter to associate with."
Over-protective fathers are hereby advised to keep their little girls far away from Hancher Auditorium on January 26, when the Iowa City venue presents five potentially dangerous types - vibraphonist Stefon Harris and the Turtle Island Quartet (pictured), who perform a salute to Ellington and his works in The Divine Duke.
Harris, who earned Best Jazz Album Grammy nominations for his CDs The Grand Unification Theory and Kindred, and a Best Jazz Instrumental Solo for Black Action Figure, has recorded and toured with such artists as Joe Henderson and Wynton Marsalis, and was described by the New York Times as "one of the most important young artists in jazz."
Meanwhile, the Turtle Island Quartet - whose 2006 CD 4 + Four received a Grammy Award for Best Classical Crossover Album - was described by peerless cellist Yo-Yo Ma as "a reflection of some of the most creative music-making today," and the group's innovative jazz approach blends such divergent styles as folk, bluegrass, swing, funk, R&B, rock, and be-bop.
That actually brings to mind another Ellington quote - "Playing bop is like playing Scrabble with all the vowels missing" - so permit me a salute of my own: Fr tckts t Th Dvn Dk, cll th Hnchr dtrm bx ffc t (319) 335-1160.
The Boyz in the Basement Reception
Midcoast Gallery at Bucktown
Friday, January 25, 6-9 p.m.
A visit to Davenport's Bucktown Center for the Arts currently finds a special exhibit on display in the venue's Midcoast Gallery: The Boys from the Basement, an assemblage of (as a press release states) "controversy, weirdness, whimsy, and art furniture," featuring works by four founders of Midcoast Fine Arts - Dan Lawrence (pottery), Bruce Mabis (mixed media), Bob O'Hare (pastels and wood), and Dean Schroeder (functional originals).
On January 25, during the exhibit's Final Fridays reception, these four MidCoast originators will be joined by its fifth - John Kinser, who performs live music at the event - and I've culled a few historic dates from the MidCoast Web site at (http://www.midcoast.org), in honor of the arts collective whose works are seen by an estimated 2 million people annually.
1991: Organization formed as a not-for-profit.
1994: Organization incorporated as MidCoast Fine Arts.
1998: Gallery Hop! event premiere with MidCoast.
2000: ArtStroll event premiere with MidCoast.
2003: MidCoast adopts management of Riverssance Festival of Fine Arts.
2006: MidCoast receives Historic Preservation Award from the Scott County Preservation Society.
2008: Mike Schulz writes about these accomplishments in the River Cities' Reader.
Yes, a proud history indeed.
Bucktown's Boys from the Basement exhibit will be on display through February, and more information on the show and its January 25 and February 29 Final Fridays events is available at (http://www.bucktownarts.com).
Roberts Burns Night 2008
The Lodge Hotel
Saturday, January 26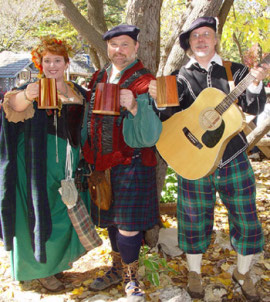 At this year's 31st annual Robert Burns Night dinner and celebration - a high-energy salute to all things Celtic - the featured entertainers are traditional-folk musicians 3 Pints Gone (pictured), and I already like them enormously, as the trio's Web site (http://www.3pintsgone.com) finds musician James Kuehl offering instructions on making your own Irish Cream liqueur.
Billed as "a totally Scottish night," the Lodge Hotel's January 26 event features music by the Black Hawk Bagpipes & Drums ensemble, a demonstration by the Highland Dancers, and all manner of Scottish vendors, stories, toasting, and haggis, so I'm guessing a 3 Pints Gone performance will fit in beautifully. With Kuehl and Bill and Kathleen Masino forming tight, distinctively Celtic harmonies, the musician storytellers have earned raves from fair- and festival-goers nationwide (check out the Web site's happy testimonials), and have released a series of CDs and tapes with such titles as Of Moose & Men, Scotland's Depraved, and One More Round (which includes a stunning 14 verses of the group's beloved "Moose Song").
And not for nothin', but the 3 Pints Gone biography states that "the band has a passion for patriotic and rebel songs of Ireland and Scotland." Awesome! What say we get these guys on the IMAX screen?!
The Robert Burns Night celebration is sponsored by the Scottish American Society of the Quad Cities, and tickets are available by calling (563) 332-6724.