Spare Parts
Rock Island Brewing Company
Thursday, January 31, 10 p.m.
Our graphic designer, Shawn, has a great tag line that accompanies his name on all e-mail correspondence: "Proofread carefully in case you something out."
I always try to heed that advice, so know that I actually have proofread carefully when I mention that the members of funk band Spare Parts - playing RIBCO on January 31 - are Shane Jonas on trumpet and vocals, Colin Scott on bass, Kevin Kozol on keyboards, and Mike Bruno on drums. So I didn't accidentally leave out the group's guitar player; they just don't have one.
With influences that, according to the band's Web site (http://www.sparepartsband.com), include everyone from Miles Davis to Primus and The Doors to Spinal Tap, the Chicago-based touring musicians deliver a blend of funk, jazz, rock, and reggae, have shared the stage with such notable talents as Fareed Haque, Jeff Coffin, and Liquid Soul, and should soon be expanding their national fan base into an international one; this March, Spare Parts heads to Lima to perform at the 2008 Peru Jazz Festival.
Spare Parts' RIBCO set begins at 10 p.m., and more information on the evening is available at.
Mike: You left out the Web address. It's (http://www.ribco.com), jackass. - Shawn
Birds of America: John James Audubon
Figge Art Museum
Saturday, February 2, through Sunday, May 11
"See ya, Jeff - I'm off to the movies."
"I keep telling you, Mike, you don't have to see that one. It's not necessary."
"Not necessary? Not necessary?! Tell that to John James Audubon!"
"John James Audubon ... the birding enthusiast?"
"Exactly! You think it was necessary that he spend 20 years of his life seeking out every native bird of North America; that he paint vivid, life-size watercolors of them over a 20-year period; that he publish a collection of 435 hand-colored etchings of 1,065 birds from 489 species; and that he subsequently revolutionize the field of ornithology?!"
"Uh ... no ... ."
"And do you do think it's necessary that the Figge Art Museum is showcasing 40 avian chromolithographs from the Charles Deere's collection of 98 Audubon prints in a new exhibit titled Birds of America: John James Audubon, on display beginning February 2?"
"Probably not ... ."
"That's right! They're doing it because Audubon loved birds! And the Figge loves birds! And plenty of other people love birds, too! Not because it's necessary!"
"That's fine, Mike. And I understand that you love movies like Audubon loved birds. I'm just saying you don't have to see this particular movie."
"Oh, thank god. Singing vegetables give me the creeps."
Birds of America: John James Audubon opens on February 2 along with the debuting exhibit Clear Your Mind: Contemporary Glass Invitational, and information on both is available by visiting (http://www.figgeartmuseum.org).
The Henhouse Prowlers
Bent River Brewing Company
Friday, February 1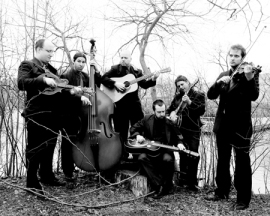 In a Time Out Chicago description of the Henhouse Prowlers' style, we are told, "This bluegrass band has the right formula: heavenly harmonies on top of furious finger-picking, trucking down the highway at 200 miles per hour. When you're dealing with a force of nature this big, you either get on the truck or get the hell out of the way."
Fine. Getting on the truck it is then.
Performing at the Bent River Brewing Company on February 1, the Henhouse Prowlers are a six-piece ensemble devoted to both originals and bluegrass classics whose repertoire finds them performing on guitar, banjo, fiddle, mandolin, dobro, and upright bass while vocalizing in two-, three-, four-, and even five-part harmony. Including a recurring gig at the famed Uncommon Ground restaurant in downtown Chi-town, the Henhouse Prowlers perform upwards of 200 shows a year - always, it should be noted, in the well-pressed suits seen in the accompanying photo - and according to the group's Web site (http://www.henhouseprowlers.com), the group is "equally comfortable playing a wedding reception as they are alongside a raucous rock-and-roll outfit."
Yes. I, too, am praying that that photo isn't from someone's wedding reception.
For more information on the Henhouse Prowlers' Bent River appearance, visit (http://bentriverbrewery.com).
Riff Raff Theater Presents Speed
Englert Theatre
Friday, February 1, 8 p.m.
Mystery Science Theater 3000 fans rejoice! TV's snarky celebration of bad movies - and the bitchy comments we make while watching them - may have left the airwaves, but its spirit is alive and well at the Englert Theatre on February 1, with an interactive performance by the recently formed Riff Raff Theater company.
Just like the MST3K gang, Riff Raff is devoted to peppering the movie-viewing experience with a ceaseless assault of jokes, puns, observations, and occasionally tasteless commentary, and in addition to the group's live performances, its Web site (http://www.riffrafftheater.com) currently allows you to download a gag-filled take on Harry Potter & the Sorcerer's Stone.
I applaud Riff Raff's moxie, although I do have a beef with the presentation scheduled for Englert audiences - Speed. I mean, really ... how do you make fun of Speed?!
Sure, the plot is silly, what with that whole the-bus-will-explode-if-it-goes-under-50-miles-per-hour angle. And that bit where the bus makes that 50-foot jump over the unfinished patch of highway, and where the derailed subway crashes through the street and lands on Hollywood Boulevard - those scenes are kind of far-fetched. And then there's Keanu Reeves' adorable "tough-guy" voice as he makes like Clint Eastwood with lines like "Shoot the hostage!" and "Mister ... I'm already there!" And ... .
Wait, what was I saying again ... ?
For more information on Riff Raff Theater's Iowa City appearance, visit (http://www.englert.org).
Acting Smart: Helpful Tips on Appearing More Intelligent Than You Actually Are
On February 1, the Latina Dance Project brings its touring production Coyolxauhqui ReMembers to St. Ambrose University's Galvin Fine Arts Center. If the subject ever comes up in conversation, here are five ways to take part without looking like an idiot:
1) Know who they are. Formed in 2002, the Latina Dance Project is composed of renowned dancer/choreographers Licia Perea, Eluza Santos, Juanita Suarez, and Eva Tessler, all dedicated to conveying personal and global experiences through modern dance and performance art.
2) Know what they do. Frequent artists-in-residence with cultural arts centers and organizations, the Latina Dance Project's members teach dance and movement classes, deliver lectures, offer demonstrations, engage in outreach activities, and present touring productions such as Coyolxauhqui ReMembers.
3) Know what Coyolxauhqui ReMembers is about. A demonstration of modern, samba, and aerial dance set to original music, the production re-interprets the Aztec myth of the titular moon goddess through four vignettes, drawing parallels between her story and the condition of contemporary women.
4) Know how to pronounce "Coyolxauhqui." It's coil-sh-owe-kay.
5) Know how to use it in conversation. Say "Did you see that full moon last night? My dog was howling at it all night. You'd think she was Coyolxauhqui!" Then laugh and sip your drink.
For more information on Coyolxauhqui ReMembers, visit (http://www.sau.edu/galvin).