Take Me Out
River Music Experience
Thursday, January 10
The Trip to Bountiful
Playcrafters Barn Theatre
Friday, January 11, through Sunday, January 20
Sheesh ... could the area-theatre productions for 2008 be starting on a more intimidating note?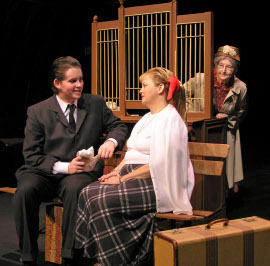 In a year filled with noteworthy titles at the Playcrafters Barn Theatre - among them the forthcoming 12 Angry Men, Crimes of the Heart, and the Burt Bacharach/Hal David/Neil Simon musical Promises, Promises - the Moline venue opens its latest season with Horton Foote's The Trip to Bountiful (pictured) on January 12. If the playwright's name seems familiar, that might be because Foote received a 1995 Pulitzer Prize for his play The Young Man from Atlanta, a 1997 Emmy Award for writing the TV movie Old Man, a 1983 Academy Award for his original screenplay for Tender Mercies, and the 1962 Academy Award for his adaptation of To Kill a Mockingbird.
As for the work itself, it's a touching drama about an elderly woman's return to her childhood home, and the movie version won Geraldine Page a 1985 Best Actress Oscar. So, yeah ... pretty intimidating.
Meanwhile, New Ground Theatre will offer Richard Greenberg's Pulitzer-nominated, Tony-winning Take Me Out at the River Music Experience on January 11. The acclaimed 2003 play takes a fascinating "What if ... ?" premise - in this case, "What if a beloved, major-league baseball player, at the height of his career, outed himself during a press conference?" - and mines if for explosive drama, dark humor, heartbreak, and shocking plot twists. Although I've never seen the play, I have read it, and honest to God, the endings to Acts I and II made me gasp.
There is, by the by, good news and bad news associated with New Ground's presentation of Greenberg's piece; the show calls for quite a bit of full-frontal male nudity, but as Thursday's performance is a reading of the work as opposed to a staged production, you won't be seeing any full-frontal male nudity. Please determine for yourselves which is the good news and which is the bad news.
For further information on The Trip to Bountiful and Playcrafter's 2008 season, visit (http://www.playcrafters.com); for more on Take Me Out and New Ground's play-reading series, visit (http://www.newgroundtheatre.org).
AIDS Project Quad Cities' Red Ribbon Dinner
Davenport RiverCenter
Saturday, January 12, 5 p.m.
In the summer of 2004, my friend Brad Hauskins and I co-scripted Circa '21's musical revue A Night on Broadway, in which the theatre's wait staff of Bootleggers performed from such Broadway productions as Hairspray and Rent. So when I discovered that the featured entertainer for January 12's AIDS Project Quad Cities' Red Ribbon Dinner was Shayna Steele, I was awfully impressed, as she was actually in Broadway productions of Hairspray and Rent.
In fact, this New York-based, world-class vocalist holds the distinction of being the very first replacement to join the original Rent cast, but her accomplishments hardly end with the Great White Way. Steele has performed on Late Night with Conan O'Brien, The Late Show with David Letterman, and both the Grammy and Tony Award telecasts; has sung at Carnegie Hall, Radio City Music Hall, and Lincoln Center; appeared in the final season of The Sopranos; and, next month, joins Bette Midler in Las Vegas for a month-long engagement at Caesar's Palace.
Securing a performer of Steele's renown is quite a coup for AIDS Project Quad Cities' annual benefit dinner and auction (which, last year, raised funds of some $100,000). And what, you may ask, is the title for this year's red-ribbon event?
A Night on Broadway.
Damn it, Brad! I told you we should have had that copyrighted!
Tickets for the 2008 Red Ribbon Dinner at the Davenport RiverCenter are available by visiting (http://www.aidsprojectqc.org).
Rootstand
Bent River Brewing Company
Friday, January 11
I don't generally quote school-newspaper raves in these pieces, but in researching the musicians of Rootstand - who play the Bent River Brewing Company on January 11 - I came across Kristy Dellach's plaudit in Wayne State University's South End, which stated that the group creates "an inner zest to get on the porch with a bowl of biscuits and gravy and show your neighbors that Rootstand's jams possess the key to a summery buzz any time of year."
Any chance Bent River could keep them employed here 'til, like, April?
Led by vocalist/guitarist Brant Losinski, drummer Matt Pernar, and harmonica player John Snyder, the Michigan-based jam band performs a blend of originals and traditional songs incorporating nearly every genre imaginable (a short list of styles includes bluegrass, Celtic, reggae, blues, ska, hip-hop, and even polka), has released four albums, and was described by Detroit's Jam Rag as "a lively, entertaining must-see."
They sound like a blast, though I do take issue with Rootstand's description of its Live at Leopold's CD; we're asked to pay particular attention to track seven, because "John was playing so hard he sucked a metal reed out of his harmonica and into his mouth." Oh, please ... like that kind of unintentional goof that will make people rush out and purchase a band's CD ... .
Wait ... where is everybody going ... ?
For more information on the group, visit (http://www.rootstand.com).
Dancing with the Stars: The Tour
i wireless Center
Saturday, January 12, 7:30 p.m.
Well, folks, we knew it would someday come to this. My editor, Jeff, has officially decided that my What's Happenin' pieces have gotten too wordy, and told me that he's going to start trimming all extraneous information he finds. Personally, I think he's bluffing, but in the hopes of a happier workplace environment, I'll do my best to eliminate the jokes and non sequiturs and simply provide the info people need.
On January 12, Moline's i wireless Center presents the much-anticipated return of Dancing with the Stars: The Tour, a live-event off-shoot of the hugely popular ABC competition series. According to the tour's Web site at (http://dancingwiththestars.aeglive.com), among the performers gracing the stage will be season five's Sabrina Bryan and Mark Ballas, the ever "Whoa!"-worthy Joey Lawrence, and the legendary Wayne Newton, which is funny because I had a friend who