Mark Twain & the Laughing River
Ohnward Fine Arts Center
Saturday, March 22, 7 p.m.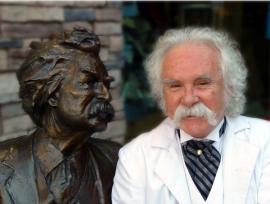 On March 22, actor/folk singer Jim Post brings his production of Mark Twain & the Laughing River to Maquoketa's Ohnward Fine Arts Center, and according to press materials, the musical offers "one hour and 45 minutes of Twainian wit and wisdom." It's pretty apparent, though, that Post could easily fill one hour and 45 minutes just reading the amazing reviews he's received for it.
Written by its star - with wife Janet accompanying on cello and piano - Mark Twain & the Laughing River finds its title character recalling, through monologue and song, his adventurous boyhood in Hannibal, Missouri, and if Post's eerie likeness to Twain (see photo) weren't reason enough to attend, here's a sampling of the man's accolades. The Washington Post: "Jim Post is a one-man tour de force." The Rockford Register Star: "He is, quite possibly, one of the most dynamic, touching, comic, wry, outrageous, brilliant entertainers you'll ever experience." The Winnipeg Free-Press: "An entire dictionary of superlatives could never completely capture all the warmth, humor, and depth of feeling Jim Post displays on stage."
I probably could've found more, but I heeded Mark Twain's advice to "Never put off until tomorrow what you can do the day after tomorrow," and now I'm running behind. Thanks a ton, Twain.
For more information on the show, visit (http://www.ohnwardfineartscenter.com).
River City Radio Hour
The Moline Club
Friday, March 21
Here's a stumper for ya: What do Garrison Keillor and Scott Tunnicliff have in common?
What's that? You say Keillor hosts public radio's A Prairie Home Companion, and Tunnicliff hosts the River City Radio Hour, a Quad Cities program modeled after that very same show?
Hmm. I was going with them both having 15 letters in their names, but yeah, that too, I guess ... .
Since last fall, Tunnicliff has performed emcee duties for the monthly River City Radio Hour, which, like Keillor's beloved broadcast, is a showcase for area folk singers, storytellers, and comedians. The program series can be downloaded as a podcast from iTunes and the Web site for house musicians The Barley House Band (http://www.barleyhouseband.com), but I'm guessing it'd be even more fun to catch the show live at the Moline Club on March 21, when you can actually witness the homegrown talents on display.
Among that evening's performers are storyteller Steve Marriott and musical guest Kim Wiseman, who once received this plaudit from the Reader's Jeff Ignatius: "Her phrasing and articulation are strong, and her somewhat-husky voice is rich, with impressive range and unquestionable conviction." And forgive the plug for my boss, but he's still upset that I wrote 12 of these things last week and didn't mention him once. [Editor's note: No I'm not.]
Tickets to the River City Radio Hour are $27 for the 6:30 p.m. dinner and 7:30 p.m. show, and are available by calling (309) 762-8542.
Down Lo
Rock Island Brewing Company
Thursday, March 20, 10 p.m.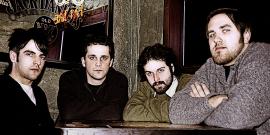 It's nothing I like to brag about, but I was in this band in 2006, and when Todd Harrison reviewed our CD for Minnesota's music magazine The Rift, he wrote that we combined "elements of jazz, funk, blues, reggae, and country into a mix most sandal-clad, earth-worshiping music fans should find irresistibly tantalizing."
Kidding! That's actually a review of the album Lead My Way from the Minnesota group Down Lo. April Fool's! (That gag will play a lot better if you read it again a week from Tuesday.)
Performing more than 175 concerts annually at venues nationwide, Down Lo - who hit the Rock Island Brewing Company on March 20 - is a Twin Cities-based outfit that that has brought their unique sound to such Midwestern festivals as Wakarusa, 10,000 Lakes, and LogJam, and a visit to the band's Web site (http://www.downlotunes.com) finds bass player Ryan Nielson discussing the joys of getting crowds out of their seats and onto the dance floor. "Whatever I do, I wanna make it funky," says Nielson. "If it's funky, people dance."
Interesting. Apparently, when people want to dance, they see Down Lo. When I dance, people get down low.
More information on the group's RIBCO appearance is available at (http://www.ribco.com).
Public Property
Bent River Brewing Company
Thursday, March 20
While perusing the online biography for Iowa City's Public Property - the popular reggae performers playing the Bent River Brewing Company on March 20 - I came across a sentence I absolutely loved: "Rarely has a uke been so seditious." Then I looked up "seditious" (meaning "arousing to action or rebellion"), and loved the sentence all the more.
Since its origin in 2003, Public Property has been known and admired for the controversial lyrics behind their catchy beats; among the group's repertoire, "Choo Choo" concerns the genocide in Rwanda, while "Higher" takes aim at war fought in the name of religion. Yet even with a seditious ukulele, the ensemble has never promoted anarchy at the expense of fun.
Performing what their site describes as "roots reggae to gospel reggae, ska to hip-hop-infused funk to rock, and back to reggae," Public Property has played hundreds of high-energy gigs across the Midwest and has released three CDs that have wowed fans and music critics alike; reviewing the band's 2005 album What's Goin' Down, the Iowa City Press-Citizen raved that the group fashions "some of the most ebullient, infectious reggae/ska-based island music anywhere," and Little Village magazine wrote, "You're a chump if you don't check out the CD, but you're an idiot if you don't go see them live."
To not be the former, visit (http://www.publicprop.com); to not be the latter, visit (http://bentriverbrewery.com).
Easter Brunch and Tour
Figge Art Museum
Sunday, March 23
If you were considering taking your family Easter-egg-hunting this Sunday, here's a location you may not have thought about for the adventure: The Figge Art Museum. Granted, the eggs might be scrambled, but still ... .
On March 23, the Davenport venue presents an 11 a.m. to 2 p.m. Easter brunch, with a bevy of culinary options - and free champagne for the grown-ups - available in the main lobby overlooking the Mississippi River. And Figge visitors are also invited to participate in Sunday's Passion of Christ tour, which features a docent-led look at nine paintings and sculptures in the museum's European, Mexican Colonial, and Haitian collections - works depicting Christ's march up Calvary, crucifixion, and descent from the cross.
Figge docent Linda Lewis says that pieces on the tour include José de la Mota's Christ Washing the Feet of the Disciples, Seymour Bottex's Jesus Falls Under the Cross, and Bartolomé Carducho's Descent from the Cross (pictured), and mentions that like the Easter brunch, the Passion of Christ tour is an annual event at the Figge. But even if you've been on the tour before, remember there are always details in artworks that you only catch on a repeat visit, and besides, there's absolutely nothing wrong with a second coming.
Oh, come on! My jokes have been totally tame this week!
For more information on the Figge's Easter Sunday activities and other events, visit (http://www.figgeartmuseum.org).