Anybody for Murder?
Playcrafters Barn Theatre
Friday, March 7, through Sunday, March 16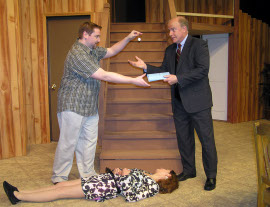 Beginning March 7, the Playcrafters Barn Theatre opens the farcical thriller Anybody for Murder?, and its setup finds an unfaithful husband planning to kill his wife and run off with his girlfriend, until the wife's cousin informs the husband that his wife is the recent beneficiary of a large inheritance, at which point the husband decides to murder his girlfriend instead, while the cousin and her husband decide to abscond with the new fortune by doing away with the wife themselves.
In short, Anybody for Murder? is about seemingly rational people wanting desperately to eliminate their spouses and relations, and I should probably mention that the show is directed by Playcrafters veteran Patrick Adamson, is produced by his mother, April, and features a set constructed by his father, Jeff, and co-painted by his brother, Jim. Oh, and one of the show's performers, Pamela Crouch, is married to the show's stage manager, Chris Zayner.
Everyone's reasons for wanting to work on this particular production are best left between them and their therapists.
For tickets, call (309) 762-0330 or visit (http://www.playcrafters.com).
The Coal Men
Rock Island Brewing Company
Thursday, March 6, 10 p.m.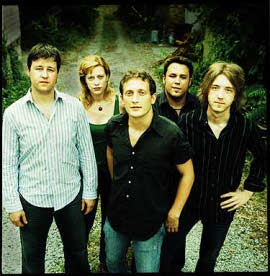 When I first read the online biography for the Nashville-based rockers The Coal Men, and landed on vocalist/guitarist/composer Dave Coleman's quote that "Songwriting becomes therapy - when things are going great, rarely do I write a song about it," my immediate thought was Oh, that poor bastard, because the guy has written a lot of songs.
Let's hope that great reviews help combat the pain. Making their area debut at the Rock Island Brewing Company on March 6, the group has performed everything from delicate acoustic numbers to full-throttle rock anthems for crowds nationwide, and music critics have been enthusiastic in their praise; The Tennesseean's Peter Cooper wrote that "The Coal Men have risen from the ranks of Nashville up-and-comers to a spot as one of Music City's strongest, nerviest rock acts," and Music Row Magazine's Robert K. Oermann raved about the "undertow bass line, slashing electric guitars, pounding percussion, and sizzling organ/piano work," adding: "Dave Coleman writes brilliantly and sings with soulful conviction."
As for what Coleman writes, a quick look through the group's output finds songs about ex-girlfriends, the ends of relationships, a mother barely able to survive on her Social Security checks ... .
Okay, seriously. When they're at RIBCO, will somebody buy Coleman a drink? Please?
More on The Coal Men is available by visiting (http://www.thecoalmen.com).
The New Deal
The Redstone Room
Saturday, March 8, 9 p.m.
Interviewed for the college newspaper The Vermont Cynic - which has just become my new, all-time favorite publication title - bassist Dan Kurtz was asked how he felt about his group being referred to as a jam band. His response: "Sure, we're a jam band. But we're also an electronic band, we're a rock band, we're a progressive rock band, we're a punk band sometimes ... . Whatever you wanna call it, great. I call it The New Deal."
And I will, too. A three-piece ensemble hailing from Canada, The New Deal - playing the Redstone Room on March 8 - is composed of Kurtz, keyboard player Jamie Shields, and drummer Darren Shearer, and is unusual in the realm of electronica for its musicians playing live instruments as opposed to relying solely on synthesizers and computers.
Fused with jazz and hip-hop, their pulsating house beats have wowed audiences at Bonnaroo, Jazz Fest New Orleans, and the Detroit Electronic Music Festival, and the group's 2006 CD Live: Late Night is The New Deal's eighth release since the band's beginnings in 1999 - an origin that its members have referred to as "a beautiful accident." Which is just what my mom calls me. I have no idea why.
For more information on The New Deal's Redstone Room gig, visit (http://www.thenewdeal.com).
Angélique Kidjo
Hancher Auditorium
Thursday, March 6, 7:30 p.m.
On March 6, noted Beninese singer/songwriter Angélique Kidjo brings her spectacular world-music stylings - which blend Afropop, Afrobeat, reggae, gospel, jazz, rumba, and Latin influences - to Iowa City's Hancher Auditorium. Which of the following is not an argument for Kidjo's coolness?
A) She is fluent in the French, English, Fon, Swahili, and Yoruba languages.
B) She has been a Goodwill Ambassador for UNICEF since 2002.
C) Her 2007 CD, Djin Djin, features vocals by guest artists Alicia Keys, Ziggy Marley, Carlos Santana, and Branford Marsalis.
D) Djin Djin won a Grammy last month for Best Contemporary World Music Album.
E) Kidjo dedicated her Grammy to "the women of Darfur, the women who are fighting every day to give their kids an education."
F) U2's Bono has called Kidjo "the galvanizing voice of sub-Saharan Africa."
G) In the Simpsons episode "Simpson Safari," Homer's African tour guide sings lyrics from the Kidjo song, "Wé-Wé."
For more information on Kidjo and tickets to her Iowa City concert, visit (http://www.hancher.uiowa.edu).
Answer: G. But only because Homer himself didn't sing it.
Michael Davis
Theo's Java Club
Friday, March 7, 9 p.m.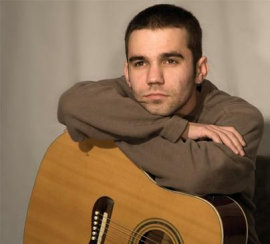 In October of 2002, Michael Davis made his professional singing debut by opening for a theatrical production at Lincoln's New Salem State Historic Site, in Petersburg, Illinois. Ironically enough, I, myself, was singing in the opener for a theatrical production at the very same time, albeit one in Rock Island, Illinois. I could totally have his career ... if, you know, I wrote songs ... and played guitar ... and had a recording contract ... and was about 15 years younger ... .
Performing at Theo's Java Club on March 7, this Springfield native has been musically motivated since grade school, playing flute at age nine, trumpet at 10, and bass in junior high, and eventually teaching himself to play acoustic guitar in 2005, just in time for the release of his six-song EP Sappy Songs for Sappy Days. That led to a contract with Cellar Records and his first studio album, 2007's One Down ... , and if you visit the biography section of the artist's Web site (http://www.michaeldavisband.com), you'll learn that Davis' style is "often referred to as Bob Dylan meets Rob Thomas."
And I think you'll all agree ... . that mixture might sound a little ... like this ... :
Hi. I'm Michael Davis. I'm very pleased to be playing in Rock Island on Friday night, and you can get more information on my set by calling Theo's at (309) 788-5282.
(Of course, if you could've heard my impression, that bit would have been a lot funnier.)