12 Angry Men
Playcrafters Barn Theatre
Friday, May 9, through Sunday, May 18
The Playcrafters Barn Theatre's latest presentation is the jury-room drama 12 Angry Men.
It runs from May 9 through 18.
For tickets, call (309) 762-0330.*
*I realize this particular What's Happenin' piece is, by the usual standards, really short. But if I were to start going on about how I've seen the Henry Fonda version of 12 Angry Men about 30 times, and the Jack Lemmon version at least a dozen times, and how I've been dying to see Reginald Rose's stage adaptation for years, and how stoked I was to learn that the Moline theatre was doing it, and how I was even more stoked after learning that such Playcrafters veterans as James Driscoll, Tom Morrow, Don Hazen, Chris Browne, Spiro Bruskas, Joshua Kahn, and Jerry Wolking were among Craig Michaels' cast, this piece would've wound up being way too long. Which, now, it probably is. Just be grateful that you're not currently reading the print version of this piece, as you'd likely be made fun of when friends noticed that you were reading the newspaper upside-down.
Cyro Baptista & Beat the Donkey
Hancher Auditorium
Sunday, May 11, 2 p.m.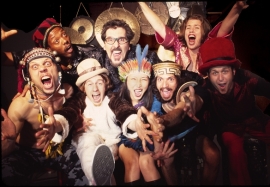 Check out that photo featuring the musicians of Cyro Baptista & Beat the Donkey. From the information I've gathered, that's the group when they're feeling restrained.
On May 11, Iowa City's Hancher Auditorium presents a matinée performance with this noted, outrageously attired world-beat ensemble - led by Brazilian percussionist par excellence Cyro Baptista - and the group's electrifying melding of samba, jazz, rock, fun, martial arts, and tap-dancing (!) has thrilled audiences, and music critics, around the globe. Among the raves: Relix magazine wrote, "Beat the Donkey is a product of unbridled imagination, intense musical knowledge, skill, and a lust for sheer joy"; the Village Voice enthused, "The energy of their attack has a free-for-all physicality that keeps a smile on your face"; and the Richmond Times Dispatch stated that "there was sword dancing, acrobatic stunts, carnival costumes, and through it all, some of the most innovative percussion I've ever seen."
Cyro Baptista's venture sounds like a spectacular way to spend Mother's Day, even if, as mine does, your mother lives out of town and won't be able to join you. Be careful how you break the news to her, though - my mom called to ask about my Sunday-afternoon plans, I told her I was going to Beat the Donkey, and after muttering, "That's disgusting ... ," she hung up on me.
For tickets, call the Hancher box office at (319) 335-1160.
Savoy Brown
The Redstone Room
Wednesday, May 7, 8:30 p.m.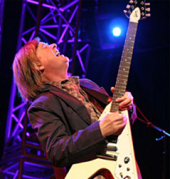 Performing at Davenport's Redstone Room on May 7, Savoy Brown - the British band long-considered to be pioneers of the UK's blues-rock movement - began its long musical history playing English pubs in 1966, yet achieved its greatest early success in the United States, with the platinum-selling single "I Can't Get Next to You" in 1971 and, especially, the Billboard smash Hellbound Train in 1972.
In the 36 years since, the Savoy Brown lineup has changed considerably, with former members including Foghat's Dave Peverett, Tone Stevens, and Roger Earl. Yet guitarist and lead vocalist Kim Simmonds continues to headline the group - currently playing alongside drummer Mario Staiano and bassist Gerry Sorrentino - and after the release of more than three-dozen titles, Savoy Brown is still touring and releasing acclaimed albums; its 2007 Steel was praised by the Post Standard Syracuse for its "glorious guitar work and rock-steady vocals."
An uninterrupted professional music career of 42 years, an enormous discography, international recognition, and, I forgot to mention, a successful career as a solo acoustic performer. So Kim Simmonds is singing the blues why exactly ... ?
For more information on Savoy Brown's May 7 concert, visit (http://www.redstoneroom.com).
Gallery Hop!
District of Rock Island
Friday, May 9
Beaux Arts Fair
Downtown Davenport
Saturday, May 10, and Sunday, May 11
On May 9, the District of Rock Island hosts the annual springtime Gallery Hop!, and on May 10 and 11, downtown Davenport hosts the annual Beaux Arts Fair. Combined, the events will allow you to enjoy the artistic creations of a whopping 27 artisans! Amazing, huh?
What do you mean you're not impressed?
Oh, wait ... I left out a couple of words there ... . I meant a whopping 27 artisans per hour. Sorry.
From 10 a.m. to 5 p.m. on Saturday and 10 a.m. to 4 p.m. on Sunday, the Beaux Arts Fair will, in addition to children's activities and food vendors, feature the works of 147 juried artists from seven states, who will flood Second Street with arts and crafts in every conceivable medium. Let's cross our fingers that that's all Second Street will be flooded with.
Meanwhile, from 5 to 9 p.m. on Friday, the District's Gallery Hop! will feature visual and performance arts by more than 300 local talents at 20 downtown venues, including demonstrations by artists Mark Fowler, Regan Hatfield, and Jay Stratton; music by Lojo Russo, Mike Davis, and the Red Hot Chili Peppers tribute Funky Monks; and Midcoast Gallery West's children's event with Corrine Smith, in which kids can design their very own robots.
And if you'll permit me a message to the kids: If you can program your robot to say "Happy Mother's Day!" and give your mom a hug, you'll be able to get away with murder for, like, a year.
More information on the Beaux Arts Fair can be found by visiting (http://beauxartsfair.com); for more on Gallery Hop!, visit (http://www.ridistrict.com).
Libby Fischer Hellman
Davenport Barnes & Noble
Thursday, May 8, 7 p.m.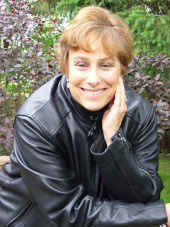 In a press release promoting Libby Fisher Hellman's Easy Innocence, we're told that the Chicago author's latest novel is "about high school girls and what they are doing when they're not adequately supervised." And if you were expecting the book to blow the lid on incessant text-messaging and online shopping, you're in for a big surprise.
Appearing at Davenport's Barnes & Noble for a May 8 book-signing, Hellmann is the award-winning writer of the mystery novels An Eye for Murder, An Image of Death, and A Shot to Die for, and her latest finds the author exploring her darkest literary terrain yet, when the murder of teenage girl in Chicago's North Shore suburb alerts private investigator Georgia Davis to the horrors of a Midwestern teen-prostitution ring.
Described by CrimeSpree magazine as "suspenseful and gripping ... a tough act to follow," Easy Innocence was inspired by what its creator calls "every mother's nightmare," as Hellman herself is the single mother of a teenage daughter; in an interview on the author's Web site (http://www.hellmann.com), she states that, "Some books come from a vision. Others from personal experience. Easy Innocence came to me out of fear." Thankfully, inspiration based on fear is something we deadline writers know nothing about.*
For more information on Hellmann's book-signing, call Barnes & Noble at (563) 445-8760.
*I'm lying. We totally do. Like the time when ... . Wow, just think of those poor saps stuck reading the paper upside-down again. I really should stop doing that to them... .