Kurt Elling
The Redstone Room
Sunday, November 18
The last three musicians in the Redstone Room's monthly Third Sunday Jazz Matinee & Workshop Series have been a trumpet player, a saxophone player, and a bass player. If, however, you've been feeling under-served because you don't play any of those instruments yourself, there's no excuse for missing the series' November 18 offering, as the Davenport venue has booked the most democratic jazz artist imaginable - one whose primary instrument is one we're all born with.
Vocalist Kurt Elling is a seven-time Grammy nominee who, since his 1995 debut, has performed alongside such legends as Terrence Blanchard, Jon Hendricks, and Al Jarreau, has composed music for Chicago's Steppenwolf Theatre Company, and has served as artist-in-residence for the 2006 Monterey Jazz Festival. Yet he's also inspired some astonishing vocalizing in the press; the San Francisco Chronicle called him "the most flamboyantly creative jazz singer to emerge in the last decade," and Jazz Review magazine wrote that "Elling may be the greatest male jazz singer of all time."
The musician has also been widely praised for his talents at "ranting," wherein singers improvise lyrics within already improvised melodies. Working in the Reader offices, that's not what I understood ranting to be at all.
Elling and his band will present a 4 p.m. workshop followed by a 6 p.m. concert, and more information can be found at (http://www.redstoneroom.com).
Food for Thought: Book a Great Life!
Rock Island Public Library
Thursday, November 15, 5 p.m.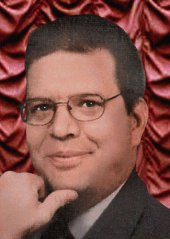 Looking for reasons to attend the Rock Island Public Library Foundation's fourth-annual fundraiser - November 15's "Food for Thought: Book a Great Life"?
How about the enticing food options to be be found throughout the library, including such items as seared chicken, stuffed shrimp, slow-roasted pork, sautéed vegetables, and traditional Greek desserts?
How about the local authors who'll be there for book-signings, among them D.D. Dunn, Roger Hamer, Leslie Langtry, Michael McCarty (pictured), Liz Meegan, Roger Ruthart, Lily Letterdahl, and Dr. Alex Stone?
How about the live music by jazz pianist Coleman Harris, and the silent auction featuring AirTran Airways airline tickets for two, a gourmet meal prepared by chef Eudell Watts III, and a trip to Phantom of the Opera in Chicago?
And if none of that is impetus enough, try this on for size: Your ticket price includes complimentary wine and beer.
That's right, folks: For one night only, you are allowed to drink in the library.
I thought about mentioning that the event is being co-sponsored by the River Cities' Reader, but considering the previous sentence, I figured you'd already assume that.
Tickets are $25 per person or $40 per couple, and can be reserved by calling (309) 732-7302.
The Max Allen Band
Bent River Brewing Company
Saturday, November 17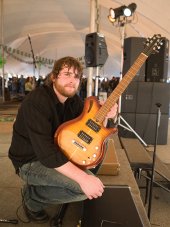 On the Web site for Indianapolis native Max Allen, the singer/songwriter's biography informs us that he's released four CDs, and has amassed an impressive 600 performances at venues in 14 different states. Seeking further information, though, I hunted for an online interview, and found one at (http://indianapolismusic.net) that began: "Local blues guitar prodigy Max Allen is only 18 ... ."
Naturally, I was praying this was a really old article, as no one that young should have this many professional credits. And it turns out it was an old piece. Four years old.
At age 22, Max Allen - playing a blend of jazz, funk, R&B, and rock with his eponymous band - is already a touring veteran, performing original compositions and classic covers at music festivals and colleges nationwide; the group's tours have included stops at Purdue University, Texas A &M, and Annapolis, Maryland's U.S. Naval Academy.
And critics in Allen's home state have been effusive in their praise; at Evansville's online magazine News 4U, Dylan Gibbs raved that Allen "can alternately jump from sweet jazz licks to roaring blues to non-wanky rock leads," and described the musician's sound thusly: "Think of Cake having a baby with Sade, with Dave Brubeck being the godfather."
Great. Now that's all I can think about.
The Max Allen Band plays the Bent River Brewing Company on November 17, and more information on the group is available at (http://maxallenmusic.com).
Painkiller Hotel
Rock Island Brewing Company
Thursday, November 15, 10 p.m.
Kevin "Eddie Prez" Prezby, on the Painkiller Hotel MySpace page, says that the group has made its name "without the help of some crazy image. People are drawn to the band based on the strength of the music, not because our moms sued us in court or our mug shots were on Fox news."
That's probably true, but Prezby shouldn't be bummed about this; they're young, so there's still time.
Formed last fall, the Aurora, Illinois-based Painkiller Hotel - composed of vocalist/songwriter Prezby, guitarist Leif Hendrixon, bassist Adam "Arty" Harker, and drummer Jeff Kissel - performs regularly at such Chicagoland venues as Yorkville's The Big Easy, Naperville's Quigley's, and Batavia's Venice Tavern, and is currently promoting its debut CD, Black Roses, which finds the quartet conjuring the late-'60s/early-'70s rock spirit of inspirations Crosby, Stills, Nash, & Young and Bill Withers. ("Bands that people listen to, but never emulate," Prezby has said.)
Painkiller Hotel makes its area debut at the Rock Island Brewing Company on November 15, and if you're looking for a fitting liquid refreshment to accompany the group's performance, ask bartender Janos Horvath to whip you up a Jon's Joy Juice. That'll knock the pain right outta ya.
For more information on the band, visit (http://www.myspace.com/painkillerhotel).
The Best Christmas Pageant Ever
Richmond Hill Barn Theatre
Thursday, November 15, through Sundau, November 25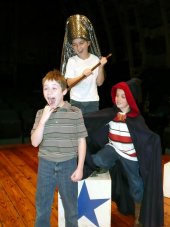 Normally, the Richmond Hill Barn Theatre's season wraps up in October after an annual slate of six productions. Beginning this Thursday, however, the Geneseo venue treats audiences to a seventh 2007 offering, and one that, according to its press release, features "the loudest, nastiest, most inventively awful kids in the community."
Thanks a lot, Richmond Hill.
Of course, abhorrent behavior in other people's children can be great entertainment for the rest of us, as evidenced by the success of Barbara Robinson's 1972 book, The Best Christmas Pageant Ever. The author's much-loved tale of an annual church event waylaid by a half-dozen pint-sized hellions was adapted into a television movie in 1983, and the stage version of Robinette's holiday comedy will be performed at Richmond Hill November 15 through 25, by a cast of more than 40 local participants.
And while, for this season-closing presentation, director Jalayne Riewerts deserves credit for undertaking a show featuring such bratty characters, let's remember that the Richmond Hill veteran also directed the 2006 season-closer Cat on a Hot Tin Roof, with its brood of no-neck monsters, and the 2005 season-closer The Bad Seed. So it's less masochism than simply an annual ritual. Much like a Christmas pageant itself. (Just kidding, kids! We grown-ups love those things! Really!)
For tickets to The Best Christmas Pageant Ever, call (309)944-2244.