Marc Broussard
The Redstone Room
Friday, November 21, 8 p.m.
The Redstone Room, which strives to offer the best national, regional, and local musical acts and prides itself on being home to "one of the most advanced sound and light systems in the Midwest," will undoubtedly be offering quite a show on November 21 with the arrival of Marc Broussard.
Arriving from Louisiana with a mission, Broussard, at age 26, says his aim is "to take what was beautiful and right about old-school soul and make it alive again." With virtually every review of his performances employing the adjective "soulful" in regard to his voice and guitar-plucking style, Broussard appears to have succeeded; according to Rolling Stone, "Broussard's soul-music journey has kicked into a comfortable cruise."
Since 2004, he has recorded three full-length solo studio albums. Keep Coming Back, his most recent CD, was released earlier this year by Atlantic Records; "Hard Knocks," the first single from the album, charted at number 11 on Billboard's "Hot Singles" sales charts. Broussard has also been a featured performer on such programs as Late Night with Conan O'Brien, The Tonight Show with Jay Leno, Jimmy Kimmel Live, and Larry King Live.
Marc Broussard performs at the Redstone Room on November 21, with openers The Gabe Dixon Band and Josh Hoge, at 8 p.m. For more information on the artist, visit MarcBroussard.com; for more information on the event, visit RedstoneRoom.com. - Ashley Allen
The Hue
Rock Island Brewing Company
Friday, November 21, 10 p.m.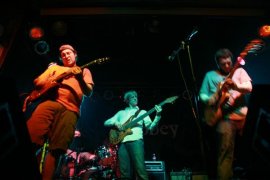 Webster's dictionary defines "hue" as "the quality of a color as determined by its dominant wavelength."
You probably knew that, but I've always wanted to start one of these pieces with "Webster's dictionary defines ... ."
The group playing the Rock Island Brewing Company on November 21, though, is a Hue - or rather, The Hue - of a different color. Composed of guitarists Marcus Rezak and Jared Rabin, bassist Kyle Meyers, and drummer Brian Gilmanov, The Hue is a Chicago-based, all-instrumental ensemble known for its progressive blend of rock, jazz, pop, and metal, and has played packed houses in such venues as the House of Blues, the Metro, and Chicago's Kinetic Playground, where the band debuted its first EP, Unscene, last November.
Although The Hue's musicians first joined forces in January of 2007, they've already played alongside such national acts as The Omega Moos, Garaj Mahal, New Monsoon, and The Motet, and they've certainly captured the attention of music critics and promoters. The Dekalb Daily Chronicle called the group "a quartet combining swift, hard instrumentals with high-energy dance sensibilities," and the Los Angeles-based Spaceland Productions raved that "The Hue takes what you love most about music and throws it in your face."
Gotta say, I just listened to The Hue's song "Like Likes" at MySpace.com/huemusic, and what I loved most was the bass. That's gonna hurt.
The Hue's November 21 gig finds the group playing alongside local favorites The Post Mortems, and more information on the night is available at RIBCO.com. - Mike Schulz
Paul Gilmartin
Penguin's Comedy Club
Thursday, November 20 through Saturday, November 22
Comedian and familiar TV presence Paul Gilmartin, who headlines Penguin's Comedy Club November 20 through 22, has been called "inventive" and a "wonderful presence" by the Chicago Tribune, and has also been described by the paper as a performer who "confronts the hell out of an audience." But something seems amiss at the Tribute's fact-checking department. "Inventive" and "wonderful presence" I'll buy, but "confrontational"?
I mean, sure, he's appeared on Politically Incorrect, the HBO Comedy Showcase, and MTV's Half-Hour Comedy Hour, but he's also spent the last 13 seasons as co-host on the TBS series Dinner & a Movie, which finds Gilmartin helping to prepare cinematically themed dishes to such harmless fare as A Christmas Story, The Mummy, and Footloose.
And sure, he's written for The Dennis Miller Show and released a CD titled Sex, Religion, & Death, but he's also written for the family-friendly Emmy Awards, and was a Phi Beta Kappa graduate of Indiana University. A good Midwestern boy!
But here's the kicker - Gilmartin also writes poetry! I'm currently checking out the comedian's Web site, and there's a sweet and funny piece on Father's Day, and on a dedicated Green Bay Packers fan named Tim ... oh, and there's even one here about a nun, titled "Sister Joan." Lemme find a passage from the piece that'll show you how not confrontational the man is!
Oh.
Oh.
Oh my.
Wow. Guess the Trib might be on to something there ... .
For more on Gilmartin, including links to his Web site (and that eyebrow-raising poem), visit PenguinsComedyClub.com. - Mike Schulz
Danny & the Deep Blue Sea
Village Theatre
Thursday, November 20 through Sunday, November 30
The second area presentation by the Curtainbox Theater Co., Danny & the Deep Blue Sea finds director Daniel D.P. Sheridan taking on Oscar- and Pulitzer Prize-winner John Patrick Shanley's 1984 play, an emotional and bitingly comedic romance between a damaged single mother and a brutish truck driver nicknamed "The Beast." Called "a wrenching love story" by the New York Daily News and "a vivid actor's exercise" by the New York Times, Shanley's two-character piece stars much-in-demand actors Kimberly Furness and Eddie Staver III, and their talents are likely well-known to you, as you no doubt read local theatre reviews and regularly attend local stage productions.
Uh ... you do, right? Let's find out. Which of the following 2008 titles featured Furness, which featured Staver, and which featured both Furness and Staver?
1) Assassins
2) Body of Water
3) Empty Nest
4) The Full Monty
5) Smoke on the Mountain
6) A Streetcar Named Desire
7) The Taming of the Shrew
8) Three Viewings
A) Kimberly Furness
B) Eddie Staver III
C) Kimberly Furness and Eddie Staver III
More information on Danny & the Deep Blue Sea - running November 20 through 30 at the Village of East Davenport's Village Theatre - can be found at TheCurtainbox.com, and tickets are available by calling (563) 650-8121. - Mike Schulz
Answers: 1 - B, 2 - A, 3 - B, 4 - C, 5 - A, 6 - C, 7 - B, 8 - A. If you got them all correct, congratulations! When we're finally introduced, you win a hug. Or a handshake. Your choice.
Holiday Pops
i wireless Center
Saturday, November 22, 7:30 p.m.