A Christmas Carol
Circa '21 Dinner Playhouse
Friday, November 23, through Sunday, December 23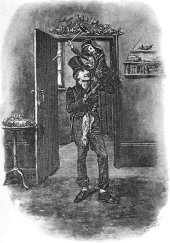 "Mr. Scrooge?"
"What is it, Cratchitt?"
"Sir, I'd like to request an afternoon off, if you please."
"Out of the question, Cratchitt. I gave you the afternoon off last year."
"But, sir, my family was planning our annual trip to the theatre ... ."
"The theatre ... !"
"The Circa '21 Dinner Playhouse, sir. They're presenting a new production of ... of ... ."
"Yes?"
"Well ... ."
"Oh, spit it out, man!"
"Of A Christmas Carol, sir."
"Bah! Will that story never die?!"
"But, Mr. Scrooge! Everyone loves that tale! When you were visited by Marley's ghost and had that vision of your future and changed your wicked ways ... !"
"I prefer not to discuss it, Cratchitt ... ."
"And this is a musical version of the story, sir, and it's funny and sad and heart-warming, and Tom Walljasper is the director, and the cast includes Adam Lewis and Brad Hauskins and Erin Dickerson and George Schulz and ... !"
"Enough, Cratchitt! Enough! You can have your infernal afternoon off!"
"Oh, God bless you, Mr. Scrooge! God bless us, everyo - "
"Not one more word, Cratchitt."
Circa '21 presents matinée performances of A Christmas Carol November 23 through December 23, and tickets are available by calling (309)786-7733, extension 2.
Julmarknad
Bishop Hill State Historic Site
Friday, November 23, through Sunday, December 2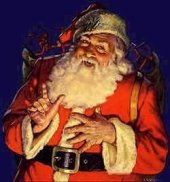 "Glad Fridagen!
"Du kan tänka JAG er Santiago Klausul. Utom mig namn er Jultomte, och JAG er här till berätta du omkring Julmarknad!"
Sorry about that. I just wanted to get you in the mood for Bishop Hill's annual Swedish Christmas Market, Julmarknad, with a friendly introduction by the traditional Christmas gnome, Jultomte (pictured). It was either him or the traditional Christmas goatman, Julbok, and trust me, Jultomte is a lot easier on the eyes.
Over the weekends of November 23 through 25, and December 1 and 2, you're likely to find both characters roaming the grounds of the Bishop Hill State Historic Site, which will be adorned with beautiful holiday lights and decorations, and will feature local shops selling hand-crafted Swedish folk art, antiques, toys, and tasty delicacies galore.
Other Julmarknad events and activities include keyed-fiddle performances by Lisa Horngren, artist demonstrations, make-and-take workshops, and sweets aplenty at the Cookie Walk and Chocolate Walk, all of which should inspire Bishop Hill visitors to let loose with a mighty, "God Jul, och Glad Nyåren!" (I thank my Augustana education for the Swedish phraseology. That, and this great online translation service I just found.)
For more information on this year's Julmarknad, visit (http://www.bishophill.com).
2nd Annual "Art Bizarre"
Bucktown Center for the Arts
Through Saturday, December 22
Traditionally, the days immediately following Thanksgiving are the year's busiest - and most annoying - shopping weekend. But I have it on good authority that traffic isn't expected to be that bad this year, and that those seeking bargains in local shopping centers and retail chains are going to be friendly, courteous, and extraordinarily patient.
Oh, come on. You know I always start these things off with a joke.
For a break from the post-Thanksgiving norm, however, consider the shopping alternative found in the Bucktown Center for the Arts' second-annual "Art Bizarre," taking place Wednesdays through Saturdays from 11 a.m. to 6 p.m. With over 200 artists and 20 Bucktown studios represented, you'll be able to find hundreds of one-of-a-kind gifts - including clothing, accessories, and artworks - fashioned from every conceivable artistic medium, and Saturdays bring with them on-site demonstrations from such Bucktown artisans as Jennifer Petersen (hand-designed Christmas cards and journals), Marlene McCulloch and Dawn Lloyd (quilts and fabrics), and Debi Larson (woven beads and jewelry).
Imagine: a holiday-shopping establishment you'd actually want to hang out at after the shopping's done. That's totally bazaar.
More information on Bucktown's "Art Bizarre" can be found at (http://www.bucktownarts.com).
"Sacred Images of Christmas" Tour
Figge Art Museum
Sunday, November 25, through Sunday, December 30
On November 25, the Figge Art Museum offers the "Sacred Images of Christmas" tour, a holiday-themed event in which images of the Christ child will be looked at and discussed a full month before the actual celebration of his birth. Kinda like the museum equivalent of a sonogram.
Hmm. That was a better analogy in my head.
Occurring Sundays at 1:30 p.m. through December 30, this tour of works in the museum's permanent collection will explore the stories, mysteries, colors, and textures found within the displayed paintings (plus one 500-year-old wood carving). The selections will give museum visitors an artistic view of events leading up to the birth of Christ, with artworks including Albrecht Durer's The Visitation, Philome Obin's Nativity, and Baltasar de Echave Rioja's Adoration of the Magi (pictured).
"Sacred Images of Christmas" promises to be an insightful - and most enjoyable - chronological tour. Kinda like when Mom shows off my baby pictures on her hallway walls.
Not that, you know, I'm comparing myself or anything ... .
Man, my analogies are really failing me today.
Additional "Sacred Images of Christmas" tours will be given at 7 p.m. on December 6 and 20, and more information on the Figge's programs is available by visiting (http://www.figgeartmuseum.org).
Kenny Rogers' "Christmas & Hits Show"
Adler Theatre
Tuesday, November 27, 7:30 p.m.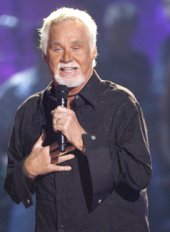 As a prelude to the holidays, the Adler Theatre will, on November 27, welcome a very special visitor to the area, one who's sure to light up the Davenport venue with a true burst of Christmastime spirit. He has warm, crinkly eyes, a jolly smile, and a familiar white beard, and it's safe to say that the holidays just wouldn't be the same without him.
That's right, folks! It's none other than ... !
Oh, damn. That photo gave it away, didn't it?
In any event - and for the 26th consecutive holiday season - country-music legend Kenny Rogers is touring the country with his "Christmas & Hits Show," which finds the singer sharing classics from his repertoire (including "Lady," "The Gambler," and "Islands in the Stream") in the production's first half, and beloved songs of the season, performed amidst lavish scenery and spectacular production numbers, in the second.
Joining Rogers on this year's tour are Grammy winner Linda Davis and teenage America's Got Talent phenom Julienne Irwin, and being asked to join the tour must have the young country singer pretty psyched; other performers who got their start in Rogers' "Christmas & Hits Show" include Garth Brooks and Sean Hayes. So it's entirely possible that, as a result of this tour, Irwin could become a chart-topping country-music sensation, too. Or the flamboyantly gay neighbor on a long-running sitcom. Whichever.
For tickets, visit