Christmas Craft Show, Art "Bizarre," and Julmarknad
QCCA Expo Center, Bucktown Center for the Arts, Bishop Hill
"Hello, readers!
"My name's Jultomte, the Swedish Christmas gnome, and since you'll likely be doing a little holiday shopping this weekend, I thought I'd take a break from tidying to tell you about some great places to stop for unique seasonal gifts!
"For instance, Rock Island's QCCA Expo Center hosts its 19th-annual Christmas Craft Show from November 28 through 30. The largest handcrafted fair in the Midwest, it'll feature nearly 200 exhibitors with the finest in country crafts and artworks, and is certainly a popular local tradition - last year saw attendance of some 10,000 visitors! Admission is $4, with kids 12 and under free, and information is available at QCCAExpoCenter.com.
"Across the river, Davenport's Bucktown Center for the Arts presents its second weekend of the annual 'Art Bizarre,' with more than 200 artists and 20 studios offering one-of-a-kind items for everyone on your holiday list! Open Wednesday through Saturday until December 20, this wonderfully bizarre bazaar will also feature artists' demonstrations and other special events on its two Final Fridays evenings - November 28 and December 19 - and more can be found at BucktownArts.com.
"And if you travel to Bishop Hill, Illinois, this weekend, you'll find something very special there - me! The annual Swedish Christmas festival, Julmarknad, takes place November 28 through 30 (plus December 6 and 7), and will offer decorations, pottery, toys, food, baskets, and brooms like this one here. You can also enjoy such treats as the Cookie Walk and Chocolate Walk, and even see me and my friend Julbok - the traditional Christmas goat-man - wandering the village! We thought about having him deliver this message instead, but in all honesty, wandering goat-men tend to scare the crap out of people ... .
"More information on Julmarknad is available at BishopHill.com, and no matter where you choose to go, I wish you a safe and happy Thanksgiving weekend! Glad Fridagen! - Mike Schulz
We Funk
Rock Island Brewing Company
Wednesday, November 26, 10 p.m.
On November 26, the Rock Island Brewing Company hosts Iowa City's We Funk, and a visit to the band's MySpace page lists the following as active members: Marcus Perkins, Katie Roche, Meghan McDoughna, Derek Thorn, Ben Soltau, Brett Messenger, LeAnn Dahn, Saul Lubaroff, Ben Pierce, Craig Heidegerken, James Edel, Seth May, Ryan Casteel, and Brian Cooper. That's 14 people! Sheesh, who do they think they are - George Clinton and Parliament-Funkadelic?
Oh, wait. That's kinda what they're going for.
We Funk's sound and style are indeed tributes to the legendary Rock & Roll Hall of Famers, and since the Iowa City group's formation in 2007, its vocalists and musicians have delivered an exuberant blend of R&B and rock, and even incorporate period-appropriate costumes and props; among recent highlights, a recent We Funk concert broke attendance records at Iowa City's The Industry, and the band played a hugely attended late-night show at the annual summertime celebration Camp Euforia.
In honor of We Funk's musical inspirations, try matching these members of Parliament-Funkadelic with their famous nickname:
1) Jerome Brailey
2) William Collins
3) Ramon Fulwood
4) Michael Hampton
5) Clarence Haskins
6) Dewayne McKnight
7) Cordell Mosson
8) Garry Shider
A) Blackbyrd
B) Bigfoot
C) Boogie
D) Bootsy
E) Fuzzy
F) Kidd Funkadelic
G) Starchild
H) Tiki
More information on We Funk is available at MySpace.com/wefunkiowacity, and more on the group's local gig can be found at RIBCO.com. - Mike Schulz
Answers: 1 - B, 2 - D, 3 - H, 4 - F, 5 - E, 6 - A, 7 - C, 8 - G. Ironically enough, those are also nicknames we have for our publisher, Todd. Except for 'Fuzzy.' That one's Jeff's.
Bruce Bruce
Penguin's Comedy Club
Friday, November 28 and Saturday, November 29
Noted comedian Bruce Bruce will perform at Penguin's Comedy Club on November 28 and 29, and if you get the chance to meet the man, make sure to make him feel right at home while he's visiting the Quad Cities - he is, after all, a pretty big deal. (And no, that's not a comment on his physical stature. Shame on you for thinking that.)
You can mention that you've seen his film work, as Bruce has co-starred in such movies as Idlewild, The Wash, and XXX: State of the Union. (And go ahead and tell him you thought that Ice Cube's action flick was better than Vin Diesel's XXX, 'cause it's true.) You can let him know that you've enjoyed his stand-up on BET's Comic View and Coming to the Stage and in Starz's Def Comedy Jam series, and also his appearances in music videos by OutKast, Ludacris, and the Ying Yang Twins.
Check out ComedyCentral.com for clips from Comedy Central Presents: Bruce Bruce, and then tell him how much you loved his routines on two-faced parents, constrictive airplane quarters, and halitosis. (Also say "For the love of God ... " to him. I bet he'll laugh.)
And as Bruce Bruce has been a vocal fan of Popeye's Chicken in his routines - and even served as its official TV spokesman - make sure to offer clear directions to the closest Popeye's, which the chain's Web site tells me is ... .
Hmm.
Well, Peoria's not that far, right?
For more on the comedian, visit Bruce-Bruce.com, and for more on his Davenport concerts, see PenguinsComedyClub.com. - Mike Schulz
Mono-Blogs: Suffering Fools
Harrison Hilltop Theatre
Friday, November 28 through Saturday, December 6
As the adage goes: "Why do something yourself when you can get someone else to do it for you?" At least that's the adage around our Reader offices. So rather than tell you about the Harrison Hilltop Theatre's new production of Mono-Blogs: Suffering Fools - an original comedy running November 28 through December 6 - I thought I'd ask creator/star/pal Adam Lewis to write out a few reasons for audiences to line up for his one-man show, co-directed by Tristan Tapscott.
Bless his heart, he agreed.
10) If you like Kevin Smith, George Carlin, Bill Hicks, Lenny Bruce, and stories about pooping and farting, then we speak your language. If the words "pooping" and "farting" offend you, please stay home.
9) Lewis' resemblance to Jeff Bridges' The Dude in The Big Lebowski is so uncanny that you'll think you're in a bowling alley with John Goodman.
8) There's a two drink minimum. (Not really, but audience members are encouraged to drink before the show.)
7) Adam does that funny thing. You know that funny thing he does? It's a hoot.
6) You can watch Adam's mother wince every time he says "douche-bag."
5) A "mono-blog" is not a disease, nor is it the act of a fat man jogging. It is, however, the act of putting blogs onto the stage. We just added lights and stuff.
4) By the end, everyone's covered in nougat.
3) You will be witness to one man's realization that the price of enlightenment is the recognition that the unworthy advance, and that those who posses integrity and poetic faith are stomped on, shunned, and expected to suffer fools.
2) "Wait, what? Dude, your words are like colors, man ... ."
1) We are equal-opportunity offenders.
For more information and tickets to Mono-Blogs: Suffering Fools, call (309) 235-1654 or visit HarrisonHilltop.com. - Mike Schulz, with Adam Lewis
Turkey Trot
Davenport Family YMCA
Thursday, November 27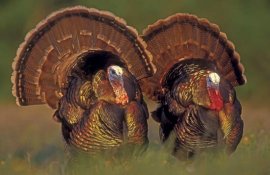 Did you know that Benjamin Franklin proposed that the official United States bird be the turkey, rather than the bald eagle? "The Turkey," wrote Franklin in a letter to his daughter, "is in comparison a much more respectable bird, and withal a true original native of America ... . He is besides, though a little vain and silly, a bird of courage." And with the arrival of Thanksgiving comes plenty of that honorable bird, as well as the Scott County Y/McCarthy-Bush 22nd annual Turkey Trot.
This Thanksgiving Day - Thursday, November 27 - the Turkey Trot will begin at the Davenport Family Y (at 606 West Second Street). The one-mile family run will start at 8:30 a.m. and the five-mile run/walk will begin shortly after 9 a.m., and event organizers expect more than 1,000 participants to take part in the run/walk this year.
To register, you can stop by any Scott County Family Y branch or visit GetMeRegistered.com. If you register in advance, the cost for the one-mile family run is $20 per person, and $25 per person for the five-mile run/walk. Registration on the day of the event is $30 per person for the one-mile and $35 per person for the five-mile, with all the day's proceeds benefiting children, families, and individuals who are in need of financial assistance for the YMCA's character-building programs.
For more information on this year's Turkey Trot, visit ScottCountyFamilyY.org. - Ashley Allen