Daphne Willis & Company
Rock Island Brewing Company
Thursday, November 29, 10 p.m.
This week, Quad Citians will not only be able to meet a professional dog-groomer-slash-professional-chanteuse; they'll be able to meet two!
One of them - my dear friend Jan Schmall - can be found tending to pups at Terri's Dog Styling School by day and singing at the Circa '21 Dinner Playhouse by night. And the other - visiting musician Daphne Willis - can be found at the Rock Island Brewing Company, where the 21-year-old brings her ensemble, Daphne Willis & Company, on November 29.
Performing a blend of low-key and up-tempo alternative rock in the style of admitted inspirations Norah Jones and Jack Johnson, the singer/songwriter/guitarist obviously maintains a busy schedule after a full day of dogs and courses at DePaul University; she and her bandmates average three to four gigs per week - one of them was at this year's River Roots Live festival - and released their debut CD, Matter of Time, this past May.
And allow me, on a personal note, to admit a feeling of kinship with the band's front-person, as her MySpace biography (http://www.myspace.com/daphnewillismusic) finds Willis saying, "For me, writing songs is the best way to get something off my chest, express a thought or a concern, or figure something out for myself," and "Almost all of my songs are autobiographical." Substitute "What's Happenin' pieces" for "songs" and I could be playing RIBCO on Thursday!
For more information on Willis & company's local appearance, visit (http://www.ribco.com).
Matt Barber
Mojo's Coffee House
Sunday, December 2, 3 p.m.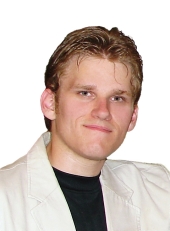 Not three days after 21-year-old Daphne Willis plays RIBCO, 20-year-old Matt Barber plays Mojo's Coffee House, with a December 2 concert celebrating the release of his new CD, Romancing Nashville.
Hmph ... kids! They're takin' over, I'm tellin' ya!
Of course, Barber has been taking over for some time now. The Rock Island High School graduate's latest is actually his fifth CD - his first was released at the ripe old age of 16 - and Barber has just returned to the area following a fall tour that found him performing in Illinois, Wisconsin, Virginia, Georgia, and North and South Carolina over the span of two-and-a-half weeks.
Inspired by such artists as Frankie Valli, Barry Manilow, and the Beach Boys, the crooner proudly describes "The Matt Barber Experience" as a throwback to a kinder, gentler era (his new CD is a collection of pop and jazz standards made famous by the likes of Frank Sinatra, Glen Campbell, Michael Bublé, and the Righteous Brothers), and it's obviously an era that audiences across the country are clamoring for; since graduating from Rocky, Barber has performed professionally more than 600 times throughout Canada and the United States.
In a press release, he says, "I'm really passionate about music and I want to touch the hearts of as many people as possible ... . I want them to leave feeling uplifted." Uplifted and - if you're feeling similarly chastened for squandering your own youth - just a little depressed.
For more information, visit (http://www.mattbarberexperience.com).
Miracle on 34th Street
Prospect Park Auditorium
Thursday, November 29, through Sunday, December 2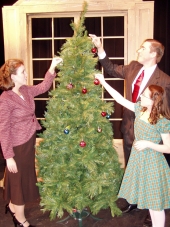 Quad City Music Guild's final presentation for 2007 is the holiday-themed family entertainment Miracle on 34th Street. Yet while I'm always happy to tell you about forthcoming Guild shows, I must point out that there's a bit of deception going on here.
True, the musical comedy - an area debut featuring Music Guild veterans Nathan Bates, Jennifer Sondgeroth, Gary Clark, John Donald O'Shea, and many others - is based on the cherished 1947 movie of the same title, wherein a department-store Santa Claus asserts that he is the actual Santa Claus.
Yes, there could easily be miracles aplenty, with vibrant costumes and large-scale production numbers helping to dramatize this tale of one genuinely divine Christmas, in which Mr. Macy and Mr. Gimble shook hands, a little girl's dreams came true, and some cynical grown-ups discovered the true spirit of the season.
But you should know this in advance: The Prospect Park Auditorium, which houses all Music Guild productions, is actually on 34th Avenue in Moline. Not 34th Street. It would be heartbreaking to see a bunch of expectant kids all lined up for the show at Riverside Cemetery.
Miracle on 34th Street runs November 29 through December 2, and tickets are available by calling (309) 762-6610.
Carousel
The Green Room
Friday, November 30, through Sunday, December 9
For the Green Room's debut presentation this past August, proprietors Derek Bertelsen and Tyson Danner produced Into the Woods, the Tony-winning musical by the legendary Stephen Sondheim. For their second presentation, they undertook Tennessee Williams' The Glass Menagerie, one of American drama's most beloved and esteemed works. For their third, running November 30 through December 9, the entrepreneurs are opting for Carousel, the Rodgers & Hammerstein musical that revolutionized musical theatre, and was named by Time magazine as the best musical of the 20th Century.
At this rate, don't be surprised if Bertelsen's and Danner's next offering is a stage adaptation of the entire Old Testament, with a cameo by God Himself.
All cheekiness aside, I love it when artisans reach big, so I'm excited about this production of R&H's sprawling romantic epic (which, understandably, will be considerably re-imagined for the Green Room's space), hearing such classics as "June is Bustin' Out All Over," "You'll Never Walk Alone," and "Soliloquy," and seeing familiar area performers Tristan Tapscott and Jackie Madunic, along with Nicole Freitag and Eddie Staver III (both pictured) as tragic lovers Julie and Billy. Interestingly, Green Room audiences just watched Madunic and Staver playing mother and son in Menagerie, and this time, they'll get to watch them flirt.
Ah, theatre! Where Oedipal dreams can come true!
For Carousel tickets, call (309) 786-5660.
Bill Lupkin
Blueport Junction
Friday, November 30, 8:30 p.m.
Since it would only require the addition of one letter, I'm thinking that Blueport Junction should just go ahead and change its name to Blues Port Junction, as this is the second week in a row that a master of the Chicago blues scene will be dropping his musical anchor at the riverside venue's figurative dock. (Nothing like stretching a metaphor way past its breaking point, huh?)
Last Wednesday brought guitarist Nick Moss to the area, and this Friday, Blueport presents an evening with noted harp player and vocalist Bill Lupkin, performing fiery, soulful Chicago-style blues with his musical outfit, the Chicago Blues Coalition.
A frequent collaborator with pianist Bob Riedy and associate of the legendary Jimmy Rogers, Lupkin's fat-toned, vibrato-laden sound has been embraced by those in the know for more than three decades; recently, Blues Revue Magazine's Thomas J. Cullen III wrote that the musician's "forceful, fluid playing (often reminiscent of William Clarke's) will make blues fans, and especially harp fans, take notice," and in Real Blues magazine, Andy Grgg opined that "Lupkin and his band prove to be one of the best live bands on the contemporary scene, and his harp skills put him in the top five or 10, depending on who you ask." And if we asked Lupkin's family, I'm bettin' he'd rank even higher than that.
Bill Lupkin's November 30 concert begins at 8:30 p.m., and more information on the musician is available at (http://www.billlupkin.com).