Anne of Green Gables
Playcrafters Barn Theatre
Friday, November 7 through Sunday, November 16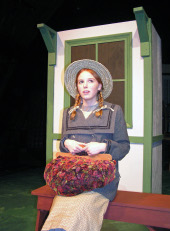 Parents: If you have grade-school children, please plunk them in front of the computer.
Hey, kids! You know how your parents and grandparents sometimes go to the Playcrafters Barn Theatre, and you ask if you can go, too, and they say things like, "Sorry, but you're too young for Crimes of the Heart" or "You wouldn't understand Promises, Promises"? Well, guess what? They're out of excuses this time!
From November 7 through November 16, Playcrafters will offer a show for the whole family with Anne of Green Gables, which is based on the classic book by L.M. Montgomery. It's all about this outspoken orphan girl named Anne Shirley, who lives in the early 1900s and goes to live with Matthew and Marilla Cuthbert, and who makes friends and gets into all kinds of trouble and has all sorts of adventures and ... . But you already know all that, don't you?
In fact, I bet you know the story even better than your parents and grandparents do! So try matching these Anne of Green Gables characters with who they are ... match them all correctly, and your parents will not only take you to the Playcrafters show, but will buy you pizza afterwards!
1) Mr. Allan
2) Prissy Andrews
3) Diana Barry
4) Gilbert Blythe
5) Mrs. Lynde
6) Mr. Phillips
7) Josie Pye
8) Miss Stacy
A) Anne's best friend
B) The boy Anne hates (though she really doesn't)
C) Anne's teacher
D) The town busybody
E) The new minister of Avonlea
F) The schoolmaster at Avonlea
G) A mean girl in Anne's class
H) Anne's "grown-up" classmate
The answers are: 1 - E, 2 - H, 3 - A, 4 - B, 5 - D, 6 - F, 7 - G, 8 - C. Did you get them all right? Great job! Tell your parents to come back now, and tell 'em you wanna claim your prizes!
Parents: Yeah, you hate me for that pizza thing, but look how happy your kids are now! And getting tickets for Anne of Green Gables is really easy - just call (309) 762-0330 or visit Playcrafters.com.
Keith Wyatt Benefit
The Moline Club
Saturday, November 8
"Hey, Jeff, would you mind if I did a What's Happenin' piece on the November 8 benefit for Keith Wyatt, the Rock Island High School student who was severely injured this summer during football practice?"
"Of course not, Mike. Where's it taking place?"
"At the Moline Club. It's a $10 donation, the benefit starts at noon and lasts until about 11 p.m., there'll be a 50/50 raffle and a silent auction, and the proceeds will help offset transportation costs between the Quad Cities and the hospital in St. Louis where Keith is being treated."
"Sounds good. Go ahead and write it."
"Thanks. But I feel like I should contribute more than just a piece for the paper, you know? So I was considering volunteering my musical talents to one of the local groups playing for the benefit. I mean, I was in a band in high school."
"What groups are playing?"
"Shattermask, Mindset Evolution, Perimeter Burn, Dead at Birth, Pneumatic, Through Terror, August Zimbal, The Fifth Dawn, and Burn Grinder."
"And what instrument did you play in high school?"
"Clarinet."
"In ... ?"
"Marching band."
"Yeah, I think just the What's Happenin' piece will be fine."
For more information on Saturday's Keith Wyatt benefit, call (309) 716-8869.
Heartsfield
Rock Island Brewing Company
Saturday, November 8, 9 p.m.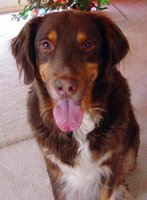 The alt-country rockers of Heartsfield - whose lead singer, Perry Jordan, helped originate the group in 1972 - play the Rock Island Brewing Company on November 8, and the following are five reasons to check out the band's Web site at Heartsfield.com:
1) The band biography, where you can learn about Heartsfield's long touring history from the '70s through today; its distinctive blend of country, rock, folk, and jazz; its appearances with the likes of Charlie Daniels, Eric Clapton, Fleetwood Mac, Lynyrd Skynyrd, and Willie Nelson; its latest lineup of musicians (Steve Eddington, Scott Bonshire, Dave Nelson, and Andon Davis); and its promise of "hot pickin', strong vocals, driving rhythm, and smiles from the stage."
2) The Listening Room, where you can hear 19 songs from nine Heartsfield albums, including such hits as "House of Living," "I'm Coming Home," and the catchy 'The Only Time I'm Sober Is When You're Gone."
3) The Heartfield Store, where you can find caps, cotton Ts, and denim shirts, and be among the first to purchase the group's new, thus-far-unreleased CD Disrupting the Country.
4) The Hall of Dogs, where you can gaze upon photos of more than a hundred adorable pooches, all of them owned by either band members or Heartsfield fans.
5) The band's photo. I would've included one here, but you know, Buster's just so damned cute ... .
Heartsfield's Saturday-night gig starts at 9 p.m., and more information on the evening can be found at RIBCO.com.
Corey Harris
The Redstone Room and the Moline Public Library
Wednesday, November 5 and Thursday, November 6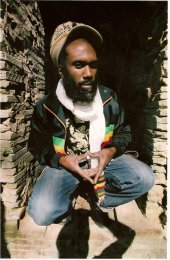 Noted guitarist and singer/songwriter Corey Harris is the latest artist-in-residence for the Mississippi Valley Blues Society's Blues in the Schools program, and will share his talents with the public at Davenport's Redstone Room on November 5 and the Moline Public Library on November 6. I will do my best to impart information on the musician without sounding the least bit envious.
Blending traditional blues styles with elements of jazz, reggae, gospel, and African and Caribbean folk music, Harris has released eight CDs since his Between Midnight & Day debut in 1995, and has toured Europe, Japan, New Zealand, West Africa, and Australia. (I've never been to any of those places myself, but that's fine ... .)
Harris performed at Lincoln Center, the Kennedy Center, Nashville's Ryman Auditorium, and London's Royal Albert Hall, and has been a headliner at the Montreux Jazz Festival and Tennessee's Bonnaroo Music & Arts Festival. (You're not a touring musician, Mike, so don't worry about it ... .)
He was the featured musician in an episode of PBS's documentary miniseries The Blues ... the episode directed by Martin Scorsese. (Aw, man ... Scorsese?!? Okay, just calm down ... .)
He was named one of only two dozen MacArthur Fellows for 2007, which comes with a cash award of $500,000. (Breathe, Mike, breathe ... .)
And on February 21 of 2009, Harris will turn 40.
So he's not even 40 yet?!? He's done all this and he's younger than me?!? Aaaarrrrgghh!!!!!
Well, I almost made it.
Harris performs at The Redstone Room at 7 p.m. and the Moline library at 6:30 p.m., and more information on his Blues in the Schools residency is available at MVBS.org.
Metallica
i wireless Center
Saturday, November 8, 7 p.m.
Dear, sweet Amber (a.k.a. For Whom the Bell Tolls):
Oh, the struggle within! I want to invite you to Saturday's Metallica concert at the i wireless Center, but the memory remains of your escape, and my creeping death, my apocalypse - the unnamed feeling I had when you gave me the Judas kiss and said, with no remorse, "Don't tread on me, you harvester of sorrow." I was your hero of the day - your Prince Charming - and now I'm King Nothing.
Mama said you were bleeding me (sad but true) and I was killing time waiting for a cure, for the day that never comes. But I realized too late. Too late. Now I'm frantic, helpless, at the frayed ends of sanity. Sometimes I want to jump in the fire and fade to black. I disappear. Nothing else matters.
Yet I'm better than you. The more I see a new dawn and turn the page, the more my dark days turn to fuel. A blitzkrieg! You're not human - you're a holier-than-thou master of puppets with a battery for a heart and cyanide for blood. Wherever I may roam, I will seek and destroy one memory after another - the whiplash, the whiskey in the jar, the crash course in brain surgery... . Die, die my darling.
Am I evil? Some kind of monster?
So what.
Now I wanna sniff some glue... .
Ronnie (a.k.a. St. Anger)
Metallica plays the i wireless Center on November 8, with opening acts Down and The Sword, and to hear at least a few of the group's 52 aforementioned titles, reserve tickets at (563) 326-1111 or iWirelessCenter.com.