ACTING SMART
Helpful Tips on Appearing More Intelligent Than You Actually Are
The Iowa City-based musicians of The Uniphonics play the Rock Island Brewing Company on Thursday, October 2, and if the group looks a little familiar to you, it might be because you've seen the high-energy performers at one of the many Midwestern venues they've headlined since their debut in the spring of 2007. Or you might just be spending a lot of time at RIBCO these days, since the quintet also shared the bill with Minus Six this past Saturday.
If, however, you're a Uniphonics newbie but want to appear up-to-speed when the group re-appears this weekend, here are five ways to avoid looking hopelessly out-of-touch:
1) Know who performs in the Uniphonics, and what instruments they play: The group is composed of guitarist Craigula Heidgerken, bassist Ryan Casteel, saxophone player Ben Pierce, percussionist Forrest Heusinkveld, and the band's vocalist, "MC Animosity" Derek Thorn.
2) Know how the Uniphonics got their big break: By entering - and winning - a 2007 battle-of-the-bands contest in Iowa City, and consequently being included in the lineup for Euforquestra's annual music festival, Camp Euforia.
3) Know what to expect during a Uniphonics concert: Performing jazz- and funk-infused hip-hop, the group's Jambase listing describes its sets as featuring "80 to 85 percent" original music, but they also cover such disparate hits as Marvin Gaye's "Inner City Blues," 2Pac's "I Ain't Mad at Cha," and George Gershwin's "Summertime."
4) Know how to pronounce "Uniphonics." It's yoo-ni-foh-niks. (Just like you thought.)
5) Know how to use "Uniphonics" in a sentence: Go to RIBCO, hand the door man the $4 cover charge, and say, "Uniphonics." If he says, "No ... you ni phonics!", you pronounced it correctly. And you're conversing with a smart-ass.
For more on the Uniphonics, visit MySpace.com/theuniphonics.
Predators
Putnam Museum & IMAX Theatre
Saturday, October 4, through Sunday, January 4
"RRRAAAAAAAARRRGGHH!!!!!!
"Which, of course, is crocodilian for, 'Hello, readers!'
"My name is Chet, and I'm the open-mouthed beast you see in the accompanying photo. My pal Tim was recently in these pages telling you about the Putnam Museum's current The Science of Ghost Hunting exhibit, and he had so much fun doing so that it seemed a wonderful way to inform you of the Putnam's new interactive exhibit: Predators!
"Offering museum visitors an up-close exploration of the world's deadliest creatures on land, in the sea, and in the sky, this traveling, family-friendly exhibit is sure to astonish and educate kids of all ages. For instance, have you ever wondered how dinosaurs tracked their prey? Or how tigers sense the approach of a potential meal? Or which ocean-dweller is the most dangerous? If so, you won't want to miss me and my toothy friends in Predators, on display at the Putnam from October 4 through January 4.
"I should let you know, though, that the some aspects of the exhibit are just a tad misleading, because contrary to popular opinion, most of us are really quite docile, and take a healthy interest in art, classical music, and fashion. In fact, I have a cousin who recently embarked on a delightful career in the handbag industry! I hope it's going well ... I actually haven't spoken to her in a while ... .
"At any rate, more information on the Predators exhibit is available by visiting Putnam.org, and I thank you for your attention!"
Komen Quad Cities Ride for the Cure
Quad City Downs
Saturday, October 4, 10:30 a.m.
You've participated in the Komen Quad Cities Race for the Cure, the annual footrace that, this past June, raised nearly $300,000 for area breast-cancer research and education. Now, get ready for the Komen Quad Cities Ride for the Cure, the inaugural fundraiser that will find its proceeds benefiting the same vital cause, but with far less wear and tear on your calves (albeit far more bugs in your teeth).
For a $25 registration fee, you can join in the area's first motorcycle ride against breast cancer, with post-ride activities including live entertainment, food, and a raffle for a pink Schwinn scooter. Beginning at East Moline's Quad City Downs with a 10:30 a.m. check-in, the ride itself will start at noon and end around 2 p.m. at the Blue Grass Community Hall, and here's what the route looks like on a map.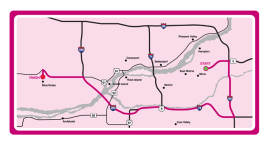 For a larger view of the map, simply click on the image, and for information on Ride for the Cure registration, sponsors, and volunteering, head to KomenQuadCities.com.
Man, this piece is so much more interactive than the version that's in print... . 
Pen in Hand Mini-Conference
Midwest Writing Center
Saturday, October 4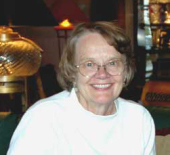 On October 4, area authors will have the chance to hone their talents - and perhaps learn a few new ones - in the Pen in Hand Mini-Conference, a four-workshop series on Everything You Always Wanted to Know About Writing* (*But Were Afraid Mike Was Gonna Try to Teach You, Instead).
In "Basics for Beginners," Robin Throne presents information for novice and intermediate writers of all genres, covering such topics as style, technique, and research, and offering tips on customizing your own writing environment. Freelance writer and editor Jane VanVooren Rogers delivers "Clarify, Polish, & Publish: How an Editor Can Uncover Your Best Writing," which will define copy-editing and content-editing, and provide helpful examples of self-editing exercises. Donna Beserra, Jodie Toohey, and Lilly Setterdahl (pictured) share literary experiences in "Self-Publishing Panel: Learn How to Publish and Market Your Creative Work from Successful Authors Who Have Done Just That" - the title for which is pretty self-explanatory.
And in "Reinventing the Fairytale in Poetry," Ashford University instructor Kristin Abraham explores the the reinvention of the proverbial, through the transformation of myths and fables into poetry. In her honor, I have composed a little fairytale-themed haiku:
Poor Pinocchio.
When the boy lies, something grows.
(Insert crude punchline.)
You're welcome to borrow that one for Abraham's class, but I beg you, do not give me credit for it. I'm trying to uphold my dignified reputation.
Costs are $25 per workshop or $75 for all four, and more on the Pen in Hand Mini-Conference is available at MidwestWritingCenter.org.
Angel Street
Richmond Hill Barn Theatre
Thursday, October 2, through Sunday, October 12
"Jack?"
"Yes, Bella?"
"I'm reading about this new play that's opening at the Richmond Hill Barn Theatre on October 2, and it sounds positively marvelous!"
"Really, darling?"
"Yes, darling! It's called Angel Street. It's a thriller by Patrick Hamilton, one that the New York Times said will cause you to 'hang on to your seats as the tension mounts,' and it says here that ... . Is that light getting dimmer?"
"Which light?"
"The gas light."
"No, darling. It's fine. Shall I fluff your reading pillow?"
"Yes, thank you, darling. It says here that Angel Street concerns a seemingly devoted husband who may be trying to convince his wife that she's gone mad. Can you imagine? The play was turned into a 1944 movie that won Ingrid Bergman an Academy Award, and ... . Are you sure that gas light isn't getting dimmer?"
"Of course not, my pet. Keep reading."
"Hmm. Well, anyway, the show sounds wonderful. It's being directed by Tom Morrow, and the cast includes Tom Naab, Rebecca May, Jim Driscoll, Molly McLaughlin, and Lisa Kahn, and I understand that when Angel Street first appeared on Broadway in 1938, it ran for more than three years before ... before ... ."
"Yes, darling?"
"That light is dimming, I tell you! Dimming, dimming, dimming!!!"
"You're just imagining things. But do you know what would cheer you up? Your jewelry! Now where do you, uh, keep that again ... ?"
For Angel Street tickets and more information, visit RHPlayers.com.