Othello, The Glass Menagerie, and All My Sons
Rock Island Masonic Temple, The Green Room, and St. Ambrose University
Starting Friday, October 12
Between August 18 and October 11, I will have seen exactly three stage shows in 55 days, and if you, too, have been feeling the drought, know that October 12 brings with it three premieres within a figurative hop, skip, and jump of one another: St. Ambrose University's All My Sons, the Green Room's The Glass Menagerie, and the Prenzie Players' Othello (at the Rock Island Masonic Temple). Is it heresy to say that this is a theatrical convergence that's practically biblical?
You shouldn't need my help to tell you why the plays in this dramatic, accidental triad are worthy of note: Arthur Miller's All My Sons preceded his Death of a Salesman and won the Tony Award for Best Play; The Glass Menagerie was Tennessee Williams' first successful drama, and a staple of nearly every dramatic-studies course on the planet (it was recently adapted into an Indian film in the regional language of Malayalam); and Othello is a William Shakespeare tragedy. One of his best. 'Nuff said.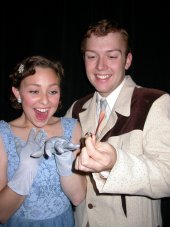 Even if I weren't a theatre reviewer, as a theatre fan I would likely make time for all three productions, and here's a note for younger audiences who might be thinking, "Sure, these plays are classics, but they're, like, so outdated now ... " - one features a young woman torn between her love for two brothers, one features a passionate relationship undone by a best friend's lies, and one features a young man away from his needling mother and stifling home life. So, you know, these shows just might have a little modern-day relevance for you.
For information on these and future shows, visit St. Ambrose at (http://web.sau.edu/theatre), the Green Room at (http://www.thegreenroomtheatre.com), and the Prenzie Players at (http://www.prenzieplayers.com).
Pen in Hand II Workshop
Midwest Writing Center
Saturday, October 13
Recently, I chatted with the Midwest Writing Center's Rochelle Murray, who told me about the venue's Pen in Hand II writing workshops on Saturday, October 13. And Murray wanted me to tell you that anyone who attends them and mentions this article will still receive the now-expired early-bird discount, good for 20 percent off the $25-workshop, $75-whole-day pricing. So not only are you getting the Reader for free, kids, but we're even saving you a few bucks. You're welcome.
Pen in Hand II is composed of four writers' workshops - plus a free mini-course for middle-schoolers titled "How to Write a Great Story" - taught by a quartet of published professionals: Shea Doyle leads "The Play's the Thing," on the technical aspects of playwriting; Jill Esbaum (pictured) teaches the basics of children's-lit writing in "From Idea to Bookshelf"; Felicia Schneiderhan offers insight into fiction and creative nonfiction with "Scene Fundamentals"; and according to a press release, Jane VanVooren Rogers' "Find the Right Formula: Tips for Effective Business Writing" will provide "tips and techniques for crafting professional, easy-to-read communications."
For the record, our staff's e-mails to one another are composed just like that. Well ... one out of two, at least ... .
For more information on Pen in Hand II, visit (http://www.midwestwritingcenter.org)
T.I.
i wireless Center
Sunday, October 14, 7:30 p.m.
T.I. Vs. T.I.P is the most recent CD by the rapper T.I. (T.I.P. being the artist's original stage name), and here's how the Atlanta native has, rather famously, described its title: "It's basically a battle within myself. There's not nobody out there doing what I do as well as I do it, so I see myself as worthy competition for myself."
That's one of those statements of braggadocio that could make you laugh ... if T.I.'s list of recent accomplishments didn't immediately shut you up.
Here's a short list of career highlights for the rapper, who plays the i wireless Center on October 14: two 2007 Grammy Awards, for Best Rap Solo Performance and Best Rap Collaboration (the latter with Justin Timberlake). The 2007 BET Award for Best Hip-Hop Artist. Five 2006 Billboard Music Awards. Four 2006 BET Awards. And, with T.I. Vs. T.I.P. and 2006's King, two back-to-back chart-topping albums. Not bad.
Oh, wait a second ... I just found the second page of my notes here ... .
It seems that T.I. has also received four nominations from this year's inaugural Rap-Up Awards, four 2007 Vibe Award nods, and two from the 2007 Teen Choice Awards: Choice Music (Rap Artist), and Choice Male Hottie - an award I was somehow overlooked for. Interesting.
T.I. plays Sunday's show alongside hip-hop singer T-Pain - it's T for two, folks! - and tickets are available by visiting (http://iwirelesscenter.com).
Switchback
The Redstone Room
Saturday, October 13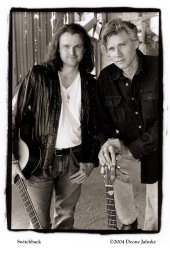 Native Midwesterners Brian Fitzgerald and Marty McCormack compose the entirety of the rock-infused Celtic band Switchback, and in an interview with Steve Wildsmith of Maryville, Tennessee's The Daily Times, McCormack defined their style as "a little more aggressive, and it's coming at you a little harder, because we're coming out of small, jaunty Irish bars, and all these biker bars out of Iowa where it's something that's demanded of you."
Jaunty Irish bars and biker bars, huh? So which'ya wanna be, Redstone Room?
The Davenport venue hosts Switchback on October 13, allowing local audiences to experience the high energy and (as touted on the pair's Web site) "indefinable, irreverent, and inescapably American" sound of Switchback's electro-acoustic riffs on mandolin and guitar.
But Fitzgerald and McCormack aren't just musicians; they're also educators. and in addition to their 9 p.m. concert, the pair offers a Saturday-afternoon workshop on the common elements in musical genres. Starting at 3 p.m., the men will examine the histories of and instruments in bluegrass, country, jazz, Western, Irish, and rock music, and the workshop is suitable for children, so feel free to tell your kids about these guys. Though you might want to avoid that part about the Iowa biker bars.
For more information, visit (http://www.waygoodmusic.com/switchback).