The Merchant of Venice
Village Theatre
Friday, October 17, through Sunday, October 26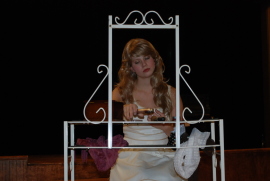 For the group's first production in the Village of East Davenport's Village Theatre, and their first Shakespeare since March, the Prenzie Players present one of the Bard's trickiest yet most satisfying works with The Merchant of Venice. Opening October 17, the play features many elements common to Shakespearean comedy (romance, clowns, women in disguise as men), but also dramatic discourse on politics and religion, and certainly one of the most polarizing figures in the author's canon: the greedy, pound-of-flesh-demanding Shylock.
As he's such a notable (or perhaps notorious) Shakespeare character, you might be familiar with Shylock, and you perhaps know the character of Antonio, as he is the titular Merchant of Venice. But how well-acquainted are you with the other denizens of Shakespeare's Merchant universe? Try matching the following roles with their relationships to either Shylock or Antonio:
1) Nerissa
2) Jessica
3) Portia
4) Gratiano
5) Lancelot
6) Bassanio
7) Lorenzo
8) Cocoa Muffin
A) Shylock's servant
B) Shylock's daughter
C) Shylock's daughter's suitor
D) Antonio's friend
E) Antonio's friend's beloved
F) Antonio's friend's beloved's maid
G) Antonio's friend's beloved's maid's beloved
H) Antonio's friend's beloved's maid's beloved's dog
For more information on The Merchant of Venice, running through October 26 at the Village Theatre, visit PrenziePlayers.com/node.
Answers: 1 - F, 2 - B, 3 - E, 4 - G, 5 - A, 6 - D, 7 - C, 8 - H. I actually made that last one up, though. It's a tough quiz, and I wanted to be sure everyone got at least one right.
Terry Bozzio Drum Clinic
The Redstone Room
Tuesday, October 21, 6:30 p.m.
In a special event sponsored in part by West Music and the River Music Experience, Davenport's Redstone Room will host an October 21 clinic with master drummer Terry Bozzio, whose legend was cemented during the three years he recorded and toured with Frank Zappa in the mid-1970s. Over the past 30 years, Bozzio has performed alongside the likes of Jeff Beck, Stevie Ray Vaughan, Korn, and Debbie Harry, has toured extensively throughout Belgium, France, Singapore, Sweden, and the Netherlands, and has recorded six solo CDs and contributed to dozens of others, and those in the know are effusive in their admiration of his skills.
The Web site for Sabian Cymbals (Sabian.com) states, "His solo percussion performances verge on symphonic in their ambition and scope," and the site for fellow percussion-instrument manufacturer Vic Firth, Inc. (VicFirth.com) raves, "His singular style is peppered with odd-tempo rhythms, inconceivable musical passages, and an undeniably distinct sound and feeling."
But if you really want a sense of how consummate a drummer Bozzio is, I'll direct you to the musician's own Web site at TerryBozzio.com, where you can get detailed information on the man's drum kit, with its eighteen pedals, more than three dozen cymbals, and collection of "vertical low-timbre drums with olive ash burl finish, satin chrome lugs, black powder-coat rims, and lug-locking adapters to prevent de-tuning and back turning." I swear, Bozzio's drums sound cooler than any car I've ever owned.
Tickets are $10 for the 6:30 p.m. clinic, with doors opening at 6 p.m., and more information is available by visiting RedstoneRoom.com.
Viewpoint with Tom Brokaw
Adler Theatre
Tuesday, October 21, 7:30 p.m.
As the debut event in the Eastern Iowa Community College District's inaugural Distinguished Speakers Series, Davenport's Adler Theatre will host Viewpoint with Tom Brokaw on October 21.
Brokaw was, of course, the former anchor and managing editor of the NBC Nightly News.
He's currently the interim moderator for NBC's Meet the Press.
He's the author of the best-selling nonfiction The Greatest Generation.
He acted as moderator for the second presidential debate between senators Barack Obama and John McCain.
And, as he told Midwest Today , he dropped out of the University of Iowa because "I spent a lot of time majoring in beer and coeds."
So yeah. He might have a few interesting stories to share.
For tickets to Brokaw's Tuesday-night visit, call (563) 326-1111, and for more information on the Viewpoint series, visit EICC.edu/viewpoint.
An Evening with Judy Collins
Coralville Marriott Hotel & Conference Center
Friday, October 17, 7:30 p.m.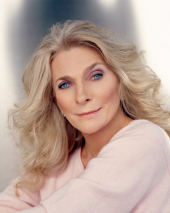 "Hello? ... Oh, hey, Mom, how are you? ... What? ... Yeah, I know, Mom. ... Yeah, it's called An Evening with Judy Collins. She was originally scheduled to perform at Hancher Auditorium on Friday, but since they're currently repairing flood damage, the concert's been moved from Iowa City to the Marriott Hotel & Conference Center in Coralville. ... Yeah, I know she's one of your favorite singers, Mom. I remember you playing her albums when I was growing up. ... Mmm-hmm, she probably will sing 'Send In the Clowns.' ... Uh-huh, and 'Chelsea Morning' and 'Song for Judith' and 'Suzanne' and lots of other hits. ... Yes, Mom, I'm sure she'll sing 'Both Sides Now' at some point. I mean, she got a Grammy for it, so it's probably not something she's dumping from her repertoire. Ha ha ha ... . No, I'm not being disrespectful. ... Almost four dozen albums since 1961 is an amazing achievement, Mom. ... You're right, she is also a novelist and a representative for UNICEF and performed at Bill Clinton's first inauguration. ... And did you know she was also nominated for an Oscar for co-producing the 1975 documentary Antonia: A Portrait of the Woman? ... Well, I don't think I always bring the conversation back to movies, Mom ... . Actually, I don't know if I'm doing a What's Happenin' piece on her. We haven't decided yet. ... I'm sure it would mean a lot to you, Mom ... . Fine. I'll ask. Hey, Jeff?"
"Go away, Mike."
For information on October 17's An Evening with Judy Collins and other events in Hancher Auditorium's 2008-9 season, visit http://www.hancher.uiowa.edu.
Blood Wedding
Augustana College
Friday, October 17, through Sunday, October 26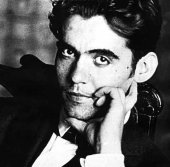 Man, it's quite the weekend for the big-ticket playwrights! In addition to Shakespeare, theatre-goers can experience the legendary Spanish dramatist Federico García Lorca (as translated by Lillian Groag) in Blood Wedding, being produced at Augustana College October 17 through 26. One of the most noted theatrical works of the 20th Century, Lorca's tragedy weaves a tale of love, betrayal, and revenge that entwines two families in rural Spain, and in the years since its 1933 debut, the piece has become a modern classic due to its stylistic innovation, surrealistic flourishes, and affecting symbolism.
And now that you've tackled the Merchant of Venice quiz, try matching these Blood Wedding character names, translated from Spanish, with their roles in Lorca's metaphysical drama:
1) The Bride
2) The Groom
3) The Mother of the Bride
4) The Father of the Bride
5) The Servant
6) The Wife of Leonardo
7) The Moon
8) Death
A) The bride
B) The groom
C) The mother of the bride
D) The father of the bride
E) The servant
F) The wife of Leonardo
G) The moon
H) Death
Blood Wedding runs through October 26 in Augustana's Potter Hall, and tickets can be reserved by calling (309) 794-7306. 
Answers: 1 - A, 2 - B, 3 - C, 4 - D, 5 - E, 6 - F, 7 - G, 8 - H. Way easier than that Merchant of Venice quiz, huh?