The Medium & Dracula
The Capitol Theatre
Saturday, October 20, and Sunday, October 21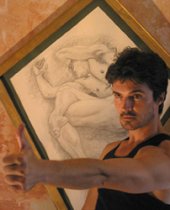 A pair of pre-Halloween treats will be offered to Capitol Theatre audiences October 20 and 21, when the talents of Opera Quad Cities and Ballet Quad Cities present a spine-tingling double-feature with their productions of The Medium and Dracula.
The former is Gian Carlo Menotti's hour-long chamber opera involving a drunken oracle, a thwarted romance, and voices from beyond; the latter an original take on Bram Stoker's classic vampire chiller, choreographed by Deanna Carter. And in case you need even more incentive to catch this teaming of two of the Quad Cities' most revered artistic organizations, the role of the Transylvanian count is being played by famed dancer Domingo Rubio, who spent years with Chicago's Joffrey Ballet, partnered Neve Campbell in Robert Altman's film The Company, and has been described by the New York Times as "mesmerizing" and "marvelously intense."
I'd write more, but our office manager, Lib, asked that I include as big a photograph of Rubio as possible, as she's got a three-by-five-inch frame on her desk with his name written a-a-all over it.
For further information on The Medium and Dracula, visit (http://www.operaqc.org) and/or (http://www.balletquadcities.com).
"Starry, Starry Night" Fundraiser
The Golden Leaf banquet & Convention Center
Friday, October 19, 6:30 p.m.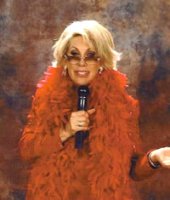 On October 19, Davenport's Golden Leaf Banquet & Convention Center hosts the Gilda's Club of the Quad Cities fundraiser "Starry, Starry Night," an Academy Awards-style event complete with a red-carpet entrance and the woman in the accompanying photograph descending on celebrities and barking "Who are you wearing?"
Yet don't be fooled: The greeter, and event emcee, isn't Joan Rivers, but rather Dee Dee Hanson, a famed Rivers impersonator. Which I guess would make her Faux-n Rivers! Ha ha! Get it?!
And jokes like that are why I'll never be asked to write for the Oscars.
In any event, "Starry, Starry Night" will feature a silent auction, appetizers, a sit-down dinner, and music by the Funktastic Five. Yet in addition to "Joan Rivers," you can also star-gaze upon professional impersonators of Marilyn Monroe, Clint Eastwood, and Rod Stewart, and several local celebrities will appear "in character" as such potential Oscar hopefuls as James Gandolfini and Bret Michaels of Poison. (Hey - Three 6 Mafia won one. It could happen.)
Attendees vote on which celeb deserves an award for his or her "performance" that evening, and nominees will include B100's Red Hot Brian and Tony Tone, Steamwheelers wide receiver Jack Walker Jr., and NewsChannel 8 anchor Vanessa Van Hyfte. And if Vanessa arrives as either Gandolfini or Michaels, she's totally getting my vote.
For more information, call (563) 344-9800.
John Bloom: A Local American Treasure
Augustana College Art Museum
Saturday, October 20, through Saturday, November 10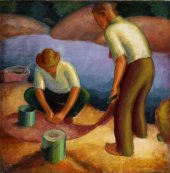 John Bloom was a DeWitt, Iowa, native and alumnus of St. Ambrose University and the Art Institute of Chicago. In the early 1930s, the young artist and educator received an invitation from Grant Wood to live and work at the Stone City Art Colony near Anamosa, Iowa. One day, while tending the grounds, Bloom noticed a young sculptress working on the front porch of Wood's mansion, and joked about the mess the woman was making. Her name was Isabel.
Perhaps you can guess where this story is leading.
Yet while most everyone in the area is familiar with the works of Isabel Bloom, her husband's artistic accomplishments aren't as widely recognized. The Augustana College Art Museum is hoping to rectify that with the new exhibition John Bloom: A Local American Treasure, on display from October 20 through November 10.
This collection of Bloom's lithographs, sketches, sculptures, and paintings will offer highlights of the artist's remarkable career - museum Director Sherry Maurer leads a tour at 11:10 a.m. on October 27 - and among the exhibit's works will be Bloom's oil painting Seining Minnows (pictured), along with six preparatory sketches showing how the artist worked out his composition and approach.
Man, I'd be embarrassed if anyone ever did that with my preparatory notes. Most of 'em are written on cocktail napkins.
For more information on John Bloom: A Local American Treasure, call (309) 794-7231.
Brent-Anthony Johnson
The Redstone Room
Sunday, October 21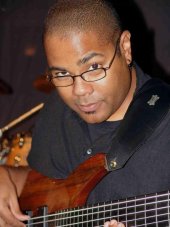 For October 21's Third Sunday Jazz Series event at the Redstone Room, the Davenport venue presents bass player Brent-Anthony Johnson, an East Moline native who studied with music educator Mallie Williams at United Township High School, began writing his own compositions at age 15, and went on to teach at the Quad Cities' Bowlby Music House and Simon's Music Center.
Then, after high school ended, Johnson left the area to ... .
Hmm? Oh, yeah. He was employed as a music teacher before leaving high school. Was that not clear?
And Johnson's pre-collegiate accomplishments were just a hint of achievements yet to come: He received a scholarship from Boston's Berklee College of Music, toured with acoustic jazz-fusion band Spyro Gyra, served as a music-theory professor and bass instructor at Boulder, Colorado's Naropa University, and has traveled the world as a session- and live-performance bassist, producer, composer, arranger, instructor, consultant, and clinician.
Amazingly, Johnson has also found time to finish several albums, although he'd likely argue with that statement: As the musician told Warren Murchie in the online periodical Global Bass, "Records are never finished; they're released."
For more on Johnson's 3 p.m. workshop and 6 p.m. concert, visit (http://www.redstoneroom.com). And you can now consider this piece officially released.
Cirque Works' Birdhouse Factory
Hancher Auditorium
Saturday, October 20, and Sunday, October 21
In a University of Iowa press release, we're told that an upcoming Hancher Auditorium production will feature "sharply etched characters who juggle, tumble, balance, contort, fly, clown, and climb."
No, it's not the stage adaptation of a day in the Reader offices. Instead, the inspired acrobats of Cirque Works present their acclaimed Birdhouse Factory on October 19 and 20 - a wild blend of athleticism and magic described by Spectacle magazine as "fascinating entertainment featuring world-class talent."
Inspired by Diego Rivera industry murals, Rube Goldberg illustrations, and Charlie Chaplin slapstick, Birdhouse Factory finds Chinese and American acrobats forging a wholly unique take on the modern circus. Among numerous amazements in the show's fun-filled fantasy factory: An acrobat spinning inside an enormous gearwheel enables a trapeze artist to fly, and a contortionist performs on a platform rotated by a pair of unicyclists. (Pictured. And yikes.)
Writing about Birdhouse Factory's "superb integration of circus skills and music, light, and choreography," the San Francisco Chronicle's Robert Hurwitt called the show "the most important contribution to the American circus since Cirque du Soleil." Which, come to think of it, could also be said about a day in the Reader offices. Hmm ... maybe we could play Hancher ... .
For tickets, call (319) 335-1160.