American Repertory Ballet
Galvin Fine Art Center
Saturday, October 27, 7:30 p.m.
Performers with New Jersey's American Repertory Ballet - one of America's premier dance companies - are currently in the area as the latest Quad City Arts Visiting Artists, and will perform a public concert at St. Ambrose University's Galvin Fine Arts Center on October 27. To commemorate the event, we're happy to include this accompanying photo, which we feel captures the true essence of these hard-working, dedicated artists.
Yes, that is the correct shot.
As artistic director Graham Lustig says on the ARB Web site (http://www.arballet.org), "Don't expect to see frilly tutus floating around in our performances," as the mission of this young (and obviously enthusiastic) group is to present the best in contemporary ballet through a series of athletic, dynamic, and risk-taking pieces; the New York Times' Anna Kisselgoff, remarking on their "polished structure," wrote that "the strong suit is the originality of the pieces," and the Asbury Park Press' Karyn D. Collins raved that "surprises of movement spring from every corner of the stage."
Concluding a week of workshops wherein the dancers visited 40 area schools, the Galvin performance will demonstrate why Lustig calls his group "a lean machine that cuts ballet with a jagged new edge." We considered running that photo instead, but it was really violent.
More information on the Quad City Arts Visiting Artist series is available at (http://www.quadcityarts.com).
Lojo Russo & Sharon Bousquet
The Redstone Room
Wednesday, October 24, 8 p.m.
My dearest friend of almost 25 years, Angie Sciortino, turns 38 on October 24. I'd be absolutely delighted for her if I wasn't also marginally depressed about being even older than her.
Such a sentiment, though, would never fly with the Blue Thong Society. According the group's Web site at (http://www.bluethongsociety.com), this women's organization is designed "to celebrate and embrace our enlightened, dynamic, and enduring selves no matter whether you are 21, 30, 40, 50, or beyond." On October 24, the Quad Cities' chapter of the Blue Thongs presents a Redstone Room concert spotlighting two female musicians who've spent their careers doing exactly that.
Alternative, folk, and jazz performer Lojo Russo (pictured) will be recording her new live CD at the Davenport venue, giving local audiences a taste of what the alternative weekly The Pulse of the Twin Cities calls "one hell of a voice" with "a lot of lyrical power." And Russo will be joined by singer/songwriter/guitarist Sharon Bousquet, who recently returned from a western-European tour in support of her folk CD Temple, and has been described by the Santa Cruz's The Metro as "a true original" of "considerable prowess."
Thanks to the Blue Thong Society for bringing this inspiring pairing to the area. And Happy Birthday, Angie! Guess what article of clothing I'm getting you as a gift?!
For more information on the concert, visit (http://www.redstoneroom.com).
Sammy Hagar & the Wabos
i wireless Center
Tuesday, October 30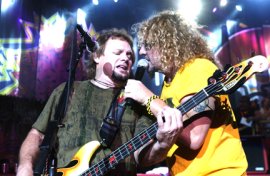 Okay. Here's the scoop on the Quad Cities' big concert event on October 30. And pay attention, 'cause I only want to have to do this once.
Sammy Hagar & the Wabos is led by former Van Halen front man - and founder of Cabo Wabo Enterprises - Sammy Hagar.
The group's concert event begins with a set by the Mad Anthony Express - composed of former Van Halen bassist Michael Anthony, guitarist Vic Johnson, and drummer John Douglas - who'll perform early Van Halen classics.
Then there'll be a set by Los Tres Gusanos - composed of Hagar, Anthony, and Hagar's drummer David Lauser - who'll perform early Hagar songs.
Finally, there'll be a set by The Other Half - composed of Hagar, Anthony, Johnson, and Lauser - who'll perform tunes from Hagar's and Anthony's days with Van Halen.
And it all takes place at the i wireless Center, which is the former Mark of the Quad Cities.
I don't see where the confusion lies.
For tickets, visit (http://iwirelesscenter.com).
The Taming of the Shrew
Augustana College
Friday, October 27, through Sunday, November 4
If you've always been a fan of Kiss Me, Kate but thought you'd enjoy it a lot more without all that Cole Porter music getting in the way, you are advised to (a) never speak to me, and (b) secure tickets for Augustana College's production of The Taming of the Shrew, which should be just what you're looking for.
Actually, it should be what a lot of us are looking for. As the inspiration for the musical-comedy classic, William Shakespeare's roundelay involving the fiery, independent Katherine, the arrogant, resolute Petruchio, and an assortment of romantic rivals and merry fools is one of the Bard's most accessible entertainments, and certainly one of the most routinely adapted. (Deliver Us from Eva and that Elizabeth Taylor/Richard Burton version are fun, but I'm kinda partial to 10 Things I Hate About You.)
As a proud Augie alum, I'm always excited to see what my alma mater's theatre department is up to, and I'm particularly excited in this case, as I've actually never seen The Taming of the Shrew on stage before. Though I've never quite understood why the titular chore proves to be such a trial. Just give the furry guy a little cheese and you should be all set.
For tickets, call the Augustana box office at (309) 794-7036.
Bob Dylan
Carver-Hawkeye Arena
Wednesday, October 24, 7 p.m.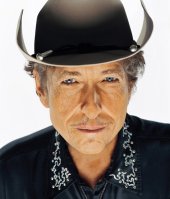 Dear Precious Angel:
All I really want to do on a night like this is ring them bells all along the watchtower and make you feel my love. (Remember that simple twist of fate that found us at Maggie's farm, under the red sky, during that hurricane?) And you say you ain't goin' nowhere.
But just like a woman, most likely you go your way (and I'll go mine). When the deal goes down, you're gonna quit me. Things have changed, and it's all over now, Baby Blue. If not for you, I'd be blowin' in the wind with blood in my eyes, knockin' on heaven's door. Now there's a changing of the guards, and everything is broken.
Yet I shall be released. Don't think twice; it's all right. It's not dark yet for this po' boy. I've got my dignity, and even though a hard rain's a-gonna fall, the groom's still waiting at the altar. (Maybe someday baby.) I guess the times they are a-changin'.
Yours,
forever young,
Silvio
Performing alongside Elvis Costello and Amos Lee, Bob Dylan & His Band play Iowa City's Carver-Hawkeye Arena on October 24 in support of his new retrospective Dylan (featuring the 34 aforementioned tracks and 17 others), and information on the concert is available at (http://imu.uiowa.edu).