Comedy
Broken Lizard
Englert Theatre
Saturday, November 7, 8 p.m.
"Hey, Shawn!"
"What's happenin', Mike?"
"That's funny. I'm actually here to chat about the What's Happenin's. I'm writing one on the comedy troupe Broken Lizard, playing Iowa City's Englert Theatre on November 7, and I thought we could discuss the layout. I know we don't have a lot of space."
"Well, you do tend to ramble in those things."
"That's why I wanted to see how many words I could squeeze in. I mean, I have to mention that it'll be an evening of raucous sketch comedy and improv, and that the group is best known for writing and starring in the movies Club Dread, Beerfest, and 2001's cult classic Super Troopers."
"Of course."
"But I also want to talk about how Broken Lizard originated in 1990, when its members were students at New York's Colgate University, and how they got their big break in the mid-'90s, producing short films for Comedy Central."
"Okay ... ."
"I'd want to list troupe members Jay Chandrasekhar, Kevin Heffernan, Steve Lemme, Paul Soter, and Erik Stolhanske, and provide biographical material on each. Chandrasekhar, for instance, directed episodes of Arrested Development and the Dukes of Hazzard movie, and Stolhanske appeared in Curb Your Enthusiasm and Six Feet Under."
"Mmm-hmm ... ."
"I'd need to include that tickets are $30 and are available by calling the Englert box office at (319)688-2653 or visiting Englert.org. And, it goes without saying, I'd like to run a photo of the guys."
"Right ... ."
"So if I did all that, roughly how many words would I have left for a punchline?"
"One."
"Damn."
Events
Fright Night in the District and Boneyard Boogie
The District of Rock Island
Thursday, October 29, and Saturday, October 31
"Hello, readers! My name is Vladimir - I'm the skeleton in the accompanying photo - and I was just getting some rest before my friends and I take part in two exciting, Halloween-themed events in the District of Rock Island: October 29's annual Fright Night in the District, and October 31's Boneyard Boogie. You're sure to have the time of your life at both ... make no bones about it! Ha ha ha! Hee hee hee ... . Hmm.
"Anyway. Running from 5 to 8 p.m., this year's Fright Night promises to be a spectacular one, as the kid-friendly tradition will be presented ... in 3D! This fun-filled evening will feature a children's costume contest, pumpkin-carving contest, scary tales by local storytellers, giant inflatables in Cartoon Alley, arts and crafts activities, and trick-or-treating at District venues. But Fright Night 2009 also boasts its first-ever 3D mystery hunt, in which kids will receive a free pair of 3D glasses, and will travel from storefront to storefront attempting to solve a mystery embedded in their very own 3D map!
"But don't think the District's Halloween events are just for the young uns, as grown-ups can have a blast at this year's Boneyard Boogie, hosted by the Daiquiri Factory. There'll be entertainment provided by the rockers of Sleepin' on the Couch, DJs Red Hot, and Tony Tone, and the Michael Jackson Thriller Dance Team; a costume contest with thousands of dollars in cash and prizes; free pizza and admission from 7 to 9 p.m.; plenty of fun in the Bud Light Lounge - you'll have such a good time that you'll be jumping out of your skins! And I should know! Ha ha ha ha ha! Heh heh ... . Heh.
"Sorry. I'm very tired. More information on Fright Night and the Boneyard Boogie is available at RIDistrict.com, and I thank you for your time. Happy haunting!"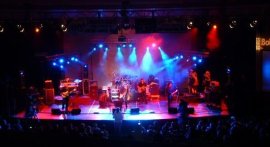 Music
Dark Side of Halloween with Think Floyd USA
The Capitol Theatre
Saturday, October 31, 9 p.m.
"So, Mike, what happened in this dream?"
"This might've been the weirdest one yet, doctor. I was feeling comfortably numb, a little obscured by clouds and lost for words, thinking about childhood's end and several species of small furry animals gathered together in a cave and grooving with a pict. But then, as I was coming back to life, the dogs of war, a sheep, a vegetable man, and my mother decided to speak to me. 'Hey, you,' they said. 'We had high hopes that you'd set the controls for the heart of the sun and bring the boys back home. Instead, you run like hell, round and around, in interstellar overdrive. You just keep talking, burning bridges while waiting for the worms, and one of these days the thin ice will lead to terminal frost, and one slip will land you in the Fletcher Memorial Home screaming, "Goodbye, cruel world!" But the show must go on, Mike, and ... .'"
"I'm going to stop you right there. You've just mentioned more than two dozen Pink Floyd songs, so your mind is obviously on the Capitol Theatre's October 31 show, the Dark Side of Halloween, with the tribute band Think Floyd USA. In addition to the show's psychedelic laser, light, and sound effects, the group's nine touring musicians will be performing Dark Side of the Moon in its entirety."
"Of course! And I thought I had brain damage! But I have the time and money for Think Floyd USA to speak to me before I hit the great gig in the sky, and ... !"
"Our time is so up."
Tickets for the all-ages Dark Side of Halloween with Think Floyd USA show are $18 and $15, and can be reserved by calling the Capitol Theatre at (563)326-8820 or visiting TheCapDavenport.com.
Event
Deadstock
Danceland
Saturday, October 31, 7 p.m.
"Oh, hello, readers! Forgive my appearance - I was just grabbing a quick bite. My name is Petie, and I'm here to tell you about the second-annual Deadstock, a Halloween-night event taking place in downtown Davenport's Danceland venue. And as this year marks the 40th anniversary of Woodstock, this year's fundraiser for Midcoast Fine Arts will, in turn, offer a memorable evening of peace, love, and music.
"You'll enjoy the peace offered by Deadstock's Silent (but Deadly) Art Auction, featuring works by featured artist Alexander Iaccarino.
"You'll love the evening's dance performances by the gifted hoofers of UNYK, and the event's dead-artist and zombie costume contests, where you can win prizes by donning your eternal-rest-ful best.
"And as for music, your blood will no doubt pump to the thrilling energy of Ragaman and Good Company, whose musicians boast sensational talent, style, and brains to spare.
"Mmm ... brains ... .
"Er ... Deadstock tickets are available for $15 in advance and $20 at the door, and more information on the night can be found at Midcoast.org. See you there ... although you might want to make sure you see me first ... ."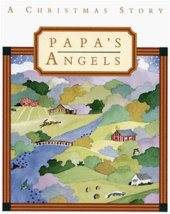 Theatre
Papa's Angels
Playcrafters Barn Theatre
Friday, November 6 through Sunday, November 15
"Hey, Jeff, I just sent you my What's Happenin' on Papa's Angels, the new production at the Playcrafters Barn Theatre."
"Yeah, Mike, I ... ."
"The show is being directed by Playcrafters veteran Tom Morrow, and looks like the perfect way to get audiences psyched for the holidays. You want to know the story?"
"Actually, I wanted to talk to you about ... ."
"It's a Christmas tale set in 1935, and it's about this family in North Carolina's Smokey Mountains. The dad is a singer and guitar player, but after his wife's death, the man is so devastated that he longer wants anything to do with music or Christmas."
"I know, I read that in your piece, but ... ."
"But the man's five children have a plan to cheer Dad up, and what they come up with is nothing less than an honest-to-goodness Christmas miracle - though I won't spoil it for you by telling you what happens."
"I appreciate that, but ... ."
"Papa's Angels stars John Weignand as the dad - he'll be singing and playing guitar in the production - and young performers Jacob Dodd and Morgan Williams will both be playing the fiddle, and the cast also features familiar area actors Spiro Bruskas, Sydney Crumbleholme, Jean Lupoli, Paul Workman, and Dustin Oliver, and it'll be filled with music and laughter and sentiment and holiday spirit and ... ."
"Mike. The show sounds great, but I'm not running the piece you wrote for it."
"Why not?"
"You made every single one of your pieces this week either a monologue or a dialogue. I keep telling you, your What's Happenin': The Movie screenplay is never gonna be filmed. Give it up."
"But I just found a way to include a Broken Lizard cameo!"
Papa's Angels runs November 6 through 15, and tickets are available by calling (309)762-0330 or visiting Playcrafters.com.