California Suite
Richmond Hill Barn Theatre
Thursday, October 4, through Sunday, October 14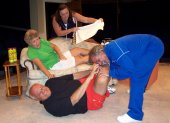 "Mike?"
"Jeff!"
"Your piece on California Suite?"
"Yeah?"
"I've got a problem with it."
"Oh, come on! I list all the pertinent information - that it's a comedy by Neil Simon, that it's playing at the Richmond Hill Barn Theatre in Geneseo, that it opens on October fourth ... ."
"Yes ... ."
"I explain that it's composed of a quartet of vignettes, all of which take place in the same two hotel rooms of a posh Los Angeles hotel ... ."
"Right ... ."
"I write that Richmond Hill favorite Diane Greenwood has a great role, playing a drunk actress who's pissed about losing an Academy Award, and that Maggie Smith actually won an Oscar for playing this part in the California Suite movie ... ."
"Uh huh ... ."
"And I mention that the play's warring married couples - the ones enduring a hellish vacation together - are portrayed by two actual married couples: Mike and Jackie Skiles, and Jeff and Liz Blackwell. I even have a great photo of them, with Mike assaulting Jeff while he's on the floor!"
"The photo's the problem."
"Why?"
"Your caption reads: 'Just another Reader staff meeting.'"
"So?"
"Our staff meetings are never that tame."
For California Suite tickets, call (309) 944-2244.
Michael Meade
Augustana College
Wednesday, October 3 and Thursday, October 4
Storyteller, social activist, and Men's Movement scholar Michael Meade will deliver presentations at Augustana College on October 3 and 4, and is the author of 1994's Men & the Water of Life, subtitled Initiation & the Tempering of Men. (I have several married female friends who would kill for that information.)
The founder of the Seattle-based Mosaic Multicultural Foundation, Meade teaches mythology and psychology on the graduate level, addresses educators, ministers, and youth advocates throughout Europe and the United States, and, in the mid-1980s, was famously paired on the lecture circuit with fellow Men's Movement scholar Robert Bly.
According to a press release, Meade's Thursday presentation on "The Road of Life & Death" will focus on the individual's soul and spirit, and his Wednesday lecture - entitled "Poetics of Peace: Why the World Doesn't End" - will find Meade discussing "today's cultural and political dilemmas, including fundamentalism, terrorism, and the underlying problem of literalism." That one, especially, should be a pretty ba-a-ad event.
No, wait! That came out wrong! I mean "bad" as in "good"! Like when you ... oh, never mind ... man, there is a problem with literalism ... .
For more information on Meade's work, visit (http://www.mosaicvoices.org).
QCAD Diversity Film Festival
Figge Art Museum
Saturday, October 6
At this year's October 6 fundraiser for Quad Citians Affirming Diversity (QCAD) - the Rock Island resource center dedicated to organizing social activities for gay and questioning teens - the Figge Art Museum will treat its guests to hors d'oeuvres, two movies, and an open bar. Just like a Wednesday night at my place.
The event begins with the 4 p.m. screening of Nina's Heavenly Delights (pictured), Pratibha Parmar's 2006 romantic comedy about a young Englishwoman who takes over her deceased father's curry house; Film Exposed magazine called it "a heartwarming tale of acceptance" and "a brave piece of filmmaking," but I prefer QCAD's press-release description, which calls it "Iron Chef meets lesbian love."
And at 8 p.m., Diversity Fest attendees will see Q. Allan Brocka's Boy Culture, which concerns a comically cynical hustler who takes on a much older client, and which the New York Times called "slick and absorbing," with a screenplay that boasts "a cerebral blend of insight, wit, and raunchy self-awareness."
Just like the Reader!
Not that, of course, there's anything wrong with that.
Tickets to this year's fundraising event are available by calling (309) 786-2580, and for more information on QCAD, visit (http://www.qcaffirmingdiversity.org).
Scott Holt
Blueport Junction
Sunday, October 7, 3 p.m.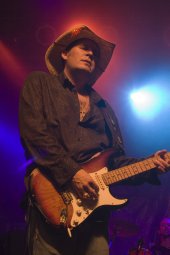 On October 7, Blueport Junction hosts its annual Big Brothers Big Sisters fundraiser, featuring pony rides, hayrack rides, and face-painting for the kids. But the venue will also provide musical entertainment courtesy of guitarist Scott Holt, who, according to the monthly periodical The Blues Crier, "really distinguishes himself from the pack as a musician with unbelievable guitar skills and expressive and capturing vocals," and is described as "an artist that has risen to the next level."
This sounds impressive ... and then you remember that Holt spent 10 years as a guitarist for legendary bluesman Buddy Guy, and realize just how high that last level was.
Since forming his own Scott Holt Band, the performer has released six albums (most recently 2007's From Lettsworth to Legend: A Tribute to Buddy Guy) and appeared on The Tonight Show with Jay Leno and Late Night with Conan O'Brien, and his soulful blend of blues, jazz, funk, and roots rock tends to make critics a little gaga, exemplified by this quote in Jazz Review magazine: "The dude rocks, always has, and he plays some of the most exciting, kick-ass blues rock on the planet."
All together now: SCOTT HOLT!!! (Another Arrested Development reference for you folks. And I won't stop with them until every last one of you gets them.)
For more information on the fundraiser, call Blueport Junction at (563) 326-3251.
Chapter 6
Centennial Hall
Saturday, October 6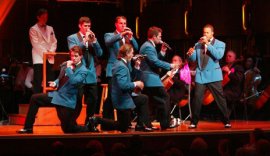 When you learn that the signature number for Chapter 6 is entitled "Ode to Krispy Kreme," you may be temped to ask, "Oh, whose isn't?"
But could you and five friends belt out your doughnut passion in perfect six-part harmony ... and without musical accompaniment? If so, then you, too, could be a member of this famed a cappella ensemble, performing at Augustana College's Centennial Hall on October 6.
Deriving their name from chapter six, verse three of the book of Acts - "Wherefore, brethren, look ye out among you seven men of honest report ... " - the Chapter 6 vocalists are graduates of Decatur, Illinois' Millikin University who made a profession of their collegiate hobby; since 1999, they've released four albums and have performed on Good Morning America and at music festivals across the country.
They're also the only American vocal ensemble to win both the International Competition of Collegiate A Cappella and the prestigious National Harmony Sweepstakes festival, and while they do sing nonsecular arrangements, they're also famed for their a cappella Wizard of Oz medley, and a tongue-in-cheek take on Queen's "Bohemian Rhapsody." Bismillah! Bismillah!
Chapter 6 tickets are available by calling the Augustana box office at (309) 794-7306.