Ray Blue
The Redstone Room
Sunday, September 16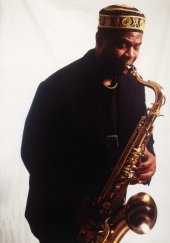 The musicians who accompany saxophone player Ray Blue - the featured performer and educator for the Redstone Room's Third Sunday Jazz Matinée & Workshop series on September 16 - are collectively known as Cross Continental Spirit. Considering the group's relentless touring schedule, let's hope they have lots of it.
These noted jazzmen perform worldwide for audiences in South Africa, Finland, Ireland, and the U.S., conduct annual jazz-education workshops and master classes in Africa and China, and, over the past five months alone, have toured New York, Germany, and France.
And Blue himself was quite the traveler even before the release of his debut CD Always with a Purpose in 2001. A Virginia native raised in New York and currently living in Belgium, Blue received degrees from Iowa's William Penn University and the University of Iowa, spent years working as a composer, arranger, and performer, and has even appeared in numerous television specials, commercials, and theatrical productions.
Reviewing Always with a Purpose, Jazzthing magazine praised the musician's "unique sound" and "special, old-fashioned touch," adding, "you wonder why the tenor saxophonist waited so long (to release his first album)." Seriously. It's not like he was busy or anything ... .
Blue's workshop begins at 3 p.m. with a Ray Blue & Cross Continental Spirit concert at 6 p.m., and more information is available by visiting (http://www.redstoneroom.com).
Sylvia
Playcrafters Barn Theatre
Friday, September 14, through Sunday, September 23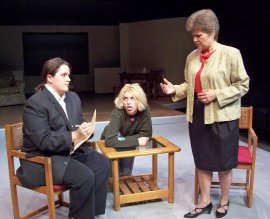 In playwright A.R. Gurney's Sylvia, middle-aged marrieds Greg and Kate find their contented existence threatened by the arrival of the young, frisky Sylvia, who, with no regard for Kate's feelings, falls hopelessly in love with her husband. That bitch.
Hey, I'm not judging. She actually is a bitch. The title character in this much-loved and -lauded comedy is a female dog whose thoughts - imposed on her by Gurney's characters - you'll be hearing in the Playcrafters Barn Theatre's presentation of the play, running September 14 through 23.
Seventeen-year-old Mandy Landreth plays the pooch in director Jennifer Kingry's production, with Stephanie Naab and Greg Bouljon portraying the couple whose relationship is tested by Sylvia's attentions, and their characters are likely to form one of area theatre's more memorable love triangles; the New York Times' Vincent Canby wrote that Sylvia "is so full of theatrical intelligence and writerly skill that it consistently pleases," and that Gurney's work is "for anyone who has ever owned a dog, loved a dog, wanted to wring a dog's neck, or wished the dog would take a long weekend."
Finally - a show for the rest of us! Take that, Andrew Lloyd Webber!
For Sylvia tickets, call (309) 762-0330.
Midwest Birding Symposium
Stoney Creek Inn & Conference Center
Thursday, September 13, through Sunday, September 16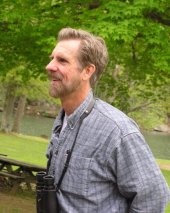 In October of 2005, the Quad Cities hosted its first Midwest Birding Symposium, which featured local and national birding experts and enthusiasts offering a series of presentations and field trips for avian aficionados. The event was such a hit that, as with all successful endeavors, it has now spawned a sequel: Midwest Birding Symposium II: The Return to Capistrano!
(That's actually not the title, but the event's hosts are welcome to it.)
The four-day conference, running September 13 through 16, is designed for both beginning birders and those already well-acquainted with our fine-feathered friends, and will again offer day-long field trips and special presentations, among them John Feith's "Listening to Bird Songs," Eldon Greij's "Why Birds Don't Ask for Directions," and Diane Porter's "What Do Birds Know." (Apparently one of the things they don't know is how to ask for directions.) National author and birding expert Kenn Kaufman (pictured) with be a keynote speaker, and vendors will be on-hand with guides, books, feeders, and birdcages available for purchase. Though if this piece ever winds up at the bottom of one of those cages, I will not be amused by the irony.
The symposium's headquarters are the Stoney Creek Inn & Conference Center in downtown Moline, and more information on the event is available at (http://www.visitquadcities.com/midwestbirding).
Unity in the Community Jazz Festival
The District of Rock Island
Saturday, September 15, 6 p.m.
Legendary musician Ahmad Alaadeen is quoted as saying, "Jazz does not belong to one race or culture, but is a gift that America has given the world." On September 15, the District of Rock Island will be offering its own gift to Quad Cities audiences with the 2007 Unity in the Community Jazz Festival, a free celebration of offerings by modern jazz masters.
Included in the lineup are saxophonist Jeff Sparks, a musical veteran of 30 years who has shared stages with the likes of Branford Marsalis, Fred Hammond, and Dizzy Gillespie; guitarist Eric Essix, whose singles "For Real" and "Rainy Night in Georgia" were top-10 hits on the smooth-jazz charts; trumpet player Joey Sommerville (pictured), who has recorded with Phish and served as an instrumental soloist for Cirque du Soleil's Grammy-nominated album Alegria; and jazz pianist William Green, who spent 10 years on the road with Peabo Bryson, and - alongside Grammy nominee Susan Tedeschi - appeared as the opening act for a recent Rolling Stones tour.
I could easily go on and on about the artists' accomplishments, CDs, and famed collaborators, but to borrow another quote, this one from famed jazz performer and critic John Mehegan: "Silence also swings."
More information on the Unity in the Community festival is available by calling (675) 289-1590.
Emeline Michel
St. Ambrose University
Friday, September 14, 7:30 p.m.
"Every time you hear about Haiti," says Haitian singer/songwriter Emeline Michel, "it's in a very negative context. I look for different ways to present Haiti, without the bad news." For fans of "La Reine de la Chanson Creole" (as the reigning "Queen of Haitian Song" is known throughout the world), Michel's September 14 arrival at St. Ambrose University's Galvin Fine Arts Center will be nothing but good news.
With her performances incorporating a wide variety of musical styles - ranging from jazz, funk, and rock to the traditional Haitian sounds of compas, twoubadou, and rara - Michel has appeared on stages throughout the Caribbean, Europe, and South America, and has certainly wowed North American critics; the Boston Globe praised Michel's "elegant, jubilant voice of her island nation," and the New York Times raved about her "sleek pop arrangements" with a "galloping carnival beat."
Known for songwriting with decidedly social, political, and inspirational content, Michel is also keenly aware of the occasional futility of words; in her biography at (http://emelinemichel.homestead.com), the artist admits that she was so exhausted from repeatedly re-writing the song "Mon Reve" that "I did a version where I gave up on the lyrics and just hummed - I loved it, and we decided to keep that version." In her honor, I actually wrote a version of this piece where I did the exact same thing, but it looked awfully stupid in print.
For Emeline Michele tickets, call the Galvin box office at (563) 333-6251.