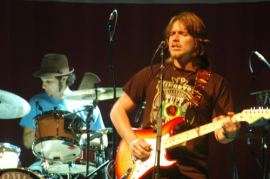 Music
Promise of the Real featuring Lukas Nelson
The Redstone Room
Tuesday, September 29, 8:30 p.m.
Conceived on a tour bus and born on Christmas Day, Lukas Nelson would seem born into a country song even if he wasn't the son of country-Western legend Willie Nelson. Yet Lukas went on to embrace not only the music of his upbringing, but rock, folk, and the blues as well, and audiences can expect a bit of each when Nelson and his Promise of the Real outfit play their September 29 concert at Davenport's Redstone Room.
Though Nelson performed as a guitarist with his pop's band for years, Promise of the Real itself made its national debut in 2008. For an up-and-coming group, though, this one has already up and come. Along with fellow band members Merlyn Kelly, Anthony Logerfo, Tato Melgar, and Micah Nelson (Lukas' brother - according to Willie, also conceived on a tour bus), Nelson has played main-stage gigs at Portand's Waterfront Blues Festival - the largest blues fest west of the Mississippi River - and the Mile High Music Festival in Denver, and recently toured alongside blues icon B.B. King.
With more than 90 shows scheduled in the group's fall tour, Promise of the Real will also deliver its high-energy, genre-defying sound in opening sets for the Dave Matthews Band, Blues Traveler, and Toots & the Maytalls, plus a series of concerts for Lukas' and Micah's dad. Seriously - best allowance ever.
Tickets to Promise of the Real's 8:30 p.m. concert are $15, and may be reserved by calling the venue at (563)326-1333, or visiting RedstoneRoom.com.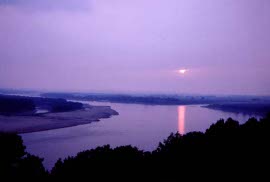 Event
Upper Mississippi River Conference
i wireless Center
Wednesday, September 23 through Friday, September 25
Check out that photo of the Mississippi River. Gorgeous, huh? Beyond its visual appeal, however, the river offers significant economic, educational, and environmental allure, points that will be made drinking-water-clear in River Action's Second Annual Upper Mississippi River Conference, taking place at Moline's i wireless Center September 23 through 25.
Opening with a workshop titled "Raising Money in Today's Tough Economy," this three-day conference will feature a series of field trips, guest speakers, and in-depth lectures, all promoting the pressing need for ongoing funding for Mississippi River projects and programs. Among the scheduled treks are visits to Muscatine's Big Sand Mound Nature Preserve and the 513-acre wetlands of Nahant Marsh, and the conference's individual workshops will be broken into three separate tracks, each geared toward specific areas of environmental interest.
In the "Clean Water Provides a Wealth of Opportunities" track, attendees will receive detailed H20 information via such lectures as "Up & Coming Water Quality Technologies" and "Water Quality Rules & Responsibilities." The "Planning Matters" track focuses on local innovations, with subjects including "Vision Beloit: A Riverfront Transformation" and "Partnerships for Preservation: LeClaire's Story."
And in the "One River - Many Uses" track, conference participants will gain insight into the economic possibilities of Mississippi River programs, with workshops on "Hydropower: The River as Energy" and "Let's Go Fishing: Catching Recreational Dollars with Tournaments, Piers, and Cleaning Stations." So that explains why I never have any recreational dollars lying around. I've just been using plain ol' bait.
For more information, and to register for the Second Annual Upper Mississippi River Conference, contact River Action at (563)322-2969 or RiverAction.org.
Event
Four Kingdoms Renaissance Festival
Camelot KOA Campgrounds
Saturday, September 26 and Sunday, September 27
I know exactly what you're thinking: There were a lot of outstanding Quad Cities festivals this past summer, but not one that featured a good old-fashioned jousting match, or a talking dragon, or a steel ball-and-chain set to replace the one you lost years ago.
Well, fret no more - the good folks at Rock Island's Camelot KOA Campgrounds (located at 2311 78th Avenue West) will offer these and many other Medieval pleasures during the Fifth Annual Four Kingdoms Renaissance Festival. Between 11 a.m. and 6 p.m. on September 26 and 27, the grounds will be converted into a full-scale Renaissance Village, complete with jousting matches and other feats of skill on horseback, Viking boat rides, live music, and vendors offering unique pieces of jewelry, hand-crafted wares, novelties, and a wider selection of swords, shields, armor, and weaponry than you could ever hope to find outside of eBay.
Plus, in addition to the demonstrations, activities, and crafts, the past will be brought to life via dozens of entertainers wandering the park in period costume. So be sure to keep your eyes and ears open for the haunting vocal harmonies of Silverthorn, the storytelling charms of William O'Wickham and his dragon sidekick Blackjack, and the antic comedians of the festival's beloved Idiot Minstrels. A few of us on the Reader staff actually auditioned for that gig but were deemed overqualified.
Tickets to the Four Kingdoms Renaissance Festival are $10 for adults and $5 for children - with discounts available for those wanting a two-day pass - and more information is available by calling (309)796-4241 or visiting FourKingdoms.com.
Music
BarlowGirl and Superchick
The Capitol Theatre
Friday, September 25
On September 25, Davenport's Capitol Theatre will present an evening with BarlowGirl and Superchick. They may sound like superheroes, but they're not. They're just super.
Originally based in Elgin, Illinois, the Christian-rock musicians of BarlowGirl are a trio of sisters - Alyssa, Becca, and Lauren Barlow - that have earned wild devotion since the 2004 release of their self-titled debut CD. Not only were the band members the best-selling Christian artists of 2004, but their 2005 song "I Need You to Love Me" broke the record on Christian Radio & Retail Weekly's chart by holding the number-one spot for 13 consecutive weeks.
Meanwhile, the Grammy-nominated Superchick incorporates rap, punk, and R&B stylings into its Christian-rock performances, and has garnered the attention and respect of both music fans and Hollywood producers; their tunes have been heard in such movies as Nancy Drew and Ice Princess, and such TV series as Brothers & Sisters and The Hills.
Combined, the groups have released 10 studio albums over the past eight years; test your knowledge of the different between a "girl" and a "chick" by matching the groups' CDs to their artists.
1) Another Journal Entry
2) Home for Christmas
3) Rock What You Got
4) Love & War
5) Karaoke Superstars
6) Beauty from Pain
7) Beauty from Pain 1.1
8) How Can We Be Silent
9) BarlowGirl
10) Last One Picked
A) BarlowGirl
B) Superchick
BarlowGirl's and Superchick's all-ages concert will also feature an opening set by the rockers of Lincoln, Nebraska's VOTA, and tickets are available by calling the Capitol at (563)326-8820 or visiting TheCapDavenport.com.
Answers: 1 - A, 2 - A, 3 - B, 4 - A, 5 - B, 6 - B, 7 - B, 8 - A, 9 - A, 10 - B. That second-to-last one, I grant you, was a gimme. That last one was also the title of my unpublished memoir about high-school gym class. Let's not dwell on it.
Theatre
The Zoo Story
Harrison Hilltop Theatre
Thursday, September 17 through Sunday, September 27
"Is this seat taken?"
"Oh ... well ... no. It's a public bench. You can sit if you'd like."
"I've been to the zoo."
"Hmm?"
"I said: I'VE BEEN TO THE ZOO!"
"Oh ... I see."
"Not a literal zoo ... a METAPHORICAL zoo! A place of absurdism and tension and hostility! And COMEDY! That's right ... a place of COMEDY! A place where one stranger can walk up to another in Central Park and share his darkest feelings about life and loneliness and ... and dogs! Yes! DOGS! GRRRRRRR!!! RAAGGGHHH!!! The setting for one of playwright Edward Albee's most acclaimed works, where themes of isolation and dehumanization are powerfully disturbing ... yet powerfully FUNNY! A one-act world where two actors ... like, perhaps, James Bleecker and Steven Quartell ... can play two of theatre's best-known roles and rip into Albee's unforgettable dialogue like ... like DOGS! RAAGGGHHH!!! GRRRRRRR!!!"
" ... "
"Tell me what you think."
"I ... I don't understand what ... I don't think I ... . Why did you tell me all of this?"
"Because the Harrison Hilltop Theatre is producing Albee's The Zoo Story September 17 through 27."
"Why didn't you just say so?!"
"Sometimes a person has to go a very long distance out of his way to come back a short distance correctly."
The Zoo Story runs Thursdays through Saturdays at 7:30 p.m. and Sundays at 2:30 p.m., and tickets are available by calling (309)235-1654 or visiting HarrisonHilltop.com.
What Else Is Happenin'...?
MUSIC
Sunday, September 20 - Ray Blue: The Music of Change. Multimedia experience featuring the blues musician, as part of Polyrhythms' Third Sunday Jazz Matinee & Workshop Series. The Redstone Room (129 Main Street, Davenport). 3 p.m. all-ages workshop - $5/adults, children free; 6 p.m. concert - $10-$15. For information, call (309)373-0790 or (563)326-13333, or visit Polyrhythms.org.
Tuesday, September 22 - Buckcherry. Platinum-selling rockers in concert, with opening acts Saving Abel, Red, and The Last Vegas. i wireless Center (1201 River Drive). 7 p.m. $29.75-$35. For tickets and information, call (800)745-3000 or visit iwirelessCenter.com.
Friday, September 25 - Imani Winds with Stefon Harris. A wind-ensemble concert in the Hancher Auditorium Performing Arts Series, featuring the premiere of composer Harris' new work, "A Sonic Painting in Wood, Metal, & Wind." Iowa City High School (1900 Morningside Drive, Iowa City). 7:30 p.m. $10-$28. For tickets and information, call (319)335-1160 or visit http://www.Hancher.UIowa.edu.
THEATRE:
Saturday, September 26 - Simon Wiesenthal: Nazi Hunter. Quad City Arts Visiting Artist Tom Dugan in his one-man show. Davenport Junior Theatre, Annie Wittenmyer Complex (2822 Eastern Avenue, Davenport). 7 p.m. Free admission; donations accepted. For information, call (309)793-1213 or visit QuadCityArts.com.
COMEDY
Friday, September 25 - A Vacation to Die for. Interactive mystery/comedy with the It's a Mystery players, set at the construction site for the Eckstazee Lo-Cost Resort. The Lodge Hotel (900 Spruce Hills Drive, Bettendorf). 6:30 p.m. $35 for dinner and show. For tickets and information, call (563)359-7141 or visit ItsAMysteryQC.com.
HEALTH
Saturday, September 26 - Take Action Health, Wellness, & Safety Fair. More than 30 exhibitors from the Quad Cities area offering a wide variety of health and safety exhibits, acupuncture and reflexology demonstrations, hearing and spinal screenings, and more. Take Action Fitness (901 East Kimberly Road #5, Davenport). 9 a.m.-4 p.m. Free. For information, call (563)445-6640 or visit TakeActionInc.com.
EVENTS
Friday, September 18, and Saturday, September 19 - Our Big Fat Greek Festival. Greek cuisine, pastries, a Greek wine tasting, Chicago's Hellas Dancers, children's activities and games, vendors, Greek and American music, and more. St. George Greek Orthodox Church (2930 31st Avenue, Rock Island). 11 a.m.-11 p.m. $2. For information, call (309)786-8163 or visit http://www.StGeorgeRI.IL.GOArch.org.
Saturday, September 19, and Sunday, September 20 - Riverssance Festival of Fine Arts. Annual festival featuring works by more than 100 artists from across the country, children's art activities, live music, food vendors, and more. Lindsay Park (Village of East Davenport). Saturday 10 a.m.-6 p.m., Sunday 10 a.m.-4 p.m. $3/adults, ages 11 and under free. For information, call (309)786-2430 or visit Midcoast.org.
Saturday, September 19 - Brew Ha Ha. The 10th-annual beer-tasting event with a variety of pilsners, ales, and porters to sample, a cheese tasting, live music with Minus Six, a comedy performance by Dwayne Clark, and more. LeClaire Park (Davenport). 1-5 p.m. $20-$25. For tickets, call (309)796-2424; for information, call (309)796-2424 or visit WQPT.org/brew.
Saturday, September 19 - H2X Extreme Water Sports Show. Featuring half a million gallons of water in an event featuring personal-watercraft racing and freestyle, big-air jumping by the world's top professional jet skiiers. i wireless Center (1201 River Drive). 7:30 p.m. $17.50-$37.50. For tickets and information, call (800)745-3000 or visit iwirelessCenter.com.
Sunday, September 20 - Erin Feis. Annual Irish celebration hosted by the St. Patrick's Club of the Quad Cities, featuring Celtic music by Leahy's Luck and Stephen's Green, dancing with the Mullane-Healy-O'Brien Dance Academy, food, games, history, culture, and more. The District of Rock Island. Noon-7 p.m. $6, ages 12 and under free. For information, call (309)788-6311 or visit StPatsQC.com/ErinFeis.htm.
Saturday, September 26 - Unity Festival. Fundraising festival for Churches United and local food pantries, with salsa dancers, demonstrations, games, activities, vendors, and musical performances by Jason Carl, the Fry Daddies, Tom Norman's Steady Rolling Band, the Ellis Kell Band, Smooth Groove, Life African Musicians, Edgar Crockett's Jazz Band, and Los Mocambos. LeClaire Park (Davenport). Saturday 11 a.m.-midnight, Sunday noon-8 p.m. $3, or free with three canned goods. For information, call (563)349-1870 or visit QCUnited.org.
Sunday, September 27 - Quad Cities Marathon. Annual event on a USATF-certified course and Boston Marathon qualifier involving five races, four cities, three bridges, two states, and one island along the Mississippi River. With run/walks, children's micro-marathons, and more. John Deere Commons (River Drive, Moline). 7:30 a.m. registration. $10-$75, depending on the event. For information, call (309)751-9800 or visit QCMarathon.org.