Ben Kweller
University of Iowa Pentacrest
Friday, September 28, 8 p.m.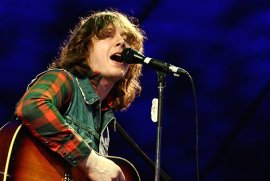 Ah, homecoming. A time for former students to revisit their alma maters and relive the glory days of their youths, back when they were only imaging the wondrous things that might happen in their careers.
So, for the University of Iowa's homecoming entertainment on September 28, what better choice could the school have made than Ben Kweller, a rocker who released four albums, traveled the world, and appeared on Late Show with David Letterman and Late Night with Conan O'Brien ... before he was old enough to go to college?
Kweller has certainly been no less busy since turning 18. The former front man of the teen grunge band Radish has proved himself equally successful as a solo artist, with three critically acclaimed albums released in the past five years; Stylus magazine called the artist's recent, self-titled CD "a worthy personal statement from a popster whose chops keep getting better."
Yet if you're surprised by the irony of Kweller - who never went to college - playing for a university's homecoming, check out the FAQ page on his Web site, where he reveals that favorite movies include Team America and Wedding Crashers, favorite foods include "shots of tequila," and guilty pleasures include "masturbation and smoking." He's got college written a-a-a-all over him.
Kweller performs a free concert for the U of I's homecoming alongside Three Dog Night, and more information on him is available by visiting (http://www.benkweller.com).
Go West! and Jacob Lawrence: The Migration Series
Figge Art Museum
Opening Saturday, September 29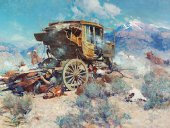 On September 29, Davenport's Figge Art Museum opens two new exhibits, and even though only one of them comes to us from out-of-state, feel free to think of them both as "traveling exhibits" - so long as you realize it's their viewers who'll be taking the cross-country trip.
Arriving from the Phillips Collection in Washington and New York's Museum of Modern Art, Jacob Lawrence: The Migration Series, will feature 30 of the artist's panels, which collectively portray the mass migration in the early 20th Century of African Americans from the south to urban centers in the north.
And in Go West!, another 30 panels - these from the Figge's rarely viewed collection of Western art - will provide a detailed look at our American past through the works of such respected artists as Frederic Remington, Charles Russell, and Luis Jiménez.
Personally, I feel a strong connection with the exhibit, as "Go West!" was something I used to shout during football games back in high school. Of course, I went to Crystal Lake South High School. Yeah, I got beaten up pretty badly.
More information on both exhibits is available by visiting (http://www.figgeartmuseum.org).
Egypt: Of Pharaohs and Fables
Putnam Museum & IMAX Theatre
Tuesday, October 2
And the Bangles are ecstatic. Not only will fall visitors to the Putnam Museum & IMAX Theatre witness walking, but talking, dancing, and cooking like an Egyptian!
On October 2, the World Adventure Series presentation of Sandy Mortimer's Egypt: Of Pharaohs & Fables gives IMAX audiences a truly larger-than-life view of the country, while the Putnam lobby is turned into a traditional souk (Egyptian marketplace), complete with belly-dancing demonstrations and traditional Egyptian food.
Yet that's just the beginning of the museum's Egyptian activities. On October 5, the venue opens the interactive exhibit BJ & Mabel's Egyptian Adventure, while on November 14, it presents the luncheon and lecture "Mummy Mysteries Unraveled," featuring the results of the Putnam mummy's recent CT scan at Genesis Medical Center.
And on October 7, kids are invited to attend "Mummy Magic," at which they can try their hands at hieroglyphics, investigate how the pyramids were built, and, according to a press release, "mummify an apple."
I did that myself once, but only because I didn't see one sitting on my counter for, like, two years. (Hey, it's not my fault. It was always hidden behind a bag of chips.)
For more information on upcoming Putnam events, visit (http://www.putnam.org).
Jupiter One
Rock Island Brewing Company
Saturday, September 29, 10 p.m.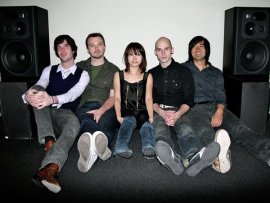 In the press release for alternative rockers Jupiter One - playing the Rock Island Brewing Company on September 29 - the first review I found came from the online, New York-based The Deli, which praised the group's "psychedelic, progressive, and hip-hop elements perfectly embedded in the intellectual synth-pop main coordinates."
I assumed that was a good thing, so I checked out the next review, with the online station Hellthy Radio dubbing it "some fan-fuckin'-tastic shit!" Guess it was a good thing.
Composed of lead singer K Ishibashi, keyboardists Zac Colwell and Mocha, bassist Ben Wright, and drummer Dave Heilman, this five-piece Brooklyn group has found a healthy following among both fans and critics (if Hellthy's colorful rave didn't already convince you); online indie-music site 3hive.com wrote that Jupiter One "can stand tall alongside New Wave forefathers like The Cars with nary a double-take."
As for the group's take on itself, its MySpace page finds the band describing its mixture of grunge and classic funk as "a power-packed meal high in sonic nutrition." Throw in some of RIBCO's cheese fries, and that's a full meal.
The band plays Saturday alongside Minus Six, and more information on Jupiter One is available at (http://www.myspace.com/jupiterone).
Jon McLaughlin
Augustana College
Saturday, September 29, 8 p.m.
Let me guess, guys: You've taken one look at that photo of singer/pianist Jon McLaughlin - performing at Augustana College's Centennial Hall on September 29 - and have decided to hate him, as no man should be allowed to be that good-looking.
Well, that's an unfair reaction. You should learn a little bit about the 24-year-old musician first. Then you can really hate him.
For one thing, the pop-rock performer is successful: McLaughlin's debut album, released this past May, hit number six on Billboard's Digital Album chart, and ranked number seven with the iTunes Store. For another, he's the definitive Small-Town Boy Made Good, as the native of Anderson, Indiana, titled his first album Indiana. (That sound you just heard was half the women in the Quad Cities going, "Awww ... .")
For another, he's performed at such festivals as the Milwaukee Summerfest and Lollapalooza. For still another, his music has been heard in the Bridge to Terabithia movie and NBC's Scrubs, and he'll make his first on-screen appearance in Disney's Enchanted this November.
But just in case you're thinking that McLaughlin has sailed through life without a care in a world, consider this: In high school, he was involved in an accident in which he broke both wrists, and couldn't play the piano for years.
So he's triumphed over adversity, too. Feel free to hate him all the more.
Tickets are $12, and are available by calling (309) 794-7306.