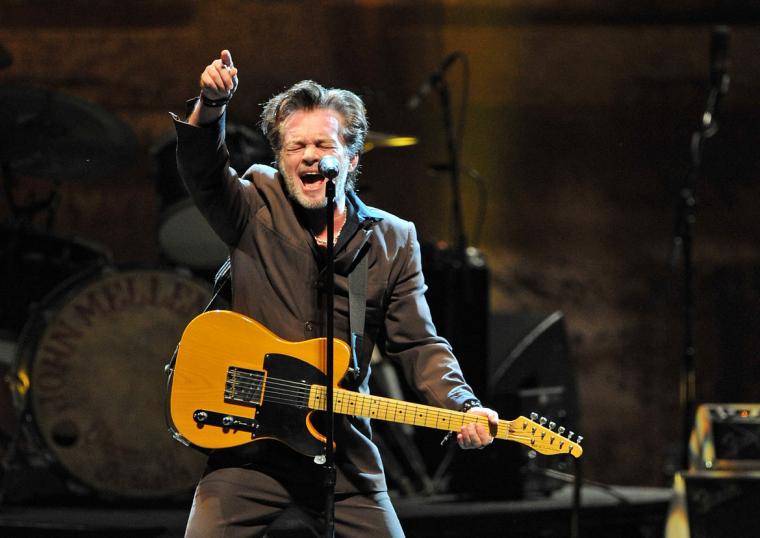 Events
Festivals and Annual Events
June through August
All Quad Citians who routinely travel between the Iowa and Illinois sides of the Mississippi River know to expect occasional delays because of bridge repairs. But if those delays sometimes seem more frequent than "occasional," I'm not sure that's because of regular upkeep and enhancements. I think it might be because our area's annual lineup of summertime festivals and major events keeps us excitedly hopping between states for three solid months. Given the sheer tonage of happenings, no wonder our poor bridges need some TLC.
This year, in fact, our very first day of seasonal traditions will find us scooting back and forth from Iowa to Illinois. Taking place at Davenport's LeClaire Park on June 10, the annual Quad City Juneteenth Festival will celebrate the abolition of slavery with an outdoor party featuring history and information booths, food and retail vendors, children's activities, and live music. And even more tunes – those with a distinctly Cajun flavor – will be heard that day when the annual Gumbo Ya Ya delivers the District of Rock Island's very own Mardi Gras complete with zydeco and jazz bands on two stages, food and craft vendors, and, naturally, thousands upon thousands of beads.
While bike-themed festivals are a longtime tradition in this area, a new event hits Davenport's Centennial Park from June 16 to 18, as The Muddy Fest: Motorcycles & Music presents three days boasting festival activities plus a bunch of special guests: The Doors guitarist Robby Kreiger, actor William Baldwin, Olympic gold medalist Dan Gable, and concert headliners Sublime with Rome. Further sublime rock will be on hand in the District of Rock Island's June 16 and 17 Rock the District concerts, while headliners including Joanna Connor, Dwayne Dopsie & the Zydeco Hellraisers, Dana Fuchs, and the Reverend Peyton's Big Damn Band will thrill LeClaire Park crowds in the annual Mississippi Valley Blues Festival June 30 and July 1. A trek to the University of Iowa Pentacrest, meanwhile, will find Stacy Kent, The Cookers, and loads of additional artists jazzing up Iowa City in the Iowa City Jazz Festival, running June 30 through July 2.
Because this year's Fourth of a July falls on a Tuesday, fireworks fun over the Mississippi will take place on a Monday in July 3's bi-state Red, White, & Boom! celebrations, with Rock Island's Schwiebert Park and Davenport's Modern Woodmen Park hosting live music, children's activities, and spectacular views of the explosive spectacle above. The tightly wrapped rockers of Here Come the Mummies headline The Daiquiri Factory's 13th-Anniversary Party in Rock Island July 7 and 8, while a car trip to Des Moines' Western Gateway Park will end with July 7 and 8 sets by The Shins, MGMT, and four-dozen additional bands in the annual 80/35 Music Festival. Those seeking more localized concert thrills, meanwhile, will find them at Moline's Len Brown's North Shore Inn via July 8's third-annual Dawn & On Music Festival, a fundraiser for the Child Abuse Council of the Quad Cities with scheduled performers including Chicago Farmer, Miles Nielsen & the Rusted Hearts, Old Shoe, The Candymakers, and, of course, the local rockers of The Dawn.
But plan on enjoying plenty more bi-state excursions that month. From July 10 through 16, Silvis' TPC at Deere Run hosts the area's John Deere Classic, our annual PGA tournament. The Iowa 80 Truck Stop's Walcott Truckers Jamboree will, from July 13 through 15, find country stars Mary Sarah and Colin Raye headlining a weekend of carnival games, exhibits, and annual events including the Trucker Olympics and Super Trucks Beauty Contest. Truck and tractor pulls – along with rides, games, pageants, live music, a talent show, and more – can be found in the July 18 through 22 Rock Island County Fair at East Moline's Rock Island County Fairgrounds. And ending the month back in Iowa, the July 28 and 29 Street Fest 2017 will find downtown Davenport bursting with live music and activities in celebration of that Saturday's annual Quad-City Times Bix 7, the world-renowned foot race that covers seven miles and starts with one re-e-e-eally big hill.
August starts with a blast on Locust Street, as the Mississippi Valley Fairgrounds hosts the 2017 Mississippi Valley Fair August 1 through 6, its highlights including grandstand concerts with Dustin Lynch, Tyler Farr, Lynyrd Skynyrd, Brett Eldredge, John Mellencamp, and Randy Houser. Adding to that week's country and rock will be the jazz provided by the Bix Beiderbecke Memorial Jazz Festival, the August 2 through 5 salute to our area's cornet legend featuring more than two-dozen concert sets at LeClaire Park, the Rhythm City Casino, and other local venues. Heading outside the Quad Cities, you can add soul to the month's list of celebrated music genres in downtown Iowa City's August 4 and 5 Iowa Soul Festival, plus all the varied entertainers – among them the artists of Nickelback, Alabama, Little Big Town, and Paramore – headlining the August 10 through 20 Iowa State Fair at Des Moines' Iowa State Fairgrounds.
A battle over the Mississippi – and one that doesn't involve bridge travel – will take place during the August 10 through 12 Tug Fest, with the carnival activities on the LeClaire and Port Byron levees topped off by the annual, river-crossing tug-of-war competition. The District of Rock Island's yearly celebration of all things Caribbean, August 12's Ya Maka My Weekend will create an island atmosphere though food and craft vendors, art activities, and loads of reggae. The afternoon of August 19 will feature paddle sports celebrated in Rock Island's and River Action's annual Floatzilla, the Sunset Park event featuring live music, a trade show, and a trophy for the largest paddling group. August 19's evening, meanwhile, will culminate with a musical toast to the Fab Four in the Quad City Symphony Orchestra's Riverfront Pops: The Beatles' Greatest Hits concert in LeClaire Park, its scores of beloved tunes climaxing, as always, with Tchaikovsky's "1812 Oveture" and Sousa's "Stars & Stripes Forever" accompanying a magnificent fireworks display over the Mississippi.
And wrapping up our area's season of phenomenal festivals is a brand-new one in downtown Davenport: the visual-art, live music, film, and comedy celebration Alternating Currents, boasting several blocks' worth of demonstrations and performances, among them an Adler Theatre concert with headliner Ben Folds. Taking place on August 25 and 26, it's sure to be an excellent addition to our seasonal-fest scene, and all the more reason for those unfortunate out-of-towners to consider packing their bags and just moving here for three months. You can't spell "Alternating Currents," after all, without "Creating Rentals."
For more information on summertime festivals and major events, visit the Reader's online Festivals calendar.
Events
Adler Theatre and iWireless Center
June through August
When you think about summertime songs, it's impossible not to think of the Beach Boys. Just off the top of my head: "Surfin U.S.A." "California Girls." "Fun, Fun, Fun." "Surfer Girl." "Good Vibrations." "Kokomo."
That's why it's so fitting that, among the summer events scheduled at Davenport's Adler Theatre and Moline's iWireless Center, one of them is a ... .
Oh, wait. They did "Surfin'," too. And "Surf's Up." And "Surf Jam," "The Surfer Moon," and "Surfers Rule."
Anyway, like I was saying, one of those events is a concert by none other than ... .
Whoops. Forgot about "Summer in Paradise" and "Summer of Love." "The Warmth of the Sun," too. And I know they covered "Summertime Blues" and "Hot Fun in the Summertime" at some point ... .
All right, this could obviously go on all day. Suffice it to say that on July 13, The Beach Boys' Adler Theatre appearance will find the group performing from its beloved and fantastically extensive repertoire. I mean, I haven't even mentioned "Little Deuce Coupe" or "I Get Around" or "Barbara Ann" or "In My Room" or "Help Me, Rhonda" or ... . Seriously. All day.
Two additionally high-profile concerts will bookend the Adler's summer season. On June 10, the legendary Scottish singer/songwriter Donovan hits the Davenport stage, his musical achievements of 50-plus years including the hit singles "Sunshine Superman," "Mellow Yellow," and "The Universal Soldier," along with induction in the Rock & Roll Hall of Fame and Songwriters Hall of Fame. And on August 26, singer/songwriter and alternative rocker Ben Folds serves as the Adler's headliner for the Quad Cities' inaugural Alternating Currents festival. With his professional collaborations varied enough to include Sara Bareilles, Regina Spektor, "Weird Al" Yankovic, and even William Shatner, Folds has released a half-dozen solo albums and EPs, plus another four as the frontman for the Ben Folds Five, and is widely known for helping judge NBC's The Sing-Off competition from 2009 to 2013.
Another pair of big-ticket summertime events will take place across the river at the iWireless Center. June 10 features the area arrival of Soul2Soul: The World Tour 2017, with Grammy-winning superstars and spouses Tim McGraw and Faith Hill performing such country smashes as the former's "Humble and Kind," "Shotgun Rider" and "Live Like You Were Dying," and the latter's "This Kiss," "Breathe," and "Mississippi Girl." (If everyone promises to be really good, the performers might also treat fans to their famed duets "It's Your Love," "I Need You," and "Meanwhile Back at Mama's.") On June 20, the iWireless hosts an evening of R&B, pop, and rock with Michael McDonald. A former member of the Doobie Brothers and Steely Dan whose "On My Own" duet with Patti LaBelle topped the charts in 1982, McDonald will play from a repertoire that boasts more than a dozen studio and compilation albums, and that has thus far resulted in no fewer than five Grammy Awards. And on August 26, a "Runaway Train Tour" rolls through Moline with a special roots-rock performance by Bob Seger & the Silver Bullet Band.
That's quite a lineup of musical talent, and doesn't even include the potential musical talents involved in the two pageants the Adler will host this summer: the 2017 Miss Iowa Scholarship Competition, taking place June 22 through 24, and July 22's National Miss You Can Do It Pageant, created for girls and women with special needs and challenges. Both fundraising events are noble ones, to be sure, but why are pageants such as these always female-specific? Why don't we guys get, like, a National Mansplaining Pageant? Or a Mister Don't Embarrass Yourself in Public Competition? Or a ... . Okay, fine, I know why.
More information on the Adler's summer season is available by visiting AdlerTheatre.com, and for more on the iWireless summer, visit iWirelessCenter.com.
Music
The Redstone Room and RIBCO
June and July
Looking over the lineup of artists performing at the Rock Island Brewing Company and Redstone Room this season, it appears that summertime in the Quad Cities is going to be even hotter than usual. Haystak! The Rumours! Unsane! And even a few acts that are spelled correctly!
I hasten to add than I'm joking – mostly because the accompanying photo of Jason "Haystak" Winfree suggests that the guy could easily pound me. But he'll also be pounding out heartfelt and hardcore Southern-rap lyrics when RIBCO presents its concert with Haystak on June 15, a night of rap and hip-hop ranging from the musician's 1999 debut Mak Million to 2011's Heatseekers-Top-20 album Strictly Business to last year's Still Standing.
The following evening brings with it RIBCO headliners The Jeff Austin Band, as the co-founder of the Yonder Mountain String Band and his ensemble play a June 16 gig filled with exhilarating bluegrass music and its namesake's formidable mandolin talents. An extra-long musical weekend at RIBCO continues with June 17's outdoor performance by the touring Pink Floyd tribute artists of In the Flesh, and on June 18, the District heat simmers even further thanks to psychobilly trio Reverend Horton Heat, whose Sunday-night concert includes opening sets with Agent Orange and Flat Duo Jets.
But that's not all the Rock Island Brewing Company will be serving his summer. On June 10, the venue co-presents the outdoor Mardi Gras celebration Gumbo Ya Ya, featuring concert sets by the Backwater Bayou Band, Environmental Encroachment, Dikki Du, and Playlist QC. The touring tribute artists of The Schwag will bring their seasoned Grateful Dead stylings to RIBCO on June 24. And if you're caught off-guard by the spelling of the venue's July 22 headliners, trust me, you're not insane – they're simply Unsane, the New York-based hard-rock and alt-metal ensemble composed of Dave Curran, Vincent Signorelli, and Chris Spencer. Again: Just kidding about that early incorrect-spelling crack. (These guys could also seriously damage me.)
Crossing the river into Davenport, the Redstone Room's summertime schedule begins with a June 14 concert by the roots-rock and pop chanteuse Daphne Willis, which will be followed three days later by June 17's Muddy Fest After-Party – a post-biking celebration featuring performances by Once Around, High Five Sinners, and the female-fronted rockers of the aforementioned The Rumours. (Given the traditional-English spelling of that band name, you'd be right to guess that the musicians hail from ... Waterloo, Iowa.)
The latest concert event in Polyrhythms' Third Sunday Jazz Workshop & Matinée Series gives us five gifted musicians for the price of four, as the artists in the Ari Brown-Marvin Sparks Quartet will be joined, on June 18, by noted jazz vocalist and Princeton University faculty member Trineice Robinson-Martin. Less than a week after Jeff Austin plays RIBCO, the group he co-founded – Yonder Mountain String Band – lands in Iowa for a June 21 evening of progressive bluegrass. And if that acclaimed ensemble somehow doesn't sate your desire for string music, there'll be even more in the Redstone Room's July 3 set with Leftover Salmon, the Colorado-based bluegrass, rock, and zydeco performers whose sound, I promise, is much tastier than actual leftover salmon.
On July 20, the Chicago-based jazz-rock musicians of Marbin bring their quartet to the Redstone Room in a concert boasting opener Steady Flow. The following night, July 21's RME Member Appreciation Show offers a thank-you to the community in the form of folk-rock sets by The Western Den and Honeysuckle. Meanwhile, with Cheyenne Medders serving as the night's opener, siblings Laura and Lydia Rogers bring their singular blend of country, bluegrass, pop, rock, and gospel to the Redstone Room in June 23's night with The Secret Sisters. Describing the duo's fondness for performing live, Lydia's bio quotes her as saying, "There is something beautiful and honest about not being perfect." As someone who routinely makes terrible jokes in print only to subsequently apologize for them, I thank Lydia for considering me beautiful and honest.
More information on the Rock Island Brewing Company's summer is available by visiting RIBCO.com, and for more on the Redstone Room's season, visit RiverMusicExperience.org.
Theatre
Comedies and Dramas
June through August
I know what you're thinking. "Gee, Mike, I was planning to catch you in the QC Theatre Workshop's current production of the Peter Pan origin story Peter & the Starcatcher, running through June 18. But I should probably see something else this summer, too – any recommendations?" To which I say, "Absolutely! Augustana College is initiating the new summer-stock company the Mississippi Bend Players this summer, and its lineup includes director Jeff Coussens' production of Frederick Knott's classic thriller Wait Until Dark (July 21 through 30) and director Corinne Johnson's take on Neil Simon's Tony-winning stage remembrance Brighton Beach Memoirs (August 4 through 13). I'm in both of those!"
For more information on the summertime theatre schedule, visit the ... .
Hang on. It appears that my boss is demanding an article on our area's upcoming stage scene that's longer than 100 words ... and that isn't solely about me. Which is fine, I guess, because there's certainly a lot to talk about.
Theatre-goers can generally expect a bunch of first-rate comedies among their summer fare, and they'll definitely be getting them this year, too; heck, the season is so rife with stage laughs that even Eugene O'Neill will be providing a bunch. In addition to its musicals, the Timber Lake Playhouse and director Chuck Smith will present O'Neill's 1933 Independence Day comedy Ah, Wilderness! (June 15 through 24), a rarely staged coming-of-age classic that boasts, for its author, an even rarer happy ending. And the Mt. Carroll summer-stock company will also deliver slapstick and burlesque in another exclamation-pointed title: Scapino! (July 13 through 22), authors Frank Dunlop's and Jim Dale's celebration of commedia dell'arte zaniness.
The University of Iowa marks the return of its Iowa Summer Rep series with director Josh Sobel's The Importance of Being Earnest (June 15 through 25), the hilarious Oscar Wilde classic of romantic misunderstandings, mistaken identity, and one really imposing dowager. In addition to its current production of the iconic courtroom drama Inherit the Wind (through June 11), the Richmond Hill Barn Theatre has a pair of comedies lined up for the summer months: director Dana Skiles' Rounding Third (June 13 through 23), playwright Richard Dresser's two-man tale of warring Little League coaches; and the British farcical comedy by director Joe DePauw titled Big ... Bad ... Mouse! (August 17 through 27). Exclamation points are clearly "in" this summer, huh?
While the Clinton Area Showboat Theatre will deliver chills and thrills in its stage version of Alfred Hitchcock's Dial "M" for Murder (June 22 through July 1), the theatre's other production with a Hitchcock title – The 39 Steps (August 10 through 19) – mines the film's melodrama and suspense for madcap screwball comedy, as author Patrick Barlow's Tony winner brings the film's dozens of characters to life via a cast of merely five. And the Playcrafters Barn Theatre has warmhearted laughs and Southern shenanigans on its summertime docket in director Jacque Cohoon's The Dixie Swim Club (July 14 through 23), a college-reunion hoot by the famed playwriting team of Jamie Wooten, Jessie Jones, and Nicolas Hope.
Yet Playcrafters also has more serious-minded fare this summer with director Nicholas Waldbusser's take on David Lindsay-Abaire's Good People (July 28 through 30), the dramatic yet often spikily funny Tony Award winner being staged in the venue's new Barn Owl Series. More drama comes courtesy of the QC Theatre Workshop and director Tyson Danner in the world premiere Broken (August 25 through September 10), an exploration of human trafficking by Aaron Randolph III, author of the theatre's 2013 A Green River. A Bertold Brecht masterpiece also lands at the Workshop in the Prenzie Players' production of The Caucasian Chalk Circle (July 13 through 22), with Kate Farence directing this timeless tale of a young peasant who cares for the child of wealthy birth parents.
And if it's summer in the Quad Cities area, that means we'll definitely be getting a healthy helping of classical theatre ... even if some of the presentations are less classically classical than others. Iowa City's Riverside Theatre opens its season with the vengeance, murders, and damned spots of Macbeth (June 9 through 18), while Genesius Guild precedes its production of William Shakespeare's historical drama Henry V (July 22 through 30) with Euripides' mournful masked tragedy The Trojan Women (July 8 through 16). As usual, blessedly, the Guild ends its season with Don Wooten-ized Greek satire, this summer's coming in the form of Aristophanes' The Clouds (August 4 through 6).
Plus, if you want to enjoy a special theatrical two-fer, allow me to suggest taking in Genesius Guild's staging of Shakespeare's hilarious The Comedy of Errors (June 24 through July 2), and following it with Riverside Theatre's The Bomb-itty of Errors (June 23 through July 2), described as an "ad-rap-tation" of the Bard's classic by the Q Brothers' Postell Pringle. It's Shakespeare the way he was meant to be parodied.
For more information on the summertime theatre schedule, visit the Reader's online Theatre calendar.
Theatre
Musicals
June through August
Currently, there are two stage musicals enjoying theatrical runs in the Quad Cities: the Circa '21 Dinner Playhouse's and director Warner Crocker's Stephen Schwartz celebration Snapshots: A Musical Scrapbook (running through July 15), and the Black Box Theatre's I Love You Because (running through June 17), director Becca Johnson's take on the romance inspired by Jane Austen's Pride & Prejudice.
Soon, Genesius Guild and Opera @ Augustana will open Lincoln Park's stage season with Selections from Menotti (June 10 through 18), boasting operatic gems from the repertoire of the two-time Pulitzer Prize winner and composer of numerous operas including The Consul, The Saint of Bleecker Street, and Amahl & the Night Visitors. And for its debut presentation, Augustana College's new summer-stock company the Mississippi Bend Players will present Zombie Prom (July 7 through 16) by Broadway's The Boy from Oz director Philip Wm. McKinley, a campy comedy with "Bra-a-a-a-ains!"
I'm opening with mention of these four shows because, among the more than two-dozen musicals being performed in area venues over the summer months, they're the only ones that don't fall into one of two categories: (1) Tony Award winners and nominees, and (2) fairytales and fables. One of those titles, in fact, falls into both.
To be fair, the Circa '21 Bootlegger revue No Business Like Show Business (August 3 through 31) isn't technically a Tony winner or nominee, as it's actually a compilation of songs and vignettes from shows performed at the venue over its 40-year history. But considering that history includes stagings of Tony champs ranging from The King & I to 42nd Street to Les Misérables to Cats, I'm letting it in on a pass. Circa 21's other summer musicals, though, were bona fide Tony contenders: director Ann Nieman's Seven Brides for Seven Brothers (July 19 through September 16), the stage version of Stanley Donen's legendary MGM musical; and director Kimberly Kurtenbach's A Year with Frog & Toad (June 13 through July 1), the family production based on the cherished storybooks by author/illustrator Arnold Lobel.
Quad City Music Guild offers a trio of Tony-lauded titles for its summer season: The Little Mermaid (June 9 through 18), director Heather Beck's take on Disney's Oscar-winning animated classic; the song-filled Romeo & Juliet update West Side Story (July 7 through 16), with director Bob Williams tackling the timeless Stephen Sondheim/Leonard Bernstein collaboration; and Andrew Lloyd Webber's Sunset Boulevard (August 4 through 13), the musical noir by director Kevin Pieper in which aging star Norma Desmond insists that "I am big; it's the pictures that got small!" and screenwriter Joe Gillis meets the business end of a swimming pool. (That's not a spoiler ... unless revealing a musical's first five seconds counts as one.)
Our area's outlying summer-stock companies, as usual, will also be getting in the Tony-friendly musical spirit. The Clinton Area Showboat Theatre opens its latest summer season with the widely awarded Disney adaptation and recent Broadway hit Newsies (June 8 through 18), and will keep it going with the dance and '80s-pop sensation Footloose (July 6 through 23) and the romantic musical drama The Bridges of Madison County (July 27 through August 6), the latter boasting a Tony-winning score by The Last Five Years composer Jason Robert Brown.
Mt. Carroll's Timber Lake Playhouse, meanwhile, has a quartet of hit Broadway musicals arriving on the heels of its current Mary Poppins (running through June 11): Andrew Lloyd Webber's Argentinian-icon exploration Evita (June 29 through July 9); Rodgers' and Hammerstein's legendary tale of love and death Carousel (July 27 through August 6); the friendly saga of a blood-devouring houseplant that is Little Shop of Horrors (August 10 through 20); and that stage-musical favorite Grease (July 3 through 8), a special addition to the season being performed almost exclusively by teenagers from the Mt. Carroll region.
Not enough Tony-cited musicals for ya? What if we add the Black Box's and director David Miller's Rock of Ages (August 10 through 19), the delirious comedic celebration of '80s hair metal? And the Orpheum Theatre's Rodgers & Hamerstein classic Oklahoma! (July 21 through 30)? And the Central DeWitt Performing Arts Center's take on the upward-mobility rom-com How to Succeed in Business Without Really Trying (July 28 and 29)? And the Old Creamery Theatre's Million Dollar Quartet (June 8 through July 2), which details the famed recording session between Elvis Presley, Johnny Cash, Jerry Lee Lewis, and Carl Perkins?
And what if we add a second production of The Little Mermaid, this one by the City Circle Acting Company of Coralville (June 16 through 18)? As you no doubt guessed, this Disney update on the Hans Christian Andersen fable is the summer's one crossover between Tony-ed and fairytale titles. But the latter category also features the DeWitt venue's family presentation Peter & Wendy (August 4 and 5), a J.M. Barrie homage presented by Missoula Children's Theatre and area schoolchildren. It includes Timber Lake's family musical Cinderella ... After the Ball (July 6 through 8, and August 1 through 5), a zany comedy in which the titular heroine has to save her kingdom from an evil Pinocchio.
Finally, the fairytale category includes the Old Creamery's presentation of a two-man regional smash that's all about friendship and laughter and The One That Got Away: Guys on Ice: The Ice-Fishing Musical (August 3 through 27). You may not think this one qualifies for inclusion here, but speaking as a guy: A full-length show with two ice-fishermen choosing to sing rather than complain about frostbite and shrinkage? Total fairytale.
For more information on the summertime theatre schedule, visit the Reader's online Theatre calendar.