Adler Theatre Events
December through March
As a famed singing novice once crooned, "The hills are alive with the sound of music." Just as the halls of the Adler Theatre will be when the Davenport venue offers its audiences a lengthy list of musical treats over the next three months.
After Ballet Quad Cities' The Nutcracker on December 13 and 14, the theatre will present the Christian pop and rock of Go Fish on December 18, followed by December 20's national tour of American Idol Stars: Live in Concert, featuring Idol finalists Chikezie, David Hernandez, Kimberly Locke, and Diana DeGarmo.
This season's Broadway at the Adler series continues with the Tony-winning musical The 25th Annual Putnam County Spelling Bee on January 26, Dirty Rotten Scoundrels (by The Full Monty's David Yazbek) on February 11, and the ABBA phenomenon that is Mamma Mia! on March 14 and 15.
The Quad City Symphony Orchestra will play the Adler twice over the next 99 days, offering the "B list" trio of Barber, Beethoven, and Brahms in January 31's Masterworks IV concert, and Tchaikovsky, Schuman, and more with March 7's Masterworks V.
Oh ... and I'm just receiving a two-page fax here ... it looks like the Adler will also host blues dynamo George Thorogood on March 1, and folk-singer extraordinaire Gordon Lightfoot (pictured) on March 11. Talk about a winter worth singing about!
For more information on these events, visit AdlerTheatre.com, and ... .
Wait a second... .
It seems it was a three-page fax, and the Adler will also be hosting the Genesis HealthQuest Film Series presentation of Frank Capra's It's a Wonderful Life on December 19. A movie with almost no singing, dancing, or musical instruments.
Oh, thanks a lot, Adler! And I had such a nice motif going there... ! - Mike Schulz
Sleeping with the Leopard: African Art from Cameroon
Figge Art Museum
Saturday, January 24 through Sunday, June 28
Sleeping with the Leopard: African Art from Cameroon, the upcoming exhibit at the Figge Art Museum, will be on display from January 24 until June 28, and will include more than 60 art objects from a private collection, with the objects' materials ranging from wood to metal to fiber to mixed media. Cameroon, bordered by six different nations, produces artworks of cross-cultural influences, and the objects included in the exhibit relay the beauty, diversity, and importance of art from this west African country.
The animal motifs that many of the pieces boast are more than just merely playful images; the leopards, lizards, and spiders featured were chosen for their association with ancestors or with physical qualities, such as speed and power. While some animals may be easily perceptible in some pieces, others require a closer look.
In the culture of Cameroon, social position not only determines what types of objects can be owned, but the style and materials from which they are constructed; royals and other individuals of high status, for example, were often the only ones allowed to possess metal objects with images of leopards or spiders. And although each piece may be significantly different, they all demonstrate the owners' shared desire to be surrounded by pleasant objects, and the great craftsmanship of the people of Cameroon.
Visiting Sleeping with the Leopard: African Art from Cameroon offers an insight into the people and complex artworks of the country. For more information on the event, visit FiggeArtMuseum.org. - Ashley Allen
Local Theatre
December through March
"So," you might be asking, "exactly when does the winter season of new plays and musicals officially begin?"
Well, if you're picking up this issue of the Reader as soon as it hits the stands ... in just a few minutes, actually.
At 3:30 p.m. on December 10, Davenport's Junior Theatre premieres its Judy Blume adaptation Tales of a Fourth Grade Nothing (running through December 14), and later this month, 2008's last theatrical offering will be the Harrison Hilltop Theatre's one-person one-act Santaland Diaries, running December 20 and 27.
Rock Island's The Green Room presents the musical revue Songs for a New World on January 9; the Circa '21 Dinner Playhouse gives us the Johnny Cash revue Ring of Fire on January 14; the Playcrafters Barn Theatre delivers the Agatha Christie mystery The Mousetrap on January 16. Sam Shepard's dark fraternal comedy True West opens at Harrison Hilltop on January 29, while Augustana College's The Learned Ladies - a translation of Molière's Les Femmes Savantes - debuts on January 30.
The Green Room next presents the Pulitzer Prize-winning, soon-to-be-a-movie-with-Meryl-Streep-and-Philip-Seymour-Hoffman-starring Doubt on February 13, and a trio of February productions debut within three days of one another: Junior Theatre's family musical Snoopy on the 18th, the love-amidst-the-cold vignettes of the Richmond Hill Barn Theatre's Almost, Maine on the 19th, and Peter Shaffer's Tony-winning British comedy Lettice & Lovage at St. Ambrose University on the 20th.
The classical-theatre troupe The Prenzie Players delivers Shakespearean laughs in Much Ado About Nothing, beginning March 6, while on March 13, Playcrafters opens the comic mystery Murder at the Howard Johnson's. And if the murder in question happens to involve a gunshot, then the area's 2008-9 theatre season will officially end with a bang.
Thank you! Thank you! You've been a great audience! - Mike Schulz
i wireless Center Events
December through March
"Everyone sing with me now!
"On the twe-e-el-lfth day of Chri-i-ist-mas, my true love gave to me ...
" ... 12 tickets to the Adrenaline MMA 2 event featuring Pat Miletich on December 11 ...
" ... 11 tickets to the annual Gaither Homecoming Tour with gospel singers The Gaither Vocal Band on December 12 ...
" ... 10 tickets to the Trans-Siberian Orchestra on December 13 ...
" ... nine tickets to the seasonal Creative Christmas concert running December 19 through 21 ...
" ... eight tickets to the national tour of Dancing with the Stars on January 8 ...
" ... seven tickets to the Harlem Globetrotters on January 11 ...
" ... six tickets to Disney on Ice: Worlds of Fantasy on January 15 ...
" ... fi-i-i-ive ticke-e-e-ets to the World's Toughest Bulls & Broncs Rodeo on January twenty-third and twenty-fo-o-o-o-u-u-u-urth!"
"Four tickets to ACM Male Vocalist of the Year Brad Paisley on January 30 ...
" ... three tickets to Mötley Crüe on February 11 ...
" ... two tickets to comedian Jeff Dunham's Spark of Insanity tour on February 12 ...
" ... and a pa-a-air of ti-i-ickets to the rockers of Nickelback on Ma-a-rch fi-i-if-te-e-e-e-enth!"
Wow! And I was worried that wouldn't scan well! Nice job!
Tickets to all 12 i wireless Center events - plus Quad City Flames games - can be ordered through iwirelessCenter.com. - Mike Schulz
Hancher Auditorium Presentations
January through March
"Mike?" "Jeff!" "I have a problem with this piece you wrote on the winter events being presented by Hancher Auditorium." "What are you talking about? Considering that Hancher is still in the process of repairing the damage from this summer's Iowa City flooding, I think I made everything totally clear! Jazz singer Kurt Elling will be interpreting the songs of John Coltrane and Johnny Hartman at the Englert Theatre on January 24. The St. Lawrence String Quartet, the ensemble whom the Washington Post described as 'fearless musicians whose spontaneity stretches past conventional interpretation,' plays Iowa City's Brown Deer Golf Club on February 4. The exuberant chamber musicians of Time for Three, who perform everything from bluegrass to Bach, are at Iowa City High School on February 12. The world-renowned Vienna Boys' Choir delivers a concert as Iowa City's West High School on February 13. And the rhythm and horns of Juan de Marcos and the Afro-Cuban All-Stars will fill the West High auditorium on March 10. I even included the address for Hancher's Web site, http://www.hancher.uiowa.edu, so people know how to purchase tickets. So what's the problem?" "You told me that you weren't doing one of those irritating Jeff-and-Mike dialogues as a What's Happenin' piece this week." "Yeah, but this piece is actually gonna land 12 pages before the What's Happenin' pages. Not the same at all." "I hate you, Mike." - Mike Schulz
Quad City Arts Visiting Artists
December through March
For the organization's Visiting Artists series alone, I must remember to add Quad City Arts to my Christmas-card list. American folk performer Michael J. Miles brings his program From Senegal to Seeger to Bettendorf's Redeemer Lutheran Church on December 12 (see story on page 16), offering a musical journey through America from north to south. The Tucson-based Santa Cruz River Band delivers the music, history, and mythical lore of the American southwest in Augustana College's Centennial Hall on January 31. Augustana's Wallenberg Hall, on February 21, hosts an evening with harpist, band leader, and composer Edmar Castaneda, who will provide a taste of the rhythms and styles of Columbian jazz. And on March 24, at Davenport's Center Stage Performing Arts Academy, the Scottish and Irish musicians of Craigmore will offer Celtic tunes to make you think you're spending a fiery summer's afternoon in Edinburgh, and a balmy summer's night in Dublin. So just in case I don't get around to the cards this year, thank you, Quad City Arts. I'm feeling warmer already. More information on the group's Visiting Artist series is available at QuadCityArts.com. - Mike Schulz
Area Dance Performances
December through February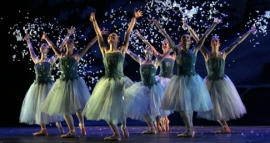 The legendary Martha Graham is quoted as saying, "Dance is the hidden language of the soul," and if that's true, you'll have plenty of opportunities to watch dancers bare it all (metaphorically, of course) over the winter months. Performers from the RiverPoint Ballet will dance Les Patineurs and excerpts from The Nutcracker in the holiday program A Victorian Christmas Card, taking place at Davenport's First Presbyterian Church on December 13. At the Adler Theatre, the full-length The Nutcracker will be staged by Ballet Quad Cities - plus guest artists from the Dominic Walsh Dance Theatre - on December 13 and 14, with the company also offering Romeo & Juliet in the 21st Century at the Capitol Theatre on February 28 and March 1. The newest tour of Dancing with the Stars hits the i wireless Center on January 8, and the like-titled fundraiser Dancing with the Quad City Stars (at the Capitol Theatre on December 14) will see its proceeds benefiting Gilda's Club, and will feature the hoofing talents of such area notables as 2008 Miss Iowa Olivia Myers, Iowa State Representative Elesha Gayman, the Quad City Flames' Daniel Ryder, and WQAD's Thom White. Quite a busy winter for dance fans, and for those who should become dance fans; remember, as Ms. Graham is also quoted as saying, "Dancers are the messengers of the gods." Which I guess makes me the messenger for the messengers of the gods. Well, that's pretty cool ... . - Mike Schulz
Trout Fishing in America
Family Museum
Saturday, December 13, 2 p.m.
Three-time Grammy nominees Trout Fishing in America will be in the Quad Cities on December 13 as part of Kidtastic, a monthly series of events hosted by the Family Museum. This musical partnership, which began in 1979, consists of Keith Grimwood and Ezra Idlet, and Trout Fishing in America's variety of styles makes their music hard to classify. "If you go into a music store and try to find our CDs," says Grimwood on the duo's Web site (TroutMusic.com), "you find them in different parts of the store. In Nashville, we're country. Someplace else, we're in kids' music. Some other place, we show up in the pop section. They don't know quite what to do with us." Grimwood and Idlet - who, in the June issue of Performing Songwriter, were listed among the 100 most influential independent artists in the past 15 years - have kids of their own, which they say led them to writing children's music. "Kids are moved by the lyrics or the rhythm," states Idlet. "They know right off the bat if you're faking it musically." The duo will perform at the Family Museum on Saturday, December 13, at 2 p.m., and for more information on the event, visit FamilyMuseum.org. - Ashley Allen
Brian Regan
Captiol Theatre
Friday, December 12, 8 p.m.
"I would have been a lot better off if I'd studied more when I was growing up," says stand-up comedian Brian Regan. "Where it all went wrong was the day they started the spelling bee. Up until that day, I was an idiot but nobody else knew." Regan, who will perform at Davenport's Capitol Theatre on December 12, uses observational humor in his act and, unlike many comedians, his performances are "clean." Oftentimes his comedy is self-deprecating, and is typically about everyday events such as visiting an optometrist or shipping a package with UPS. Though he once dreamed of becoming an accountant, Regan explored the communications and theatre-arts departments at the suggestion of his college football coach. In 1986, only a few years after graduating and relocating from Florida, he won a contest title of "Funniest Person in New York," and has since released his own CD and DVD, been featured in several Comedy Central programs, and frequently opened for Jerry Seinfeld. Regan has also made numerous appearances on Late Night with Conan O'Brien, The Tonight Show with Jay Leno, and The Late Show with David Letterman, and more information on Regan's concert is available by visiting TheCapDavenport.com or calling (563) 326-8820. - Ashley Allen
Saalik Ziyad & the 5 After 7 Project
The Redstone Room
Sunday, December 14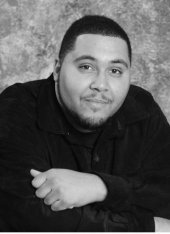 Chicago native Saalik Ziyad and the jazz musicians of the 5 After 7 Project perform at Davenport's Redstone Room on December 14, and Ziyad himself - the group's vocalist - has performed with musical greats Willie Pickens, Charlie Haden, and Amina Claudine Myers, has sung before the Chicago Symphony Orchestra, and has toured extensively in the United States, South Africa, Poland, and Russia. He did all this, by the way, before he entered high school. Yeah, you can go ahead and hate him now. In the years since his participation in the Chicago Children's Choir, though, Ziyad has actually added to his intimidating résumé. Beyond his current, grown-up duties as Artist in Residence for the Jazz Institute of Chicago, the vocalist's national appearances have found him performing for the likes of Nelson Mandela, Hillary Rodham Clinton, and Archbishop Demond Tutu, and earning widespread acclaim for his jazz-fusion ensemble the 5 After 7 Project, in which he plays alongside musicians Fred Jackson, Willerm Delisfort, Tim Seisser, and Shirazette Tinnin. Saalik Ziyad & the 5 After 7 Project will jazz up the Redstone Room in a 6 p.m. concert and 3 p.m. workshop for the venue's monthly Third Sunday Jazz Matinée & Workshop offering - which, in this "Early Christmas" offering, is actually taking place on December's second Sunday - and more information can be found at RedstoneRoom.com. - Mike Schulz