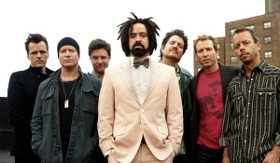 Events
Adler Theatre
November through February
According to the ancient philosopher Laozi, "Music in the soul can be heard by the universe." If that's true, the universe is gonna spend the next few months hearing from the Adler Theatre, because every single one of the venue's 16 scheduled wintertime events will be filling patrons' souls with music.
And one of them, for Laozi, might've proven particularly soul-satisfying, as artists from his native China bring music, dance, and astonishing acrobatics to Davenport in the February 17 and 18 engagements with Shen Yun. A blend of classical Chinese dance, aerial masters, soaring vocals, and thundering drums, this journey through ancient dynasties lands during an Adler winter that also delivers expressive, explosive percussion - plus comedy, technology, and cobalt-tinted deadpans - in the February 10 and 11 bookings with the Blue Man Group. No one, however, will likely be blue during the next two touring productions in the Broadway at the Adler Series, considering they're the Tony-nominated gospel comedy Sister Act: The Musical (December 21) and Frank Loesser's legendary, damn-near-perfect stage musical Guys & Dolls (January 21). Classical-music fans will be treated to not one, not two, but three wintertime Masterworks concerts with the Quad City Symphony Orchestra: December 6's "A Musical Showcase," February 7's "Musical Cathedrals," and March 7's "The American Tapestry." (The concerts will also be performed at Augustana College's Centennial Hall on December 7, February 8, and March 8, respectively.) Those in the mood for exhilarating pop rock will be Counting their blessings during December 16's night with Counting Crows, and the Adler extends its winter musical lineup with eagerly awaited visits by country superstar Martina McBride (February 12) and contemporary-Christian recording artist Jason Crabb, who performs a December 2 event also boasting "Queen of Clean" comedienne Chonda Pierce. Oh, and you did know that the holidays were coming, right? Because if not, the Adler plans to inform you in a half-dozen exciting musical events for the Christmas season - one of them, platinum-selling pianist Jim Brickman's On a Winter's Night, even landing post-Christmas (December 28). But the Davenport venue will also delight guests with its annual stagings of Ballet Quad Cities' The Nutcracker (December 13 and 14) and its first-ever night with a wildly popular Branson entertainer in The Shoji Tabuchi Christmas Show (December 17). November 30 brings with it the return of "Iowa's Own Pianist" Jim McDonough, with the holidays also celebrated, in country-chart-topping style, with Trace Adkins: The Christmas Show (December 7). And for a holiday celebration with multimedia pizazz, you and your family won't want to miss the stage excitement of A Mannheim Steamroller Christmas, which hits the Adler on November 26, and ... . Wait. November 26? That's in, like, just a few hours! What on Earth on you doing reading this article when you should be ordering tickets?!? Get out of here! Go visit AdlerTheatre.com, for Pete's sake!
Events
i wireless Center
November through March
In a season that promises arena-theatre fun for audiences of all ages and temperaments, Moline's i wireless Center kicks off its December with seven performances - taking place December 4 through 7 - of the family-friendly spectacular Disney on Ice: Worlds of Fantasy. This all-new presentation blends some of your kids' (and, let's be honest, some of your own) favorite Disney characters in an elaborate production boasting high-speed stunts with the Cars crew, undersea enchantment with stars of The Little Mermaid, fairytale magic with Peter Pan pixie Tinkerbell and friends, and a racing adventure with Woody, Buzz, Jessie, and the whole Toy Story gang. And beginning November 29 and running through March 18, the i wireless Center hosts no fewer than 26 home games with the local ice-hockey heroes of the Quad City Mallards, who will, over some 16 weeks, engage in fierce competitions with the Missouri Mavericks, Brampton Beast, Wichita Thunder, Rapid City Rush, Tulsa Oilers, and Allen Americans Ice Angels. If I'm doing the math correctly, that makes a total of 33 wintertime events at the Moline venue that occur on ice. And apologies if this seems silly, but for the sake of the hardworking crews who regularly ice and de-ice the amphitheater, couldn't the i wireless Center just up that tally to 39 and stage its other wintertime events on ice, too? Seriously! January 3 brings with it the annual enjoyment of The Original Harlem Globetrotters, and you gotta admit: Those wizardly basketball players and physical comedians might be even more entertaining if simultaneously causing the Washington Generals to slide all over the place! The following day, January 4, features two concerts with the multimedia musical sensation The Trans-Siberian Orchestra, a tour that finds its performers debuting their rock opera A Christmas Attic. Imagine a show of lasers and lighting effects bouncing off the gleaming ice of the i wireless - now that's Christmas-y! On January 23 and 24, the Moline venue presents the return of the World's Toughest Rodeo, and I probably don't have to tell what the effect would be of having roped cattle, bucking horses, charging bulls, and pratfalling rodeo clowns sailing across the stage directly toward you! And sure, an icy locale may not necessarily appeal to the rockers of Nickelback, who hit the i wireless Center on February 28. But they're award-winning, chart-topping pros - surely they could adjust their setlist accordingly? "Cold Enough"? "Ice Come for You"? "Figure-Skated You Out?" Anyone?! In any event, check out the i wireless Center's full schedule of wintertime happenings at iwirelessCenter.com.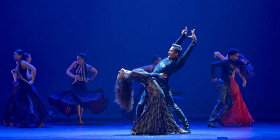 Music and Dance
Quad City Arts Visiting Artists
December through February
I know that, living in the Quad Cities, we should just be grateful that it didn't snow in October. And that we had really gorgeous weather the day before Veteran's Day (if not on Veteran's Day itself). Still, though: It's cold, and it's probably gonna stay cold for a long, long time. But let's hear it for Quad City Arts, because with its upcoming roster of talent in the Visiting Artists series, at least we all have some musical heat to look forward to! In the next couple of weeks, that warmth will come in the form of J.M. James, who performs his public concert at Davenport's Redstone Room on December 12. A young singer/songwriter, violinist, and guitarist who was named a "Writer to Watch" by the Nashville Songwriters Association International, James will perform from his new EP Jukebox, with his set sure to include recent YouTube hits such as "Wake Me Up," "Stay with Me," and "No Diggity." On February 21, Quad City Arts presents the area return of Maggie Brown, the daughter of world-renowned jazz artist and social activist Oscar Brown Jr., and a 2012 guest in the Mississippi Valley Blues Society's Blues in the Schools program. Widely acclaimed for her one-woman show Legacy: Our Wealth of Music, which explores the rich history and evolution of African-American music, this exceptional touring artist will heat up mid-winter with a free performance at Bettendorf's Redeemer Lutheran Church - showing why JazzChicago.net calls Brown a talent who "continues to amaze her expanding fan base" and continually delivers "a very special evening of music." And on January 31, a whole team of Visiting Artists will take the sting out of winter in the Galvin Fine Arts Center's hosting of Ensemble Español Spanish Dance Theatre. Performing original works by Dame Libby Komaiko, Edo, Maria Alba, Victorio Korjhan, Roberto Lorca, and legendary Spanish choreographers Juan Mara and Ana Gonzalez, this troupe of talents will set the St. Ambrose University's auditorium ablaze with their astonishing flamenco prowess and classical-ballet stylings. As for the company's reviews, they include the Chicago Tribune raving that, during a recent booking, "the stage sizzled in celebration," and the Chicago Sun-Times insisting that the ensemble "danced with such scorching intensity that visions of a gypsy campsite came to mind." I'm calling for tickets immediately. Granted, it'll take a while, considering I'm dialing my cell while wearing mittens ... . For more information on Quad City Arts' Visiting Artists series, visit QuadCityArts.com.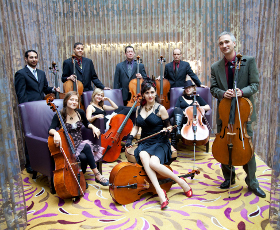 Music and Movies
The Redstone Room
November through February
Davenport's Redstone Room can traditionally be counted on for performances by some of the most entertaining artists in modern music. Who could have predicted that, this season at least, the venue could also be counted on for screenings of some of the most entertaining classics of modern cinema? As usual, there's an incredible, varied lineup of musicians set to take over the Redstone Room during the winter months. This particular month, for example, wraps up with concerts by the jazz and funk talents of Family Groove Company (November 28) and the piano-pop rockers of Minus Six (November 29). They'll be followed, in December, by a scheduled quintet of bookings: songwriter/historian Ben Sidran and his quartet performing two events in the Jewish Federation of the Quad Cities' "Jews Rock!" series (December 9 and 10); a night with singer/songwriter and Quad City Arts Visiting Artist J.M. James (December 12); a new Déjà Vu Rendezvous evening boasting the funky talents of 10 of Soul (December 20); the thrilling jazz of the local-boys-and-a-gal-made-good outfit Hot Club of Davenport (December 27); and a concert that rings in 2015 with the beloved roots artists of Cornmeal and Chicago Farmer (December 31). The new year itself will subsequently boast gigs featuring Americana musicians The Way Down Wanderers (January 8); a pair of Déjà Vu Rendezvous events showcasing the rock, pop, and country musicians of Soul Storm (January 9) and the Grateful Dead tribute Terrapin Flyer (January 15); and the Canadian blues-rock guitarist Anthony Gomes (January 31). And when February finally rolls around, it'll be time for another quartet of sensational Redstone Room engagements: country-blues and early-jazz icon Pokey LaFarge (February 20); indie rock performed solely on strings with the Portland Cello Project (February 21); exhilarating funk and rock delivered by Brainchild and The Low Down (February 27); and a month-ending night with Chicago's five-piece roots ensemble Old Shoe (February 28). That's an awesome lineup of musicians. How about an awesome lineup of movies to match? Because in addition to all of its concerts this winter, the Redstone Room will be treating film fans to free, every-other-Tuesday screenings in its "Redstone Reels" series, followed by nightly discussion and trivia games. The Coen brothers' endlessly quotable bluegrass comedy O Brother, Where Art Thou? will entertain Dapper Dan men (and women) on December 2, while the David Bowie fantasy adventure Labyrinth screens on December 16. A pair of acclaimed, music-themed documentaries - Muscle Shoals and the Oscar-winning 20 Feet from Stardom - hit the Redstone Room on January 13, while an early Richard Linklater classic (and Matthew McConaughey screen debut) brings the '70s to life in January 27's Dazed & Confused. Oh, and I nearly forgot December 30's "Redstone Reels" night with the time-travelers of Bill & Ted's Excellent Adventure. Whoa!!! I just gave you my very best Keanu Reeves impression there. It's still effective in print, right? For more on the Redstone Room's winter season, visit RiverMusicExperience.org.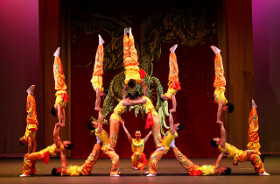 Events
Englert Theatre
December through March
While perusing the Web-site lineup of wintertime events at Iowa City's Englert Theatre, I stumbled upon the announcement of January 17's morning of comedy, puppetry, and family fun titled The Joshua Show. Its synopsis begins: "When Mr. Nicholas, the sock puppet, makes an unnerving self-discovery that causes him to spiral down a path of loneliness and despair ... ." That might now be the single most intriguing opening description of a touring production I've ever read. But this showcase for puppeteer Joshua Holden is just one of more than a dozen cold-weather delights landing at the Englert this winter. The season begins with the venue's annual presentations of Tchaikovsky's classic ballet The Nutrcracker (December 5 through 7), which will be brought to life by the gifted hoofers of Nolte's Academy of Dance, and it concludes with March 14's Americana concert by The Weight (March 14), whose artists will replicate the legendary music of The Band. But between those Englert bookends is a whole roster of special treats encompassing nearly every stage-art form imaginable. There's sure to be something for music lovers of all stripes this winter, considering the scheduled artists include : indie-folk and roots musicians Pieta Brown and The Pines (December 13); a New Year's Eve concert with the soulful pop-rockers of The Fez (December 31); classic rock with singer/songwriter Dave Mason (February 8); the exhilarating Celtic tunes of Gaelic Storm (February 11); literal dueling banjos with touring artists Béla Fleck and Abigail Washburn (February 24); South African folk and jazz courtesy of Hugh Masekela & Vusi Mahlasela (March 3); and a tribute to the early days of the Beatles with the Emmy Award winners of The Fab Four (March 6). Masters of improvisational and sketch comedy take the Englert stage in the February 13 and 14 performances of The Second City Hits Home, while geniuses of tumbling, leaping, and balance will wow crowds in February 4's evening with The Peking Acrobats. And those seeking holiday magic will find it in the venue's annual Festival of Carols concert (December 9) and the Celtic-Christmas show performed by the musicians of Danú (December 10), an engagement held in conjunction with Hancher Auditorium's Visiting Artist Series. As the University of Iowa auditorium, following Hancher's 2008 flooding, is still in its renovation process, the Englert will also house three other Visiting Artist events this winter. One is February 7's Kronos Quartet presentation featuring chamber music performed to an accompanying film piece titled Beyond Zero: 1914-1918. Another is March 11's booking of The Nile Project, featuring world musicians from 11 countries that share the Nile River. And the third is February 27's stage production by the traveling Roseneath Theatre titled La Maleta, a bilingual family event whose online description begins: "Ten-year-old Roca leaves Columbia for North America clutching her suitcase, in which she believes her grandmother is hiding." And The Joshua Show held my favorite-opening-description ranking for all of 350 words. For more on the Englert Theatre's winter events, visit Englert.org. 
Also visit "What's Happenin' -- All-Quiz Edition!: Wednesday, November 26, through Wednesday, December 10."