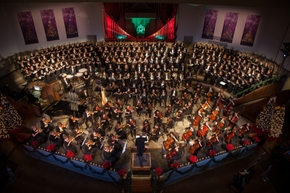 Music
Holiday Concerts
November and December
If you're planning to treat the family to a holiday concert (or several) and check out the "Music" section of the Winter Guide events calendar, the sheer volume of area options can appear a tad overwhelming. I consequently recommend viewing the seasonal scene not as a mass of individual happenings but as one big, beautiful advent calendar, with a different musical treat behind every window flap. Granted, it's not quite the same as those awesome advent calendars that have chocolate hidden inside, but what's revealed will do doubt be just as sweet.
It goes without saying that houses of worship will be bursting with holiday spirit, as well as with a number of special seasonal events. Davenport's St. Mark's Evangelical Lutheran Church, for example, hosts the German American Heritage Center's Winter Zither Concert on November 29, while the same day finds Bettendorf's Our Savior Lutheran Church celebrating the art of the handbell with the Riverbend Bronze Annual Holiday Concert. Barbershop crooning will fill Rock Island's Heritage Church in the Davenport Chordbusters' Celebrate the Holidays (December 11), with additional performances by Hersong, Riverbend Bronze, the Bend of the River Chorus, the Quad City Music Guild Youth Chorus, Jonathan Turner, Laila Haley, and more. And the professional vocal ensemble the Nova Singers will deliver their seasonal greeting A Nova Christmas to two area churches: Davenport's St. Paul Lutheran Church on December 18, and Galesburg's First Lutheran Church on December 19.
Davenport's annual spectacular First Presbyterian Church Christmas Concert takes place on December 19 and 20. And if it's Lessons & Carols you're looking for, you'll be able to find such nonsecular tales and songs at both St. Ambrose University's Christ the King Chapel (on December 4) in Davenport, and Augustana College's Ascension Chapel (on December 17) in Rock Island - with these events just two of the holiday-themed musical celebrations scheduled for our area's institutions of learning.
Moline's Black Hawk College gets in the spirit with the BHC Holiday Choral Concert on December 3. St. Ambrose's Galvin Fine Arts Center will house not only the Quad City Wind Ensemble Holiday Concert (December 13), but also student ensembles in An Ambrosian Christmas (December 11), featuring performances by the University Chorale and Chamber Singers. Augie's Centennial Hall will be the site for the annual Christmas at Augustana concert (December 5), with songs of the season rendered by the Augustana Brass Ensemble, Ascension Singers, Augustana Symphony Orchestra, Augustana Choir, Cantilena Augustana, the Wennerberg Men's Chorus, and the Jenny Lind Vocal Ensemble. And let's hear a big "Ha-a-a-a-a-alelujah!" to the return of A Messiah Christmas, with Handel's choral masterpiece receiving Centennial Hall stagings December 12 and 13.
Our area's professional venues are also hauling out the holly with some exciting holiday music. A Nashville star opens the season when Maquoketa's Ohnward Fine Arts Center presents The Maggie Mae Holiday Show on November 28, and down-home tunes can also be heard in Rock Island in the Circa '21 Dinner Playhouse engagement Branson on the Road: Christmas Style (December 3). Similarly, Davenport's Redstone Room will get toes a-tappin' with Suzy Bugguss: Swingin' Little Christmas (December 6), but will then offer some seasonal soothing with December 22's Winter Solstice featuring Dixon's Violin, an event also boasting meditation, Reiki, and music therapy with performer EmJay.
Area talents will gather at Colona's Lavender Crest Winery for the annual performances of Christmas with the Quad City Singers (December 11 and 12), while monthly gigs take on a seasonal flavor in holiday-themed editions of The Manny Lopez Big Band Concert at the Circa '21 Speakeasy (December 11) and the Bucktown Revue at Davenport's Nighswander Theatre (December 18). The third "Masterworks" concerts of the season boast holiday flair at Davenport's Adler Theatre on December 5 and Augustana's Centennial Hall on December 6, when the Quad City Symphony Orchestra presents Winter Fun: Mozart & More!
And if you're an indie-music fan, you won't want to miss what Daytrotter's Sean Moeller has prepared for his next offering at Davenport's Village Theatre: Moeller's Holiday Mystery Show! I could tell you who's performing, but then it wouldn't be a mystery, would it? (Of course, it would also be a lie, 'cuz I have no idea who's performing - that advent window is staying firmly closed until December 17).
For more information on our area's holiday-concert lineup, visit the Reader's online Music calendar.
Events
Adler Theatre
November through March
No matter your preferred choice in entertainment, it seems pretty evident that you'll find it at Davenport's Adler Theatre over the next few months, as the venue' wintertime lineup boasts events celebrating pop music, classical music, classical dance, musicals based on beloved movies, Motown hits, improvisational comedy, YouTube sensations, black-clad figures wrapped in neon lights moving to the strains of Mariah Carey and the theme from The Godfather ... .
Yeah, I'd better begin with that last one. On December 18, the Adler houses an evening with the touring sensations of Lightwire Theater's A Very Electric Christmas, and it's probably safe to presume that you've never seen anything like it. With its performers, set pieces, and props visible only through their attached, wildly colorful neon illumination, this stage spectacular details the holiday adventure of Santa's avian helper Max, who gets thrown off course while flying south for the winter. Where he winds up, though, is in the midst of a joyous celebration of seasonal sights and sounds, with the gloriously eclectic soundscape encompassing everything from the aforementioned Carey and Godfather tunes to Nat King Cole, "Ride of the Valkyries," "Jingle Bell Rock," the Home Alone score, and Tchaikovsky's "The Nutcracker Suite."
Those seeking The Nutcracker in its entirety are also in luck, because once again the Adler will host the annual productions of Ballet Quad Cities' The Nutcracker (December 12 and 13), featuring live music by Orchestra Iowa and, for the first time ever, special appearances by the members of the Quad City Symphony's Children's Choir. But if that's not enough dancing for you this season, fear not - there will also be Dancing in the Streets inside the Adler on March 16, with a gifted cast of touring professionals bringing exciting new life to beloved songs by artists including the Four Tops, Marvin Gaye, Stevie Wonder, the Temptations, and the Supremes.
What's that? You want even more dancing? You got it! On March 15, the Adler will find a maniac, ma-a-a-aniac, on the floor in the movie adaptation Flashdance: The Musical, a Broadway at the Adler presentation preceded by the venue's hosting of a Tony Award-winning smash similarly inspired by an Oscar-nominated film - Ragtime: The Musical (February 17). Heck, even the Quad City Symphony Orchestra - which offers up seasonal entertainment in December 5's "Masterworks" presentation Winter Fun: Mozart & More! - is getting in a dance-y mood this winter with its fourth "Masterworks" offering titled Song & Dance (February 6), featuring pieces by Grieg, Barber, and Beethoven. (The concerts will also be performed at Augustana College's Centennial Hall on December 6 and February 7, respectively.)
You may not dance along to his tunes, but you'll likely be grinning from ear to ear when pop crooner Frank Sinatra Jr. performs numbers made famous by his ol'-blue-eyed father in the touring event Sinatra Sings Sinatra (December 17), with an ensemble of big-band musicians providing gorgeous accompaniment to such classics as "Strangers in the Night," "New York, New York," and "My Way." As for musicians Paul Anderson, Steven Sharp Nelson, Jon Schmidt, and Al van der Beek, they did it their way, and now their YouTube fame as The Piano Guys brings them to the Adler in a December 1 concert event in which the quartet tickles the ivories on everything from One Direction's "What Makes You Beautiful" to Frozen's Oscar-winning "Let It Go."
And we end the Adler's winter lineup the way it begins, with the November 27 engagement featuring renowned comedians and improv artists Colin Mochrie and Brad Sherwood. Best known for their quick-witted work on TV's Whose Line Is It Anyway?, Mochrie and Sherwood may not boast the musical bona fides evident in the rest of the Adler's seasonal lineup, but if they ask for audience suggestions and you scream out "Neon Mozart ballet-dancing to Sinatra's rendition of 'Let It Go'!", I'm betting they won't disappoint.
For more information on the Adler Theatre's winter 2015-16 schedule, visit AdlerTheatre.com.
Music
The Redstone Room
November through March
About a year-and-a-half ago, I performed a little ditty at a Circa '21 Dinner Playhouse fundraising event. Not two songs later, the beloved chanteuse Lynne Rothrock took the stage and delighted the crowd with her warm presence, sharp humor, and gorgeous vocalizing. On January 30 of next year, in conjunction with its "Déjà Vu Rendezvous" series, Davenport's Redstone Room will host a concert headlining not only Iowa Blues Hall of Fame inductee Ron DeWitte, but his jazz-, pop-, and musical-theatre-performer spouse Lynne Rothrock. You know what this means? I can officially say that I was once the opening act for someone who's been booked at the Redstone Room. I've literally never felt cooler.
But enough about me, because beyond the estimable DeWitte and Rockrock, the Davenport venue's wintertime lineup is going to be chockablock with outstanding musicians of nearly every stripe. The season begins with a jazzy blast of rock, or maybe a rockin' blast of jazz, in November 28's engagement with Family Groove Company, preceded by an opening set with the country wizards of Frank F. Sydney's Western Bandit Volunteers. Another two-fer lands with December 3's booking of roots and Americana artists The Way Down Wanderers and Miles Over Mountains, while additional double-features are already lined up for 2016: the gifted progressive-rock and funk musicians of EGi and Dead Larry on January 29, and the soulful, blues-y, roots-y talents of Davina & the Vagabonds and The Appleseed Collective on February 12.
Speaking of 2016, next March will be coming in like a lion - musically-speaking, at any rate - with a pair of eagerly anticipated Redstone Room concerts. On March 9, An Evening with Christian Howes will boast the virtuosic gifts of a musician whom the Minneapolis Tribune called "arguably the most intriguing young violinist in jazz," and whom the Jazz Journalist Association nominated for its citation "Violinist of the Year." March 15's An Evening with Albert Cummings, meanwhile, will find the hugely acclaimed blues guitarist touring in support of his latest release Someone Like You, and demonstrating exactly why he's served as opening act for the legendary likes of B.B. King, Johnny Winter, and Buddy Guy.
More musical magic can be found next year in the Redstone Room's February 27 concert with Minneapolis-based singer/songwriter Nicolas David, a 2012 Team CeeLo contestant on TV's The Voice, while this year comes to a close with Blue Year's Eve, a December 31 celebration boasting performances by Juliana & the Soul Purpose Band, Ernie Peniston, Hal Reed, and Ellis Kell & Friends. But before the venue bids adieu to 2015, patrons will also be treated to a country-themed holiday treat in December 6's Suzy Bogguss: Swingin' Little Christmas and, performing with opening troubadour Dan Tedesco, a 2014 Blues Music Award winner in December 19's night with former Trampled Under Foot vocalist Danielle Nicole.
Plus, on December 22, the Redstone Room will host a debuting seasonal event titled Winter Solstice featuring Dixon's Violin, which finds the visionary violinist performing in an evening that sounds like a sure-fire cure for holiday stress. There'll be a presentation on "the Shamanic Journey" with Kathleen Collins, music therapy with EmJay, massage, yoga, health-product vendors, Reiki self-healing led by musician Lars Rehnberg ... . Hey, wait a second - I once emceed a Reader anniversary party that Lars and his band Ragaman played at. That means I've now been the opening act for two talents the Redstone Room has booked. Feeling even cooler now!
But more-than-enough about me. For more on the Redstone Room's schedule this winter, call (563)326-1333 or visit RiverMusicExperience.org.
Events
Holiday Happenings
November and December
The Reader building is about a block-and-a-half away from Davenport's German American Heritage Center. Consequently, as of December 1, we'll be about a block-and-a-half away from undoubtedly the area's largest-scale holiday artwork, as the center's south facade will be turned into a Living Advent Calendar, with one new advent image (by students of Davenport's Creative Arts Academy and Milan's Edward's Creative) popping up in each of the venue's 24 windows every day through Christmas Eve. That's awesome, and I can't wait to make daily drives over there to see it. I'd walk, but, you know ... it is a block-and-a-half ... .
Then again, the holiday season is kind of all about walking, isn't it? Families are invited to visit Walnut Grove Pioneer Village during Christmas at the Village (November 29), the District of Rock Island's wintertime Gallery Hop! (December 11), Rock Island's 1200/1300 block on 30th Street in the College Hill Holiday Walk (December 3), the Village of East Davenport's Christmas in the Village (December 4 and 5), and the downtown area during Christmas in LeClaire (December 4 through 6). All of these self-guided tours will boast holiday decorations, discounted merchandise, children's activities, and likely a Jolly Old Elf sighting.
If indoor walks are more your speed, several area happenings will allow you to get your exercise while viewing beautiful artworks and staying warm. On December 5, Davenport's Figge Art Museum will house Handmade City Holiday, the fifth-annual event (co-sponsored by Crafted Quad Cities) boasting 30 vendors selling hand-crafted clothing, paper goods, jewelry, accessories, and more. The upper and lower lobbies of Black Hawk College's Building 1 will be transformed into an International Holiday Bazaar on December 2, with proceeds from the merchandise, food, and beverage sales benefiting the school's English as a Second Language scholarship program.
Davenport's Bucktown Center for the Arts will, on December 18, present the Winter Wonders & Wine Walk, a holiday-themed edition of the venue's traditional "Final Friday" events featuring artist demonstrations, live music, and special sales. There are also still a few days left to stop by the Davenport RiverCenter and enjoy a leisurely stroll through the makeshift forest of Quad City Arts' Festival of Trees (through November 29).
You can walk not only through Moline's Deere-Wiman Carriage House and Butterworth Center, but also through what feels like a time machine, during the venues' annual 19th Century Christmas (December 6), a period-decorated holiday party featuring refreshments, live entertainment, arts and crafts, and a visit from Santa. Similarly, Rivermont Collegiate will open its doors to seasonal celebrants in the Bettendorf Mansion Centennial Celebration & Holiday Open House, inviting guests to admire the festive décor plus the hand-painted and -carved details of this 100-year-old domicile. And Rock Island's Hauberg Civic Center Mansion will come alive with holiday cheer during the 48th-annual Winter in Bloom (December 3), an event boasting a scavenger hunt through its many rooms, musicians, the mansion's famed poinsettia tree, and a visit from ... Cinderella. (Hey, Santa can't be everywhere at once.)
But there are some respites from all that walking. Davenport's Prince of Peace Lutheran Church will host the Believe Women's Christmas Event (December 5), featuring holiday-themed dance, music, stage performance, dinner, and dessert. The German American Heritage Center presentation Treats & Traditions (December 15) will enable you to learn about German Christmas traditions and enjoy German yummies.
If you're a star-gazer by nature, you won't want to miss the annual Season of Light Planetarium Show (December 12 through 18) at Augustana College's John Deere Planetarium - a multimedia presentation that employs the sky projector, astronomical images, music, and narration to explain how holiday traditions are connected to the sky. More lights - many, many, many lights - will also be on display at Davenport's Adler Theatre in the touring stage production Lightwire Theater: A Very Electric Christmas (December 18).
Oh yes. And let's not forget about the Project of the Quad Cities' mouth-watering event Project Chocolate (November 30) at Jumer's Casino & Hotel in Rock Island, nor the fifth-annual Cookie Walk (December 12) at Davenport's New Hope Presbyterian Church. Sure, they don't have "Christmas," "Winter," or "Season" in their titles, but if you're not thinking at least a little bit about chocolate and cookies during the holidays, your thinking's all wrong.
For more on holiday-themed area events, visit the Reader's online Events calendars.
Theatre
Musicals and Dance
November through March
You know Dasher and Dancer. And Prancer and Vixen. And Comet and Cupid and Donner and Blitzen. But do you recall The Most Famous Reindeer of All? Probably not. Director Andrea Moore's holiday-themed family comedy will be making its area debut at Rock Island's Circa '21 Dinner Playhouse on November 27 (running through December 27), and it's just one of the musical and dance titles designed to engage local theatre audiences this winter with a delightful blend of the familiar and the brand-spanking-new.
For instance, you and your family may be well-acquainted with the beloved holiday film A Christmas Story. But in Moline, when Quad City Music Guild takes on this cherished, 1940s-set classic, director Bob Williams' A Christmas Story: The Musical (December 3 through 6) will bring the tale of Ralphie, Randy, and a box marked "Fra-GEE-lay" to life through a Tony-nominated score and an adaptation that earned the show a Best Musical nod. Similarly, you and your young uns may love the Will Ferrell screen comedy Elf. But you've perhaps never seen it performed with accompanying song and dance, as you will when Rock Island's Center for Living Arts treats holiday crowds to Elf: The Musical (December 4 through 12), which will be performed over successive weekends by two sets of student-actor casts.
As it is again this year, the winter season for the talents of Ballet Quad Cities is traditionally bookended by December productions of Tchaikovsky's holiday perennial The Nutcracker and the February dance vignettes of Love Stories. But as is also traditional, those Love Stories performances at Moline's Scottish Rite Cathedral (February 12 and 13) will boast new choreography, new music, and new dancers for Love Stories veterans to fall in love with. And Davenport's Adler Theatre performances of The Nutcracker (December 12 and 13) will not only boast company dancers in different roles, but live accompaniment by Orchestra Iowa and, for the very first time, musical contributions by the young talents of the Quad City Symphony's Children's Choir.
A couple months after The Nutcracker closes, the Adler will segue from Tchaikovsky to the Tony-winning team of Stephen Flaherty, Lynn Ahrens, and Terrence McNally with the touring production Ragtime: The Musical (February 17). A sure-to-be-exceptional presentation in the Broadway at the Adler series, this kaleidoscopic look at early-20th Century America is based on the essential E.L. Doctorow novel and Oscar-nominated 1981 film that followed, and an Oscar-winning movie gets similar treatment in the Adler's Flashdance: The Musical (March 15), which follows the exploits of a welder-by-day/dancer-by-night. As Irene Cara herself would say: What a feeling!
Kander & Ebb's musical drama Cabaret is always worth a hearty "Wilkommen!", as it no doubt will be when Maquoketa's Ohnward Fine Arts Center and the city's Peace Pipe Players present director John Burrow's 50th-anniversary take on this Berlin-set classic February 26 through 28. The timeless tale of the Phantom of the Opera is given stage treatment in Circa '21's and director Seth Reines' Phantom (January 13 through March 5), collaborators Maury Yeston's and Arthur Kopit's adaptation that BroadwayBaby.com called "altogether more engaging than ALW's." (If there's any confusion, that's initialized shorthand for "Andrew Lloyd Webber's.")
Moline's i wireless Center may again be presenting a Disney on Ice spectacular, but this one will be the area debut Treasure Trove (December 3 through 6), featuring hard-water takes on Peter Pan, The Lion King, and other Mouse House classics. Kim Furness may again be directing Junie B. Jones in "Jingle Bells, Batman Smells" (December 5 and 6) - having previously performed that duty for Circa '21 in 2011 - but this time she's doing it at Davenport's St. Ambrose University with an exciting student cast.
And the District Theatre may be reprising composer Danny White's and book writer Tristan Tapscott's A Christmas Carol (December 10 through 20) for its fourth-annual presentation, but director James Fairchild's endeavor will boast a new set of Dickensians, and will also, of course, be housed within the new District space at the former Rock Island Argus building. So that's area theatre's listing of wintertime musical and dance productions. God bless them all. Every one.
For more on the area's seasonal musical and dance scene, visit the Reader's online Theatre calendar.
Theatre
Comedies and Dramas
November through March
So, ya know: winter. Crummy weather. Quickly darkening skies. Depressed moods once December 26 - or, at very best, January 1 - arrives. Our area's theatre scene is probably gonna be similarly sad for the next three months, yes? Au contraire! What I find most fascinating about the local season regarding wintertime comedies and dramas is that it's remarkably upbeat, with even the most downbeat titles suggesting the possibility of exhilaration.
Take, for example, Hedda Gabler, running at Davenport's St. Ambrose University February 19 through 21. Henrik Ibsen's dramatic classic is certainly heady and heavy stuff, but it also features numerous opportunities for thrilling emotionalism and humor ... as director Corinne Johnson certainly knows from appearing in 2010's Curtainbox Theatre Company take on the material. (A show in which, I'm proud to say, I was fortunate enough to act alongside Ms. Johnson.) Or take Getting Out, which Rock Island's Augustana College and director Jeff Coussens will stage January 29 through February 7. Playwright Marsha Norman's drama about a reformed prisoner may be dark, but it's the sort of darkness that led the Los Angeles Times to call it a play of "enormous power" that won its author a 1979 Outer Circle Award for its depiction of a complicated protagonist's harrowing life. (Augie's black-box theatre will also house a student-directed production of Sarah Glaspell's hour-long drama Trifles December 12 and 13, which the New York Times described as an "engrossing story" that creates "an eerie, affecting mood.")
And elsewhere in the area, pure happiness reigns! Moline's Playcrafters Barn Theatre and director Donna Weeks present the endlessly entertaining homicidal comedy Arsenic & Old Lace January 8 through 17, and the venue follows that joyful lark with director Aaron Lord's Southern-fried Jones/Wooten/Hope road-trip comedy Mama Don't Fly March 11 through 20. The Quad Cities' It's a Mystery troupe presents interactive, Rock Island-based dinner-and-a-killing nights with Skellington Manor Banquet & Event Center stagings of author Patti Flaherty's Hunt for Murder (December 12, January 9, February 13, and March 11) and co-authors Craig Michaels' and Scott Naumann's Rock into Murder (December 18, January 15, and February 19).
A lighthearted wintertime spirit will be on display at Rock Island's Center for Living Arts, when the venue's former student Michele Stein presents two of her original one-acts: Gashlycrumb Orphanage and Chicago Shorties (December 18). Current students get their chances to shine when Davenport Junior Theatre and director Daniel Sheridan present a stage adaptation of the beloved children's-book classic The Velveteen Rabbit (February 20 through 28).
Sheer silliness, or rather "shear" silliness, will be on hand when Rock Island's Circa '21 Dinner Playhouse houses director Sean McCall's take on the hugely popular, interactive mystery comedy Shear Madness (March 9 through April 30), with the theatre's sister venue, the Circa '21 Speakeasy, hosting Anthony Natarelli in the one-man David Sedaris comedy The Santaland Diaries (December 5) - a District Theatre production, directed by Tristan Tapscott, that the neighboring District Theatre itself will house December 25 and 26.
Rock Island's District Theatre will also treat audiences to the backstage-farce slapstick of playwright Ken Ludwig's Moon Over Buffalo (January 27 through February 13), while Davenport's QC Theatre Workshop begins its winter with Nora and Delia Ephron's monologue collection Love, Loss, & What I Wore (December 4 through 13), director Lora Adams' co-fundraiser for the theatre and Dress for Success Quad Cities that will feature two different casts of female talent during its two successive weekends.
"Gee, Mike, and what will you be up to this winter?" Gosh, I'm glad you asked, because I am busy! I'm preparing to direct the March 4 through 20 Workshop production of Dan LeFranc's family dramedy The Big Meal - a show I saw at the Timber Lake Playhouse this summer and loved so much that I considered proposing to it. And prior to that, I am, at age 47, going to be appearing in my first-ever Shakespeare as a castmate in the Prenzie Players' and director Cait Bodenbender's romantic comedy Love's Labour's Lost. They say you can't teach an old dog new tricks. I'm praying that won't be true.
For more on theatrical comedies and dramas in this and surrounding areas, visit the Reader's online Theatre calendar.