Wii Sports Resort, the long-awaited sequel to 2006's Wii Sports, puts players in a tropical resort loaded with new activities to show off the Wii MotionPlus accessory that's bundled with the game, offering near-perfect motion control. There are 10 new game types, and most have variations to change things up.
Breaking the $49.95 package down, you essentially get a $30 game with the $20 MotionPlus controller add-on, and it's not a bad deal when you find a few games that get your blood pumping and keep you coming back for weeks on end. Everyone will have their own personal favorites, and it was easy for me to pick mine.
Before going too far, I need to mention one glaring problem with the game. As you use the Wii MotionPlus, time and again you will need to re-calibrate the controller. To do this, you pause the game and set the controller on a flat surface for several seconds; I did it about every 10 to 15 minutes. It's admittedly nothing major, with these smaller games lasting maybe five minutes per round, but I didn't have to do this with EA Sports' Tiger Woods PGA Tour 10. It leaves a foul taste in my mouth that Nintendo apparently has calibration problems with its own technology.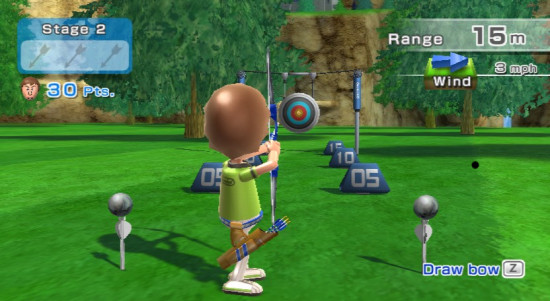 That said, Swordplay and Archery are my two favorites on Wii Sports Resort and continue to keep my attention. Holding the Wii remote like a sword handle gave me the rush of energy and excitement I had been hoping for since the console's debut, and archery makes me calm down and focus. They both accurately mimic the movements of the actual activity and are genuinely fun to play. Basketball simulates shooting so well that you'll instinctively jump with your shots; although the three-on-three mode handles awkwardly, the shooting realism makes up for it.
While other new games on the disc were fun initially, they didn't hold long-term appeal for me. Sky-diving and flying around the island in Air Sports are good for some quick kicks, but there's not much to do beyond spinning around in the air or crashing into the ground. Table Tennis re-creates the game well, but I've never been a fan of the sport. Wakeboarding puts you on a tether behind a boat as you attempt to pull off big jumps and tricks, and it's a thrill at the start. But it gets annoying as every unbalanced landing costs you momentum.
Other games seem too mechanical, and still others were merely maddening. Frisbee's control scheme feels unnatural to this seasoned player, and throws don't react the way they should, making me yearn for disc golf on the Wii version of Tiger Woods. Returning from the original Wii Sports, Golf has more sensitive controls, but it's riddled with a draw/fade mechanic that frustrates and reminds me how well Tiger Woods did the sport. (Also returning from Wii Sports, Bowling shines once again and has enhanced spin and force control and a 100-pin game option.)
Power Cruising on a jet ski has poor steering and too much focus on plain racing; WaveRace on previous Nintendo systems worked because of the emphasis on high-octane tricks, not cruising through rings.
My biggest complaints, though, are reserved for the two game types that look like filler: Canoing and Cycling. While Canoing gets the motions right, it botches the fun: You paddle to a finish line in a calm lake steering around buoys and ducks. Cycling uses nonsensical motion controls by peddling with your arms instead of your legs. Both reminded me of the mini-games thrown onto Wii Fit, but without the increased interactivity that the balance board provided. Have a man-eating shark chase me down in the canoe, or have a guy in front of my bike throwing objects at me; all I ask for is a reason to get excited and immersed in my games. I would have been satisfied with an online scoreboard to see the top-ranked players.
Overall, Wii Sports Resort is split between interesting games that make great use of the new motion controls and shoddy games that frustrate or bore. I know I'm getting my money's worth out of Swordplay and Archery, but more than that, I feel confident that Nintendo is laying the groundwork with MotionPlus for future games I'm craving, such as WaveRace, Pilot Wings, and The Legend of Zelda.
Wii Sports Resort is available for $49.95 on the Nintendo Wii. For this review, the author played through every game on the disc several times.
Luke Hamilton is a buyer, creative designer, and online coordinator for Video Games Etc. He can be reached at ssj_4luke@hotmail.com.