Because of last year's historic foul-up in the telecast's final minutes, anyone committed to watching Sunday night's 90th Annual Academy Awards really had to commit, agreeing to sit through 230 frequently interminable minutes – you could watch The Post twice in that time! – just to see if Warren Beatty and Faye Dunaway would read from the correct envelope. They did. And the evening's climax still felt a little bungled.
All things considered, it really wasn't that big a deal. After winning Best Picture, The Shape of Water visionary Guillermo del Toro accepted his second statuette of the night – and his second standing ovation – with customary grace, charm, and humility, and encouraged youths worldwide to continue shaping the world for the better. (Endearingly, he also requested that Beatty hand him the envelope so he could read its contents for himself … you know, just in case.) But after the filmmaker completed his speech, del Toro's fellow producer J. Miles Dale went to the microphone to say a few words of his own, and was eventually forced to slink away when the orchestra's fanfare made it clear that, for all concerned, this Oscar night was officially over.
Likely sensing the situation's awkwardness and hearing the light "Let him speak!" rumble from the crowd, ceremony host Jimmy Kimmel brought Dale back to the mic and asked him what he wanted to say. Dale, sounding more than a little irritated, tossed a few compliments del Toro's way before Kimmel effectively said, "Yes, yes, Guillermo, yes, a genius, yes, thank you ...", gently shooing Dale away and commencing with his closing remarks. And as Dale and The Shape of Water's immense team of assembled producers, actors, and craftspeople left the stage and the telecast's end credits began to roll, this final moment of inelegance left you – or at least me – thinking, "Wow, the Oscars just can't get this final category right these days." (Not for nothing, but why wouldn't Dale be irritated? The ceremony was already inching toward the four-hour mark, and show producers couldn't allow another 45 seconds worth of thank yous?)
Again: Not that big a deal. But just a big-enough one to bring to mind all the other large and small annoyances in an Oscars telecast that felt way too long for the minor pleasures received, and that was criminally void of happy surprises – or really any surprises. No one was asking for a replay of 2017's and-the-Oscar-goes-to-La-La-Land-no-whoops-we-mean-Moonlight fiasco. It certainly would've been nice, however, for at least one winning movie or individual to have been widely unexpected in the manner of Moonlight's victory, or, in 2016, the announcements of Bridge of Spies' Mark Rylance for Best Supporting Actor and Ex Machina for Visual Effects. The Academy Awards, of course, are meant to reward the year's best in film according to voters, not to cater to viewers' desire for upsets. Yet this year's ceremony, for most of its length, was so by-the-book that it almost felt intentionally designed to ruffle as few feathers as possible … which maybe it was after a 2017 that found Hollywood's plumage ruffled beyond belief.
And so: The winners of the acting races – Darkest Hour's Gary Oldman, I, Tonya's Allison Janney, and Three Billboards Outside Ebbing, Missouri's Frances McDormand and Sam Rockwell – all emerged victorious, having already won their categories at the Golden Globes, Critics Choice Awards, Screen Actors Guild (SAG) Awards, and British Academy of Film & Television Awards (BAFTA), marking the first time ever that all four Oscar champs went five-for-five. (It is here that I doff my cap in recognition of the sadly bypassed Laurie Metcalf, and begin counting the days until the reboot of Roseanne.) The screenplay trophies went to Writers Guild Award winners Jordan Peele for Get Out and James Ivory for Call Me by Your Name, their widely predicted (and wholly deserved) victories at least making history: Peele becomes the first black writer ever to win Original Screenplay, and Ivory, at age 89, becomes the oldest-ever recipient of any competitive Oscar.
Golden Globe, Critics Choice, BAFTA, and Directors Guild of America champ del Toro won for Best Directing, as everyone knew he would. Pixar's Coco won for Animated Feature, as everyone knew it would, and in an unusually competitive Best Original Song lineup, also scored a victory for its nominee "Remember Me." (This makes co-composer Robert Lopez the first-ever double-EGOT recipient, as he's now won at least two Oscars, Emmys, Tonys, and Grammys … at age 43.) Dunkirk did expectedly well in the tech categories, winning for Best Film Editing, Sound Editing, and Sound Mixing. Phantom Thread, a movie about a wardrobe designer, won for Costume Design. Darkest Hour, a movie about jowls, received its etched-in-stone citation for Makeup & Hairstyling.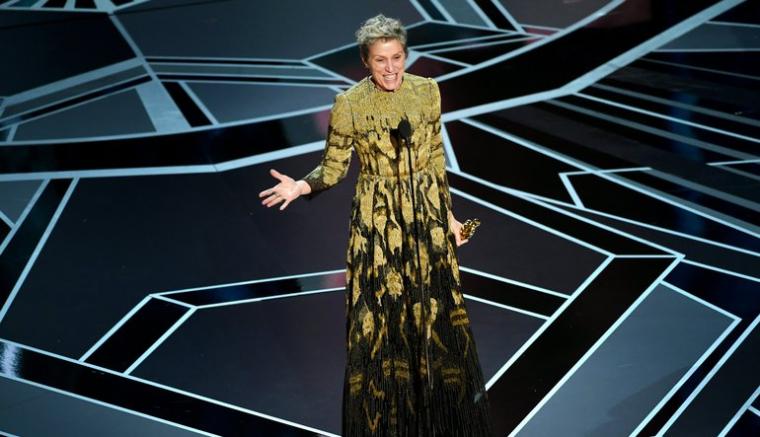 The Shape of Water, meanwhile, also won Production Design and Original Score, returning us to Academy Awards precedent after two consecutive years of strangeness. Heaven knows that del Toro's movie is a strange choice itself: You'd have to go back to 2003's The Lord of the Rings: The Return of the King to find the last (and only) fantasy to be awarded the night's biggest prize, the film now joins 1995's Braveheart as the only Best Picture winners not also nominated for SAG's Best Ensemble Award, and, as love stories go, it's certainly an uncommon one. But in many ways, The Shape of Water's victory means we're back to traditional Oscar basics: The movie that won Best Picture also won the Producers and Directors Guild precursors, led the night with the most nominations (13), and tallied the most wins (four), with Best Directing among them. For a moment, after Beatty and Dunaway opened their (correct) envelope, it was just like the '90s again … if the '90s Oscars were ever bold enough to embrace the forbidden love between a mute janitor and a fish.
So there weren't any true surprises among the movies cited. Why weren't there more over nearly four hours of live television?
Kimmel, I thought, was his usual quick-witted and genial self in his hosting duties. And given that he was probably all but mandated to construct an opening monologue that acknowledged (a) the #MeToo movement, (b) the #TimesUp movement, (c) the #NeverAgain movement, (d) the plethora of female nominees, (e) the plethora of nominees of color, (f) the Parkland shooting, (g) the success of Black Panther, (h) President Trump, (i) Harvey Weinstein, and (j) Matt Damon, it was rather impressive that Damon was the only unrecognized subject. (In truth, Kimmel's comic nemesis wasn't name-dropped until we were deep into the show's third hour.) But considering that Kimmel, in 2017, became Hollywood's unofficial take-no-prisoners voice of conscience with his occasionally teary, devastatingly smart talk-show monologues, the host's jokes on Sunday were almost startlingly tame and his political swipes incredibly mild; Kimmel's sharpest (loving) pokes were actually reserved for Supporting Actor nominee Christopher Plummer for the man's audacity in living to the age of 88.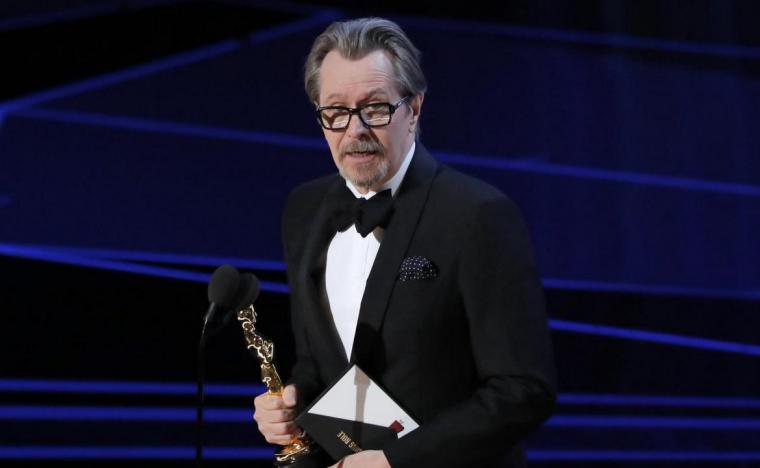 Granted, the telecast's introductory newsreel parody was well done, and we were at least granted an enjoyable running gag in Kimmel's reveal that whomever made the night's shortest acceptance speech would be awarded a brand-new jet ski – a prize modeled by Helen Mirren! – plus a vacation for two in scenic Lake Havasu, Arizona. (The winner wound up Costume Design champ Mark Bridges, who showed up again at night's end on his new ski, in a life jacket, with Mirren on his arm.) Yet those perks weren't enough to make up for Kimmel's overall lack of winning material. And they certainly weren't enough to make up for the god-awful detour that found the host, Gal Gadot, and numerous other celebrities making an unannounced visit to a nearby movie theater where a Wrinkle in Time preview was interrupted for shrieking, selfies, the distribution of snacks, and the loss of a good 10 minutes of our lives.
I'll admit I got a chuckle out of Kimmel's remark that "Armie [Hammer] has a hot-dog cannon," a throwaway that was just aching to be followed by Steve Carell's "That's what she said." But all that this labored, deeply unfunny "Let's celebrate the ordinary people!" routine did was bring back unpleasant memories of those dazed-looking tourists whom Kimmel trotted out to the Kodak Theatre during his prior hosting gig, with this year's dumb-ass stunt just louder and, miraculously, even less amusing than the one that came before. (Kimmel and Gadot also mentioned that Wrinkle in Time auditorium absolutely reeking of marijuana, and I'm sure the venue's owners and managers were simply thrilled to hear them say that in front of tens of millions of TV viewers.)
Blessedly, though, a number of presenters were far more on top of their comedic games. The charming and relaxed Lupita Nyong'o and Kumail Nanjiani, prior to their announcement of Best Production Design, introduced themselves as immigrants, with Nyong'o originally from Kenya and Nanjiani, as he said, "from Pakistan and Iowa – two places no one in Hollywood can find on a map." (Slick burn, Kumail – for all of us.) Sanda Bullock began her funny and fitting introduction of Best Cinematography by demanding that the stage lights be dimmed to something more fitting for a movie star in her 50s. ("That's it, that's good … 39 … 38 … ooo 35, that's the sweet spot … .") Before announcing Best Actress, Jennifer Lawrence referenced co-presenter Jodie Foster's arrival on crutches: "What happened to you?" "Streep." (Cut to Meryl roaring in the front row.) And the night's comedic best-in-show pairing was almost undeniably that of Tiffany Haddish and Maya Rudolph, whose beautifully timed, utterly hilarious introductions to two Best Short Film categories found the women praising one another for their on-screen urination and defecation, respectively, and led to Haddish asking the inevitable: "Are the Oscars too black now?" (Not a chance, especially not with these funnywomen around.)
Yet there were other, additionally satisfying pleasures among the presentations. Eva Marie Saint, looking radiant at 93, made touching mention of her recently deceased husband of 65 years and provided a graceful anecdote behind the making of On the Waterfront. Rita Moreno, still fiery and gorgeous at 86, presented Best Foreign-Language Film (to Chile's A Fantastic Woman) wearing the same dress she wore to collect her own Oscar back in 1962. Three of the #MeToo movement's most famous proponents – Salma Hayek, Ashley Judd, and the much-missed Annabella Sciorra, whom it was deeply moving to see again – spoke on hoped-for and long-necessary changes within the industry, and introduced a filmed montage, the best of the evening's many, on the need for greater diversity and equal opportunity.
And while Sunday's ceremony was wanting in numerous regards, we should be grateful that nearly every unfortunate bit (most especially that ill-considered, embarrassing routine with the Last Jedi castmates) was countered by something … at least a little less unfortunate. Sure, Gael García Bernal's plaintive non-singing of the Coco number is going to make him an Oscar-night joke for a while, but the other Original Song production numbers were just fine – even if Mary J. Blige's rendition of her Mudbound anthem wasn't quite as Blige-y as we may have hoped. (I wondered if she maybe had a cold, because the performer sounded uncharacteristically flat on her money notes.) True, Jane Fonda was forced to deliver – or simply made up? – an archaic and corny Barbarella joke, but co-presenter Helen Mirren's visible joy was a welcome contrast to Fonda's unshakable deadpan. Yes, the annual "In Memoriam" segment, sadly overflowing with names though it was, still managed to exclude Dorothy Malone, and John Mahoney, and Powers Boothe, and Nelsan Ellis, and Reg E. Cathey, and Glen Campbell, and Tobe Hooper, and … . What was I saying? Oh yes, but it at least enabled Eddie Vedder to deliver a haunting, melancholic take on the late Tom Petty's "A Room at the Top."
Plus, of course, there were beautiful moments within individual speeches, with none of those speeches more instantly iconic than McDormand's. Visibly shaking with nerves, excitement, and ebullience, and consequently looking more frazzled (and definitely giddier) than we've ever before seen her, the Three Billboards star responded to her standing ovation by asking all of the evening's female nominees to stand for acknowledgment of their own, and also trumpeted a galvanizing call for greater cinematic diversity by saying "Two words: inclusion rider" … two words together that many Oscar watchers no doubt had to Google. (An inclusion rider is a clause in contracts that ensures gender and racial equality on film sets, and I love that the Three Billboards star made mention of it. But after hearing so many of her recent award-show speeches, she really needs to give her deadpanned "I've got some things to say" routine a rest, as it's in danger of turning into McDormand's version of McConaughey's "All right all right all ri-i-i-ight!!!")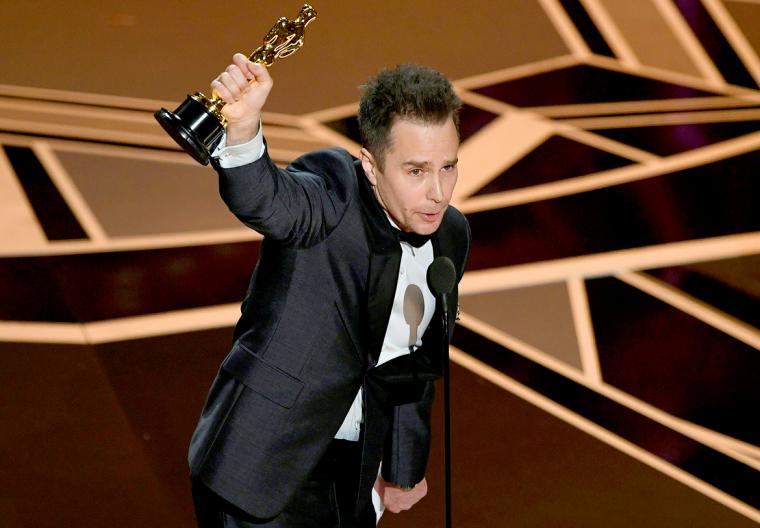 But there was also Rachel Shenton, the writer of Live-Action short winner The Silent Child, who fulfilled a promise to the movie's six-year-old star by delivering her speech with accompanying sign language. There was Oldman, who sent an overseas hello to his 99-year-old mum watching the show on TV. There was del Toro, who did a Jimmy Cagney impression. There was Janney, who earned a hearty laugh – and, speaking personally, made Metcalf's loss just a little more bearable – with her first words: "I did it all by myself!" There was Best Cinematography champion Roger Deakins, winning his first Oscar, for Blade Runner 2049, on his 14th nomination. I don't at all recall what this film legend said, as I was too busy cheering, but I'm sure it was memorable. (Deakins' victory was one of the iffier predictions I made, and allowed me to tie my 2017 score of 15 correct guesses in 24 categories – still pretty bad, but at least not worse.)
Plus, there was Rockwell, who made the night's first stab at snagging that jet ski with a brisk speech, yet still managed to thank the Academy, his co-stars, his collaborators, his wife, his team, the late Philip Seymour Hoffman, and "everybody who's ever looked at a billboard." I may not have much enjoyed the nearly four hours of the 90th Annual Academy Awards, but how much can I really complain? Sam Rockwell thanked me, for Pete's sake!
2018 Academy Award winners:
Best Picture: The Shape of Water
Best Directing: The Shape of Water, Guillermo del Toro
Best Actress: Frances McDormand, Three Billboards Outside Ebbing, Missouri
Best Actor: Gary Oldman, Darkest Hour
Best Supporting Actress: Allison Janney, I, Tonya
Best Supporting Actor: Sam Rockwell, Three Billboards Outside Ebbing, Missouri
Best Original Screenplay: Get Out, Jordan Peele
Best Adapted Screenplay: Call Me by Your Name, James Ivory
Best Animated Feature: Coco
Best Foreign-Language Film: A Fantastic Woman, Chile
Best Documentary Feature: Icarus
Best Cinematography: Blade Runner 2049
Best Film Editing: Dunkirk
Best Production Design: The Shape of Water
Best Costume Design: Phantom Thread
Best Sound Editing: Dunkirk
Best Sound Mixing: Dunkirk
Best Original Score: The Shape of Water
Best Original Song: "Remember Me," Coco
Best Visual Effects: Blade Runner 2049
Best Makeup & Hairstyling: Darkest Hour
Best Documentary Short: Heaven Is a Traffic Jam on the 405
Best Live-Action Short: The Silent Child
Best Animated Short: Dear Basketball