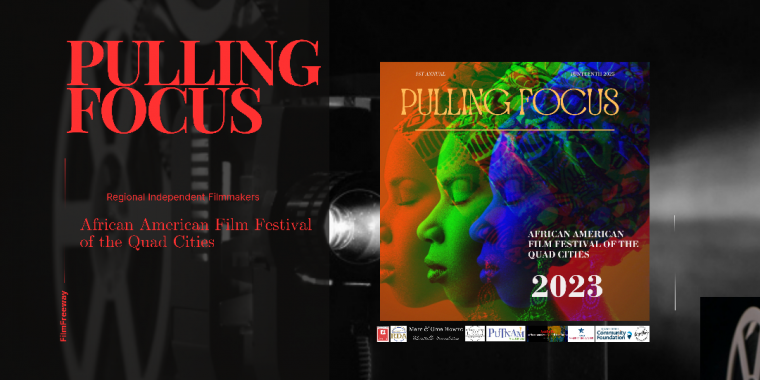 Friday, June 16, and Monday, 19: Lincoln Center – TMBC, 318 East Seventh Street, Davenport IA
Saturday, June 17, and Sunday, June 18: Putnam Museum & Science Center, 1717 West 12th Street, Davenport IA
Launched by the Azubuike African American Council for the Arts and taking place in various area locales June 16 through 19, the inaugural Pulling Focus Film Festival has been designed as a celebration of local film and culture that focuses on enriching the lives of Quad Cities residents by presenting unique film-watching experiences framed through the lens of African American and Black Diasporic voices.
After several years of holding the Urban Exposure Independent Film Project Summer Film Program, which teaches filmmaking to underrepresented and at-risk young people in our community, Azubuike has identified the need for a regional film festival that celebrates and promotes Black filmmakers. In response, the arts council has established the Pulling Focus African American Film Festival of the Quad Cities, which is set to be held annually during the Juneteenth federal holiday to commemorate and celebrate, in our region, the struggles and triumphs of the Black Diaspora.
The lineup of screening events and panel discussion events will begin with an opening ceremony and filmmaker meet & greet on June 16 at the Lincoln Center TMBC complex in Davenport, a historically Black community venue. The festival program will subsequently run June 16 through 19, and will feature short films created by local and regional filmmakers representing the Black Diaspora. Films will screen throughout the weekend at Davenport's Putnam Museum & Science Center, with additional venues to be confirmed in Davenport as well as Moline and Rock Island. The Festival will close on June 19 with an awards ceremony for the filmmakers whose work is recognized with distinction by Pulling Focus Film Festival audiences and organizers.
The Pulling Focus Film Festival offers curated films, engaging panel discussions, and special events, bringing together film enthusiasts, industry professionals, academics, and members of the Black community for meaningful connections and dialogue. Gaye Shannon Burnett expressed the importance of the Festival, stating, "By offering a space for the Black community to be seen and heard, we respond to the demand for diverse storytelling in the film industry and our community." The Festival invites everyone to celebrate the richness of cinematic artistry and the profound impact of Black voices this Juneteenth.
The opening ceremony for the inaugural Pulling Focus Film Festival will take place at Lincoln Center - TMBC on June 16 from 4 to 6 p.m., with times for the June 16 through 18 screenings and the June 19 closing awards ceremony to be determined. For more information, call(563)594-2016 and visit PullingFocusFilmFestival.com.