WIDOWS
Before my screening of the new heist thriller Widows, the film's director Steve McQueen popped up in one of those "Thanks for coming to the movies!" PSAs, and after some charming flubbing of his lines, he called the film we were about to see "a dream project." In retrospect, it was an unexpectedly lighthearted – and therefore, perhaps necessary – introduction to a decidedly somber movie. But still, coming from the director of Hunger, Shame, and 12 Years a Slave, I have to ask: Really? This was McQueen's dream project? A feature-film version of a 1983 British mini-series about a team of former thieves' wives who ridiculously, even ludicrously pick up where their hubbies left off? The minor miracle of McQueen's latest, though, is that it might just satisfy both fans of the director's grave, unsparing, almost completely humorless works (I'm one of those fans), and those who just want to enjoy a tougher-minded Ocean's 8 with Viola Davis in the Sandra Bullock role. (I'm one of them, too.)
After losing her spouse during a botched robbery in which his partners also perished, Davis' grieving Veronica, a well-to-do Chicagoan and teacher's-union delegate, finds a stashed notebook detailing a $5-million heist planned by her husband Harry (Liam Neeson), and enlists the aid of her desperate fellow widows (Elizabeth Debicki and Michelle Rodriguez) and one of their babysitters (Cynthia Erivo) to pull off the caper themselves. There's a whole lot more to the movie, including a hotly contested alderman seat being fought over by a pair of equally untrustworthy politicians (Colin Farrell and Brian Tyree Henry), a stolen $2 million that Harry owed one of the candidates, and a psychopath (Daniel Kaluuya) willing to do anything – including repeatedly stabbing a witness in a wheelchair – to get that money back. But Veronica's planned robbery is Widows' focal point, and as such, it's a remarkably flimsy one. Not only are the particulars behind the crime's preparation abjectly silly and requiring a suspension of disbelief more often found in Muppet movies, but the crime itself, when we finally witness its attempt, is almost laughably disappointing. We're shown reams of Harry's scribbled notes about everything he and his men need to do to successfully steal the loot, and in the end, all it boils down to is (a) create a distraction, (b) get in without detection, (c) put the money in bags, (d) get out without detection, and (e) drive away? My nephew has come up with craftier plans for sneaking candy bars after bedtime, and he's nine.
That said, Widows is still quite a bit of serious-minded fun if you can enjoy it more for its presentation than its central conceit. While the editing is typically sharp and sometimes impressively off-putting, it wouldn't be a Steve McQueen film without at least one smashingly effective sequence performed entirely without cuts, and this one has a phenomenal (if uncharacteristically subtle) one: an uninterrupted shot of Farrell's limo driving from a dilapidated neighborhood to his spacious manse only a few blocks away, brilliantly underlining the geographical nearness of opposing political sensibilities. (What makes the shot subtle is that we're so honed into the unseen verbal fight within the limo that it takes a while to realize what McQueen's camera is telling us.) With Gone Girl author Gillian Flynn serving as McQueen's co-screenwriter, the dialogue has both bark and bite, especially in the hateful invective mouthed by Robert Duvall as Farrell's former-politician dad. There's filmmaking enthusiasm on display throughout, from the riveting opening getaway with its dragging van door creating sparks within the sparks to the revelations of two carefully hidden character appearances that earned twinned gasps from my fellow patrons.
And, of course, there's the movie's almost perversely gifted cast to make the experience wholly worthwhile. In addition to the previously mentioned talents – with special praise going to the statuesque, sympathetic Debicki, the quietly unhinged Kaluuya, and the insinuatingly malevolent Henry, who's never more terrifying than when gently caressing Veronica's fluffy white puppy – we're also treated to more-than-solid character work by the likes of Carrie Coon, Lukas Haas, Garret Dillahunt, Matt Walsh, Adepero Oduye, and Jacki Weaver, the latter playing a devoted mother who whispers to daughter Debicki, "Don't act like you're the f---in' Virgin Mary." (What a thrill it is, after years of her playing it sweet, to see Weaver again in the Madea Mom mode of her 2010 Animal Kingdom breakthrough.)
But while McQueen's film addresses loads of issues – gender disparity, racial bias, political corruption, spousal abandonment – let's be perfectly clear about what, in the end, it's truly about: the eternal awesomeness of Viola Davis. Her role may not have the depth of her finest creations, or make even half as much sense. (This fastidiously dressed, upright citizen falls into a life of crime awfully easily.) But Davis' charisma and performance power is undeniable here, and it felt less right than beautifully inevitable when, in the final minutes, someone at my screening responded to a wholly deserving act of Davis retribution with a full-throated, "You go, Viola, with your bad self!" If Widows' reviews don't get butts in seats, maybe that seven-word acclamation will do the trick.
CAN YOU EVER FORGIVE ME?
It's hard to tell which seemed less probable: that Melissa McCarthy, after years of underwhelming comedies, would land a meaty dramatic role that would instantly make her a front-runner for the Best Actress Oscar, or that a filmmaking team could find a way to make the act of literary forgery not just interesting, but downright thrilling. Yet both turn out to be the case in Can You Ever Forgive Me?, director Marielle Heller's offhandedly moving, gorgeously lived-in, unfailingly gripping adaptation of the late novelist Lee Israel's 2008 memoir.
Detailing how, after publishers and readers lost interest in her own celebrity biographies, Israel earned 1991-92 rent money first by writing (and selling) fake correspondence from distinguished luminaries and then by stealing (and selling) museum-kept letters and replacing them with forged copies, the film's narrative is fascinating enough. What makes it also exciting is the exactitude with which Heller and screenwriters Nicole Holefcener and Jeff Whitty explore just how Israel pulled off her criminal ruses. Her creation of missives – more than 400 in all – by long-deceased celebrities including Noël Coward, Lillian Hellman, and the inimitable Dorothy Parker required a delicate process involving the procurement of period typewriters, oven-baking stationery at just the right temperature, and mimicking the authors' print voices so accurately that her letters' hapless buyers were less charmed than giddy at the treasures Israel brought them.
Meanwhile, her later, larcenous dealings were accomplished with even greater difficulty, given that the FBI, working in response to numerous tips, was by this point faxing copies of Israel's face to every bookseller in Manhattan. And Heller's intensely wise and graceful direction mirrors Israel's criminal trajectory. At first, we're as tickled as the novelist clearly is when the ruse actually works, and Israel is able to toss off witty literary samplings while netting money enough to pay her bills and buy medicine for her sick cat. But as Israel's schemes grow riskier, the film's tone grows perceptibly edgier and more potentially devastating, and Heller's camera keeps bringing us closer and closer to Israel's face, staring at the woman as her rationality and veneer of confidence begin to crumble. By the time Israel is anxiously attempting to steal a New York Public Library possession directly in front of a wary security guard, Heller's movie has become as hypnotically nerve-fraying as Zodiac.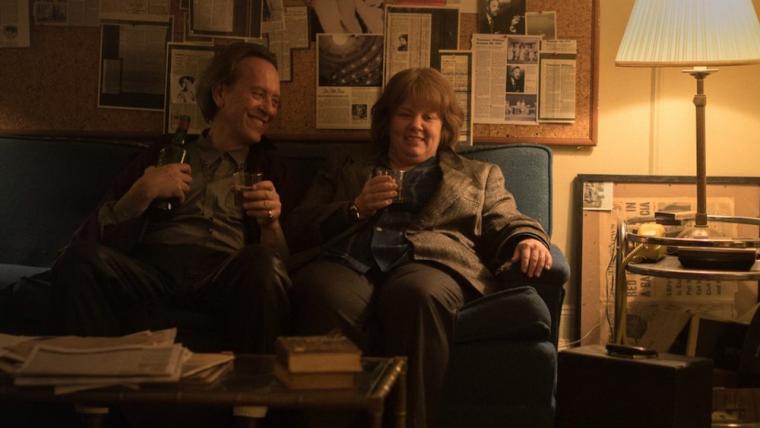 Yet Israel's criminal activity is only the second- (or maybe third-) most arresting element in Can You Ever Forgive Me?, considering how spectacularly the film succeeds as a character study, and, at last, an opportunity for McCarthy to finally unleash all of her diverse talents in service to one marvelously, complexly satisfying role. What I haven't yet mentioned is that Israel, as presented here, is hardly a nice, or even borderline-nice, lady. Arrogant, alcoholic, verbally abusive, and not prone to giving two craps about anyone – one of our first views of the woman finds her leaving a cocktail party with purloined shrimp, toilet paper, and a coat that isn't hers – Israel is thunderously, maddeningly unlikable. But McCarthy makes you wholly understand the desperation behind the writer's hateful demeanor. Awful though she is, it's impossible not to be in Israel's corner when her tough-talking agent (a formidable, priceless Jane Curtin) insists that the author's literary career is inarguably over, or when her ex-lover (Anna Deveare Smith), at Israel's direst moment of need, casually excoriates the woman for being too exhausting to bother with. She is exhausting. In McCarthy's hands, Lee Israel is also smart and viciously funny and dazzlingly empathetic. And when she hooks up with a gay drinking buddy (Richard E. Grant's Jack Hock) who's every bit the soused misanthrope Israel is and has no compunction about partnering her in her illegal exploits, Heller's film achieves an almost transcendent gutter poetry, suggesting a platonic rom-com as devised by Charles Bukowski.
Visual and damn-near-visceral glories abound in this wondrously enjoyable and thoughtful achievement: cinematographer Brandon Trost's rich, warm lighting in the numerous NYC bookstores and bars that, as we're reminded, still allowed smoking in 1991; the horrified reaction of Israel's superintendent as he tries to enter her apartment with its years' worth of uncollected cat turds; the faraway loneliness on the face of Israel's bookseller crush (the heartbreaking Dolly Wells) as she realizes how quickly a dinner date is going south. Yet I treasured Can You Ever Forgive Me? most for the inspired interplay between McCarthy and Grant. Whether cackling over a shared memory of Jack Hock pissing on a closet full of fur coats or Israel chiding the man for not knowing who Fanny Brice is ("What kind of homosexual are you?"), their teamwork is remarkable, and maybe a better showcase for the once-ubiquitous Grant's sardonic gifts than any other movie on the British actor's long résumé. Like Israel, Hock – not one to let age or the standards of decency get in the way of his fun – is a bit of a creep. Also like Israel, he's an eminently entertaining and enticing one, and one whose poignancy, by the finale, reveals itself to be as devastating as the superb film he appears in. There's undeniable merit in staying forthright and sober. For a couple of hours, though, I was more than glad to be in the company of Jack Hock and his not-so-sound advice: "Let's keep drinking. The day is young."
For reviews of Fantastic Beasts: The Crimes of Grindelwald, Instant Family, and The Ballad of Buster Scruggs, visit "The Gift of the Magi."