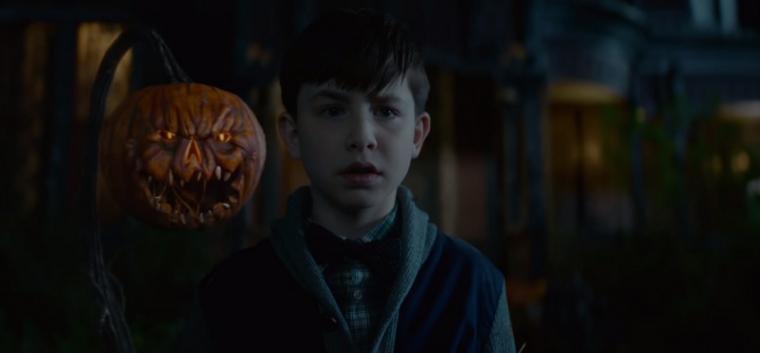 THE HOUSE WITH A CLOCK IN ITS WALLS
Given that his directorial credits have included a couple of Hostels, the gory Cabin Fever, and the unapologetically repellant cannibal shocker The Green Inferno, hiring Eli Roth to helm a kiddie scare comedy seemed, at first, to be a phenomenally terrible idea, like putting Lars von Trier in charge of church camp or asking Tarantino to babysit. Amazingly, however, Roth proves himself the right director for the job of The House with a Clock in Its Walls, a movie no funnier or scarier than, say, 2015's Jack Black vehicle Goosebumps, but one with plenty of charm, sweetness, and child-friendly gross-outs. Roth being Roth, know that you will witness projectile vomiting. But the puke is wholly composed of pumpkin guts, and the face it lands on is Black's, so you know … . No harm, no foul.
Adapted from John Bellairs' 1973 novel and set in a white-picket-fence suburb in 1955 Michigan, Roth's and screenwriter Eric Kripke's film finds 10-year-old orphan Lewis Barnavelt (Owen Vaccaro) sent to live with his eccentric uncle Jonathan (Black) in a literal haunted mansion, the boy eventually discovering that Jonathan is a warlock and next-door neighbor Florence (Cate Blanchett) is a witch. The titular clock, meanwhile, is a hidden, ever-ticking pronouncement of impending doom, and ostensibly simple though the plotting is, I never quite understood the object's exact purpose. Or, for that matter, how it tied to the accidental resurrection of Jonathan's deceased magic-show partner (Kyle MacLachlan). Or whether the clock was at all responsible for the house's ambulatory pieces of furniture and its topiary lion that farts brown leaves and dung.
Happily, though, the lack of clarity doesn't much matter, because the movie's heart lies in the unexpectedly touching, endearingly oddball family dynamic that develops between Jonathan, Florence, and their eventual apprentice Lewis – hardly the narrative aspect in which I expected Roth to excel. In truth, Roth proves so adept here with character, subtlety, and sentiment – qualities he has never shown previous interest in – that you'd almost think every day on set was Backwards Day. The film's focus meanders a bit and the pacing is occasionally listless, and Black, amusing though he is, doesn't offer anything fresh in terms of comic invention. But the House with a Clock star is also more serene and reflective than recent movies have allowed him to be, and in addition to having obvious fun with the terrific Blanchett in their dueling-insults badinage, Black seems genuinely moved by Vaccaro's performance honesty, and responds in kind. (While I anticipated being reminded of Goosebumps, Roth's latest also brought to mind Black's career-best work in The School of Rock, suggesting that such a hilarious yet heartfelt portrayal may still be within the comedian's reach.)
With his three leading figures all haunted by familial loss, Roth directs their scenes of quiet sadness and tentative connection with tenderness – again, not what I expected – and does so with such graceful tact that they don't feel out of place amidst the rotting corpses, exploding jack-o'-lanterns, and, in one memorable instance, image of Black's full-size head on a naked-infant body. (In its kiddie-slapstick way, the sight is as unnerving as that of the homeless man's head grafted onto his dog in the 1978 Invasion of the Body Snatchers.) That's a surprise, to be sure, and one just as delightful as many of the movie's most winning elements: the complicated friendship between Lewis and popular schoolmate Darby (a first-rate Sunny Suljic); the odd creepiness of Lewis' dream reunions with his late mother (Lorena Izzo); the legitimate malice of the villainous Renée Elise Goldsberry and MacLachlan, the latter perversely, and gloriously, channeling his Cooper-possessed-by-BOB in Twin Peaks. The House with a Clock in Its Walls may be a minor accomplishment, but it delivers major pleasures, and I silently cheered when nerdy Lewis knew precisely what tool was required to solve a confounding mystery: the secret decoder ring hidden in a container of Ovaltine. Now that Roth has demonstrated family-flick know-how, can his remake of A Christmas Story be far behind?
ASSASSINATION NATION
Now here's the movie I would have expected Eli Roth to direct: Assassination Nation, an incredibly violent, deeply upsetting horror "comedy" about a community that goes all Purge-y, especially on a quartet of teenage girls, after the town's debased e-mail and social-media secrets are revealed for all the world to see. I think I get what kind of satire writer/director Sam Levinson was going for in his splatter flick for the era of #MeToo outrage, and the man clearly has talent; the film's acting is generally topnotch, and a few of Levinson's set pieces are truly inspired – particularly the brilliantly choreographed, seemingly single-take home-invasion sequence in which the camera glides past windows on two stories of a suburban home. That said, the movie frequently employs split-screen effects, and for most of the movie's interminable 110 minutes, I found it impossible to determine which portion of the screen I wanted to look at less. Unrelentingly grim, stylistically pretentious, and boasting ridiculous plotting that doesn't hold water even under the guises of "commentary" or "parody," the grossly exploitative, resoundingly unpleasant Assassination Nation dances around important themes but shows almost no interest in weaving them into its noxious Spring-Breakers-meets-Death-Wish formula. I felt dirty for having watched and terrible for the hard-working actors – and that includes Bill Skarsgård as a wronged boyfriend whom we pity for roughly three seconds before, like every other character here, he turns into an asshole, too. I'd say that when you find yourself feeling bad for freaking Pennywise from It, a film is clearly lacking something in the empathy department.
For reviews of Fahrenheit 11/9 and Life Itself, visit "Trump Card."