BECOMING JANE
I have friends, most of them equipped with a Y chromosome, who wouldn't be caught dead at an 18th century British period film studded with corsets and bucolic splendor and one of those "That man is so insolent and frustrating I must be in love with him!" storylines.
In general, though, I enjoy works of this sort - it's always a relief to hear literate dialogue at the cineplex and, at the very least, tremendous casts keep showing up for these things - and I've especially enjoyed them when Jane Austen has been the creator of those wearing the corsets. (I've seen film versions of Sense & Sensibility, Pride & Prejudice, and Emma several times over.)
So I was actually pretty psyched for Julian Jarrold's Becoming Jane, which imagines the author's life before her eventual success as a novelist, and suggests that the inspiration for Austen's love-struck characters stemmed from a thwarted love affair of her own. And during the first couple of reels, all was going well. Clever, carefully constructed dialogue? Check. Impressive, detailed period design? Check. A top-tier cast of British character actors (Julie Walters, Maggie Smith, the late Ian Richardson) led by an American ingénue (Anne Hathaway) with a serviceable English accent? Check.
Yet while I was happily luxuriating in the design and performances, the strangest thing began happening: My eyelids started to get really heavy. This drowsiness may have originated with the first strains of Adrian Johnston's score, which sounded just like the score for every other British period romance you've ever seen. But it soon became clear that the music was just the tip of the recycled iceberg; Becoming Jane, for all of its professionalism and literary cred, wasn't offering a single scene that felt fresh or unexpected or (heaven forbid) spontaneous. The whole movie feels like it's bound in a corset.
There are moments when messy bursts of humanity give Jarrold's film some edge. Walters, who plays Jane's mother, has a magnificently forceful bit when she chides her daughter for her naïve prerequisite of love before marriage. ("Affection is desirable," she curtly intones. "Money is absolutely indispensable.") Anna Maxwell Martin, as Jane's sister, has a sad, beaten-up quality that stays with you, and Helen McCrory delivers a startling cameo as the haunted, reclusive Gothic novelist Ann Radcliffe - now she would make a fascinating subject for a tony British period flick.
But the problem with Becoming Jane is that we rarely have such opportunities to believe in it, and what's more, I'm not sure we're supposed to - the film hasn't been designed as a Jane Austen biography so much as an adaptation of a Jane Austen novel. This sort of conceit worked within the farcical structure of Shakespeare in Love, which turned the bard into the hero of one of his own romantic roundelays. But such a tactic feels too simple for the legitimate emotion Becoming Jane appears to be striving for; we're meant to applaud Jane for her tenacity and weep for her romantic travails, and the all-too-schematic plotting won't let us. It isn't a bad movie by any means, but the presentation is so formulaic that even those of us who routinely like its genre trappings might feel inclined to rebel against them. (If I never see another scene set during an 18th century dance, with the conveniently-paired leads swirling around one another while exchanging in sarcastic pleasantries, I'm not sure I'll notice the loss.)
Hathaway, with those wonderfully big, imploring eyes, has a few lovely moments, and James McAvoy does well enough as the de rigueur uncouth romantic hero whose brash egocentrism melts our heroine's heart. Yet they and the other cast members can't do anything to enliven Becoming Jane's relentless sameness. I'm not yet willing to join my friends in being leery of British period fare, but this one - so well-meaning yet so uninspired - almost made me anxious for a screening of Rush Hour 3.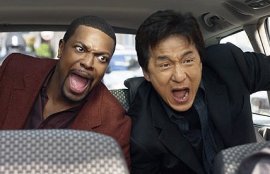 RUSH HOUR 3
And then I attended a screening of Rush Hour 3.
I read that Brett Ratner's sequel to his sequel to his 1998 action-comedy raked in some $50 million over the weekend. That wasn't a typo, was it? Weren't the film's lazy ethnic stereotypes and the depressingly unfunny mugging of Jackie Chan and Chris Tucker tiresome nearly a decade ago? There is exactly one borderline amusing sub-plot here, involving a Parisian cab driver (Yvan Attal, who comes off as an endearingly lumpy, French Hank Azaria) who yearns to be an American action hero. Otherwise, Ratner's slapdash and ridiculously inconsequential follow-up provides exactly what you'd expect and much, much less - exhaustingly retrograde fish-out-of-water comedy and anemic action scenes that take all the thrill out of thrills. Yet this franchise-extender is distinctive in one dubious respect: It is quite likely the worst movie you'll ever see to co-star Oscar-winning director Roman Polanski and Swedish film legend Max von Sydow. And people wonder why we're referred to as "ugly Americans."