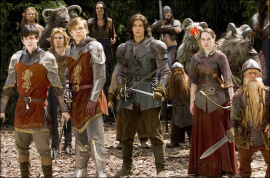 THE CHRONICLES OF NARNIA: PRINCE CASPIAN
All things considered, The Chronicles of Narnia: Prince Caspian is pretty good, and on a purely technical level, it's more than pretty impressive. In his second stab at C.S. Lewis, director Andrew Adamson has fashioned a continuation that's both darker and lighter than 2005's The Lion, the Witch, & the Wardrobe - the film is admirably grim for a Disney outing, and unlike its predecessor, it maintains a sense of humor throughout - and most of its visuals are extraordinary. Yet I still can't build up much enthusiasm for it, because like many recent works of its kind (including The Golden Compass and the last two Harry Potters), the movie wows you with everything except personality. Prince Caspian is epically scaled, gorgeous, and hollow - a Pirates of the Caribbean without Johnny Depp.
You can't, however, accuse the movie of slacking in the action department. Before the end of the opening credits, we're already knee-deep in palace intrigue, as the titular prince of Narnia (Ben Barnes) narrowly escapes an assassination attempt spearheaded by uncle King Miraz (Sergio Castellitto), an evil despot who leads a battalion of thugs called Telmarines. (The prerequisites for joining this group, apparently, are a scraggly beard and shifty eyes.) Miraz has usurped the throne from Caspian's father and has vowed to rid Narnia of its forest-dwelling drawfs, fauns, talking animals, and humans without beards, and Caspian's only hope in reclaiming his kingdom - and preserving the livelihood of his fellow Narnians - lies 1,300 years, and an entire universe, away. Who you gonna call? Telmarinebusters!
What follows is a surprisingly brutal (though bloodless) adventure in which Lewis' Pevensie children - Peter (William Moseley), Susan (Anna Popplewell), Edmund (Skandar Keynes), and Lucy (Georgie Henley) - respond to Caspian's SOS and lead a revolt against Miraz's army. Sad to say, though, that's about it; for most of its 135-minute running length, Prince Caspian is little more than a series of minor skirmishes that lead to a major skirmish. (Without the employment of slow-motion effects, the movie would easily be a half-hour shorter.) The battle sequences are beautifully staged, and that finale, involving catapults and horses tumbling off of cliffs and an aquatic deus ex machina that must be seen to be believed, is rather spectacular. But it's grandeur in a vacuum; the movie has a dutiful, going-through-the-motions vibe that's nearly impossible to shake off.
Much of this sensation was no doubt inevitable, as we're stuck with the same generically plucky youths that marred 2005's outing. Our first sight of the Pevensies here finds them bemoaning their dreary lives in London and longing to return to Narnia, but it doesn't take more than a few minutes in the kingdom before their excitement turns to ennui; the young actors' unimaginative performances and "been there, done that" expressions are a serious drain on the fun. (We don't even get the entertainment of them happily rediscovering their Narnian costumes, which takes place off-screen.) And the kids' lack of charisma is matched by that of Barnes, who brings nothing to the party besides cheekbones and a healthy head of hair; you could superimpose the Prince Caspian poster on a horse and get nearly the same effect.
There is some character respite from the film's dull protagonists; Castellitto hisses with terrific malevolence, and while I was always hoping that the great Peter Dinklage would never find himself cast as a spunky elf in a children's fantasy, he lends the film much-needed dry wit. (Thank the gods, Tilda Swinton's White Witch also returns for about 60 seconds, and steals the whole movie with her icily decadent reading of "Peter, dear ... I've missed you.") But they're exceptions, and the CGI creatures, though thrilling to look at, aren't as vocally amusing as you might expect; after a stellar entrance, even Eddie Izzard's sword-wielding mouse blends into the scenery.
Handsomely, at times stunningly, produced, yet missing an interior life to match its exteriors, Prince Caspian is a bit of a slog. Yet it's just good enough to suggest better times ahead for subsequent Narnia adventures, much like another series of book adaptations that delivered a wondrously imagined Chapter Three after two underwhelming efforts. What's Alfonso Cuarón doing these days, I wonder ... ?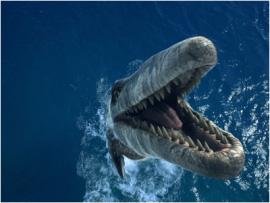 SEA MONSTERS 3D: A PREHISTORIC ADVENTURE
After a one-week run at Showcase 53 last fall, Sea Monsters 3D: A Prehistoric Adventure is now being shown at the Putnam Museum & IMAX Theatre. And even though I reviewed this modestly enjoyable, somewhat forgettable movie online in October, I decided - after seeing the 45-minute, 3D documentary again - to briefly revisit it in print because you should know that (a) the kids in the audience seemed to have an absolute blast with the CGI replications that jumped into their laps, (b) the IMAX is the perfect venue in which to watch enormous creatures engulf the screen like the spaceship at the beginning of Star Wars, and (c) there will be a highly preferable alternative to Speed Racer once that hideous movie arrives at the Putnam in June.