THE JANE AUSTEN BOOK CLUB and THE GAME PLAN
On their surfaces, The Jane Austen Book Club and The Game Plan would seem to have nothing in common. One's a dramatic-sitcom wherein a sextet of bibliophiles dissect a noted author's works and unintentionally enact her plotlines; the other's a Disney slapstick wherein an adorable moppet teaches fatherhood lessons to a professional quarterback. (No points for guessing which film is which.)
Yet I left viewings of both movies feeling exactly the same way: happy. And just a little embarrassed for feeling so happy.
Of the two, The Jane Austen Book Club is the less-shameful good time. Robin Swicord's adaptation of Karen Joy Fowler's bestseller is a smoothly constructed, cleverly detailed, and almost unbearably programmatic ensemble piece. What's troubling about the film's many romantic subplots isn't their hokiness (that's part of their charm), but that everyone seems all too controlled by Fowler's - and now Swicord's - design; characters helpfully sidestep out of character to ensure the Happy Ending climax the movie promises. (Kathy Baker's Bernadette comments on how exciting it is when fictional creations leave the realms of even their author's imagination, a happening that never occurs here.)
Yet the film's contrivance is also part of its sweet-and-satisfying pleasure - for literate audiences, the experience is like diving headfirst into a big bowl of Häagen-Dazs - and it's enacted beautifully by Maria Bello, Amy Brenneman, Hugh Dancy, Maggie Grace, and a remarkable Emily Blunt, whose tremulous sadness is shocking for being so rich with humor. For a concept this precious, The Jane Austen Book Club has a lot going for it.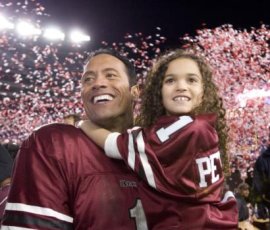 The Game Plan pretty much only has one thing going for it - Dwayne "The Rock" Johnson - but that turns out to be plenty; I can't remember the last time I spent an entire movie smiling at a leading performer just because he was so damned likable.
The movie is nothing more than a family-friendly, well-meaning goof, of course, and it's as generic - and disposable - as you'd anticipate. Johnson, though, is really something. As expected, he exudes effortless charisma and that megawatt smile, but he's also a nimble comedian here, wholly unafraid of looking silly; Johnson actually does Elvis proud when serenading his character's newfound daughter with a Presley hit. (And Roselyn Sanchez's quick-witted comedic talent and stunning naturalism provide our hero with a formidable sparring partner.) Within his Disney confines, Johnson is excellent in The Game Plan, and against all logic, he has turned into a screen presence that suggests someone who'd absolutely join a Jane Austen book club. Pro wrestling's loss is our gain.