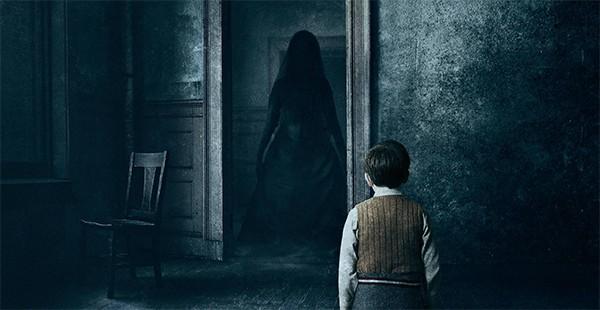 THE WOMAN IN BLACK 2: ANGEL OF DEATH
For those keeping track, the newly annual tradition of each film year opening with a horror sequel continues, thanks to the release of The Woman in Black 2: Angel of Death. But I should mention that, beyond the presence of the titular ghost, director Tom Harper's follow-up doesn't share many traits with the original. There's no Daniel Radcliffe, for one thing. And instead of taking place in the London outskirts of the Edwardian era, this one is set during World War II. And ... . Um ... . Wow. Does anyone recall anything else about the original?
As the movie apparently had enough fans (i.e., made enough money) to merit a sequel, I'd imagine so. But I had to look up my review of 2012's The Woman in Black to remember specifics - including whether I liked it or not (I kinda did) - and even then my recollection was murky. Somehow, I had even forgotten the gist of the plot, which concerned a malevolent spirit who forced children to commit suicide, and which was the only truly unsettling thing about the film. I'm consequently willing, if not happy, to blame my faulty memory on the aging process and having seen a plethora of underwhelming scare flicks over the past three years. But I think a more accurate explanation for my Woman in Black amnesia is that once you get past its queasy narrative hook, the old-school tenets it uses to scare you - misty moors, darkened rooms, creaking doors, spectral images, spontaneously rocking rocking chairs - are inherently weightless (if occasionally fun). Nothing about these effects, most of which are familiar from visiting our first spook houses as kids, has any deeper meaning or thematic resonance, and consequently, while such staples can be good for some lingering dread or a jump scare, they don't possess the power to truly haunt you. The candlelit imagery and bumps in the night serve their expected purposes and then - poof! - they vanish, much like the movies they're in service to.
This is all to say that when part three inevitably lands in January of 2018, I'll likely have also forgotten about The Woman in Black 2: Angel of Death, which finds its undead meanie terrorizing a group of parent-less children and their caretakers during the London Blitz of 1941. There's nothing especially interesting or frightening about the film, and even the group of excited teens sitting near me - who seemed to have an initial good time over-shrieking at conventional "Boo!" moments - had clearly had enough of the predictable jolts and blandly executed demonic encounters as we entered the third half-hour. I was, however, at least impressed by the early production design of London bomb shelters and war-torn city streets, and when our soon-to-be-victimized characters made a nighttime getaway to their haunted mansion in the sticks, I loved the detail of them not being allowed to use the car's headlights on the foggy winding roads. (If they did, they'd be the potential target of German bomber planes, which is the same reason they're not allowed to keep the mansion's lights on at night. A nice, smart touch.)
But the movie sure could've a director with more visual invention and a better sense of pacing; every tiptoe through the darkness and race to prevent a suicide feels like every other. And it really could've used some human personality. No one in The Woman in Black 2: Angel of Death is bad, per se, and I liked the touching, unforced portrayal of lead Phoebe Fox - although the performer looks so much like a young Holly Hunter that it felt jarring when she spoke with a proper British dialect and not a Southern twang. Yet even Fox isn't particularly memorable, and all we're really given beyond her (and that trouble-making apparition) are a parade of blank-faced kids, a serviceable Helen McCrory, and the earnest, good-looking dullard Jeremy Irvine. If I didn't remember the original enough to recall the vitality Janet McTeer and Ciarán Hinds brought to it, what chance does the kid from War Horse have?
THE GAMBLER
Meanwhile, there's personality in spades in Rupert Wyatt's remake of The Gambler, which casts Mark Wahlberg (in the role first played by James Caan) as an inveterate you-know-what who needs to pay back hundreds of thousands to various mobsters or end up in a dumpster. Wyatt's film isn't as enjoyably scuzzy or fraught with peril as director Karel Reisz's 1974 version - it's kind of like the original sprayed down with a garden hose - and Wahlberg, despite his smart, quick readings, isn't exactly believable as an assistant professor of English literature with ugly eyeglasses. (I'm greatly relieved, though, to see that he's at least trimmed down his recent, cartoonishly muscular physique and no longer resembles Charles Atlas.) But the movie is still a wickedly profane, fast-moving, never-boring entertainment with a biting script by The Departed's William Monahan. And there's excess screen magnetism courtesy of Brie Larson, John Goodman (who delivers a fantastically juicy monologue on the importance of saying "F you"), Michael Kenneth Williams, and Jessica Lange, the latter of whom - especially when directing her throaty force and withering stare toward an outmatched bank clerk - proves she doesn't need Ryan Murphy to be scary as hell.