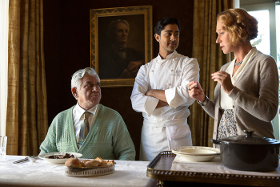 Friday, August 8, 10 a.m.-ish: I'm at The Hundred-Foot Journey, and five minutes into this lighthearted foodie dramedy, I'm already regretting my decision to only have yogurt for breakfast. With director Lasse Hallström's camera slavering over the creation of steaming, succulent pots and grills of Indian cuisine, all of it enhanced by spices and oils whose aromas are practically wafting off the screen, this is not the movie to see if you're hungry. Considering screenwriter Steven Knight's T-shirt-ready dialogue - which features such pithy bromides as "Life has its own flavor," "We cook to make ghosts," and the grammatically vexing "Food is memories" - it's not really the movie to see if your brain is hungry, either.
An entertainment so relentlessly feel-good and "inspirational" that Steven Spielberg and Oprah Winfrey kind of had to be listed as producers, this adaptation of Richard C. Morais' popular novel concerns a widowed Indian restauranteur (Om Puri) who, following some unspecified political oppression, relocates his family to a hilly small town in France. (The clan accidentally winds up there after an auto mishap, which leads to another verbalized bumper sticker: "Brakes break for a reason.") Soon enough, Papa - and his name in the credits is literally "Papa" - has opened an Indian restaurant to the delight of his fledgling-chef son (Manish Dayal) and the derision of the snooty restauranteur across the street (Helen Mirren), who bristles that the ethnic music and scent of curry are ruining her guests' appreciation for her tiny portions of pretentious food.
Can anyone guess what happens next? Can anyone not? As rivalry inevitably leads to détente and romance, and Mirren learns to lighten up and crack a smile, I find my lack of interest in the protracted, formulaic goings-on at least mitigated by the yummy imagery, despite the slow-motion cooking of an omelet rivaling the soft-core baking of Labor Day's pie for the year's most unintentionally hilarious scene. And while not one truly surprising thing happens, or is said, over the movie's two hours, this aggressively pleasant outing at least boasts the sane and spirited Puri; Daval and Charlotte Le Bon making adorable goo-goo eyes at one another; and Helen Mirren, who manages to triumph over her material just by doing little more than a French-accented spin on her Elizabeth II from The Queen. (At one point, while Mirren looks down at Puri from her second-story window, he actually says to her, "You're always up there like a queen!" I was astonished that Mirren's subsequent reaction shot didn't find her winking at the camera.) One of The Hundred-Foot Journey's subplots involves Mirren desperately hoping to get her Michelin-starred restaurant a second star, and when she finally does - and that's hardly a spoiler - the woman breaks down in happy sobs. I'd give her movie two stars, too, but I wouldn't mean it the way the Michelin Guide did.
Noon-ish: Time now for the disaster thriller Into the Storm, and one early scene finds a pair of hillbillies filming reckless stunts for YouTube while a woman screams from her trailer, "What are you two idjits doing?!" By the time I get to its halfway point, I'm reasonably convinced that everyone involved in the movie is an idjit. Director Steven Quale's tale of a small town ravaged by one tornado after another is kind of like a mock-doc take on Twister, but without Helen Hunt, Philip Seymour Hoffman, or even one line, performance, or narrative conceit that doesn't make you want to hide your face in embarrassment. (My favorite bit finds Richard Armitage demanding that a packed high school make immediate getaways in the school buses outside, which they do because, apparently, the keys for all those buses are already in their ignitions.) Yet while the film is silly at best and staggeringly amateurish at worst, the visual and sound effects, I have to say, do kick butt. There are awesomely rendered sequences of tornadoes ripping through a school hallway and a downtown business district, and the monster twister that forms at the climax - one capable of lifting semi trucks and grounded airplanes - delivers a queasy grandeur; a woman sitting near me actually shrieked during one character's storm-related entrapment, and wasn't wrong to do so. While 80 percent of Into the Storm is wretched, the 20 percent that isn't is pretty stunning, and I leave at least thankful for the movie's crap weather, which helps disguise the fact that the rest of the movie is just crap.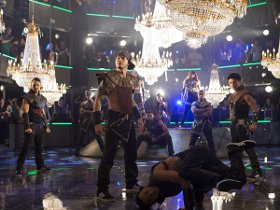 1:35 p.m.-ish: If it's an even-numbered year, it must be time for another sequel to 2006's Step Up, and this year's dance-tastic continuation is titled Step Up: All in. When it comes to this particular franchise, I'm feeling pretty all in, too. (The filmmakers were aware that the subheader of their title can also mean "exhausted," right?) I'm consequently less surprised than stunned that beginning with the opening credits - a fast, clever montage of 2012's Step Up Revolution crew enduring a humiliating audition process - director Trish Sie's outing proves to be such an empty-headed delight. I half-enjoy the goofy, predictable storyline, which finds Revolution's Ryan Guzman leading a new dance team to hopeful victory in a VH1-sponsored contest. (Grand prize: a three-year booking at Caesar's Palace! Grander prize: not having to spend three years booked at Caesar's!) But I really enjoy the many exquisitely choreographed numbers and Sie's blessed decision to film her dancers in long takes that showcase their full bodies; there's very little of the hyper-edited, limbs-a-flailin' incoherence that's been a genre staple since at least Chicago. (The best of these routines, in a sort of nod to Step Up 3D's great "I Won't Dance" pas de deux, finds Guzman and co-star Briana Evigan hoofing to Bobby Brown's "Every Little Step I Take" while on a spinning carnival ride.) And while it's almost painful to watch Guzman attempt to act, he and his many dexterous co-stars are an absolute blast on the dance floor, none more so than series mascot Moose, played again - and with far more screen time than in 2012 - by Adam Sevani. Why is this phenomenally gifted, comically adept Step Up fixture not getting more film roles? Specifically, considering their uncanny resemblance to one another, why has no one yet cast Sandra Bullock and Sevani as mother and son? She could teach him to perform solo in a spacesuit, and he could teach her to ask "Does it always have to end in a big, giant dance battle?" with a straight face!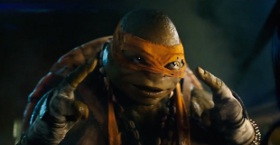 3:45 p.m.-ish: The latest cinematic reboot for the Teenage Mutant Ninja Turtles, titled (just like in 1990) Teenage Mutant Ninja Turtles, opens with voice-over backstory so somber, and comic-book images so portentously grim, that I briefly wondered if the film's director wasn't Jonathan Liebesman, but rather Christopher Nolan. Not long after, however, Michaelangelo farted in his brothers' faces, so my fear was obviously put to rest. The whole movie is actually a weird, desperately confused blend of the ultra-serious and the halfheartedly comic, and even the "funny" acts of violence - as when one of the turtles punches a woman and she flies 10 feet into a concrete wall - occasionally feel hatefully brutal. (Most of the truly depressing violence, though, is perpetrated by lead Megan Fox, who murders every laugh line she's given.) Considering that I completely missed the boat on the Ninja Turtles craze from its '80s heyday onward, I had a reasonably good time at 2007's TMNT. But I find this effort, which looks like all effort, just a clunky, boring, badly photographed kiddie movie with scattershot elements of actual mirth. The turtles' zippy slide down a mountain is one of them. Will Arnett is another. And I really must thank whoever was responsible for the casting of William Fichtner as Eric Sacks, who's introduced as "the NYPD's top benefactor." Given that title, and the fact that it's Fichtner in the role, could this guy possibly be anything beyond pure evil? Parents may not find much educational value in Teenage Mutant Ninja Turtles, but I guess it's never too early to inform kids about clichés.
5:40-ish: I take stock of the day and realize that my favorite from the quadruple feature, by a wide margin, was the fourth sequel to Step Up. Dog days, indeed.