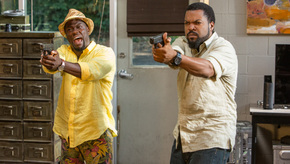 RIDE ALONG 2
It's impossible not to notice that for roughly 75 percent of Ride Along 2, even when he's indoors, Ice Cube is wearing dark sunglasses. I'm reasonably sure it's because he was asleep. What other excuse could there be for Cube, as one of this action comedy's producers, allowing the witless slapstick of Kevin Hart being accosted by a CGI alligator? Or the moment in which a recently shot man sits up, and panicky Hart is convinced he's a zombie? Or the interminable foot chase in Miami underscored by (wait for it ... ) Miami Sound Machine's "Conga"? I mean, really – "Conga"? Still?! It's been more than 30 years since that single was released! I'm not laying all the blame for the song's clichéd inclusion at Cube's feet, but surely the rap legend could've put one of those feet down with a practiced "Aw, hell no!" and demanded wittier musical accompaniment.
In this outing, Ride Along's Atlanta-based odd couple – Cube a glowering detective, Hart a jumpy beat cop and Cube's brother-in-law-to-be – plans to bust a Miami crime lord (Benjamin Bratt) whom the locals consider "a legitimate businessman." (We know Bratt's evil, however, because a photo op finds him making a charitable donation of $50,000 holding an oversize check, and no one holding an oversize check in a movie has ever been on the up-and-up.) Chaos and hilarity ensue, but only if "chaos" refers to director Tim Story's inability to stage even one unanticipated or sensible scene, and "hilarity" refers to the stars playing the exact comic stereotypes expected, only with less edge than Cube did in the Jump Streets and Hart did before he became really famous. Who could begrudge Ice Cube, or anyone, for napping through this?
I briefly perked up when Hart, with an amusing dialect and reedy low voice, impersonated an African ambassador, just as I did when I saw co-star Olivia Munn's name in the opening credits ... before remembering that Olivia Wilde is the funny, dark-haired beauty I really like. (Munn is fine, yet whenever I see her, I figure it's because first choice Wilde passed on the script.) But unless you'd instinctively cackle at Hart eating discarded nachos from a public garbage can, or the man miraculously finding a way to get smacked in the face by a rotating ceiling fan, Ride Along 2 is a time-waster in the worst sense, with even Sherri Shepherd's sass, Bruce McGill's professionalism, and Bratt's suave menace offering little solace. The only truly surprising thing about the film is that Bratt, of all people, proves the most empathetic one, considering that, toward the end, he grabs the neck of Ken Jeong's endlessly insufferable computer wonk and hisses, "You've been a real nuisance." Finally, somebody said it.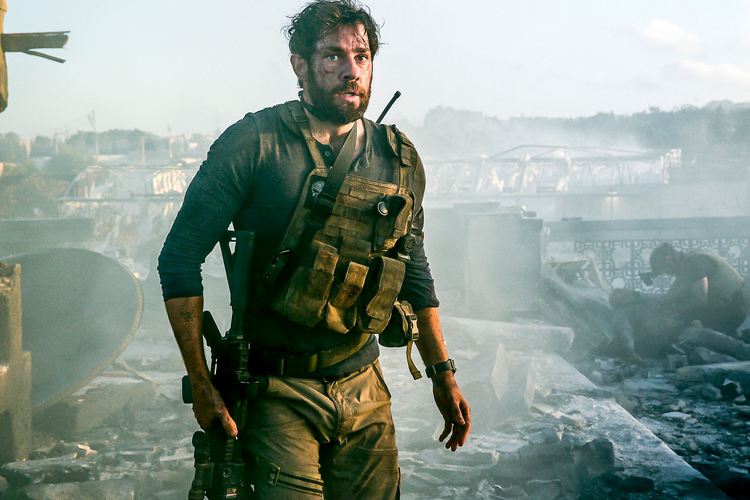 13 HOURS: THE SECRET SOLDIERS OF BENGHAZI
The title of Michael Bay's latest appears on-screen as 13 Hours (not the IMDb-approved 13 Hours: The Secret Soldiers of Benghazi), and knowing his leanings toward unduly protracted running lengths, it felt like some unholy blend of threat and promise, suggesting a film that would last precisely as long as most of his offerings feel. Yet I'm delighted, and rather shocked, to say that the 144 minutes of Bay's dramatic thriller based on true events didn't bore me in the least. I'll go even further: 13 Hours is, hands down, the most gripping, emotionally engaging, universally well-acted movie of Bay's career. It's still a Michael Bay movie, which makes that only moderate praise; 13 Hours is unfortunately replete with the macho posturing, frequently leaden dialogue, and jingoistic obviousness of 2001's Pearl Harbor. (There's even a direct visual steal from that film, when we follow the downward trajectory of an explosive just as it's about to do narrative-shaking damage.) Here, though, Bay's most remedial and pandering instincts are tempered by historical specificity and a welcome seriousness of intent. You can feel the producer/director really wanting to do justice to his subject and its participants here, and for the most part, he absolutely does.
13 Hours details Libyan forces' September 11, 2012, siege on an American compound, and follows the activities of the six men contracted to ensure the safety of those on the diplomatic mission. If you're Bay-familiar, you know what to expect: gunfire, explosions, lucky escapes, tragic loss, blood, sweat, tears, and most likely a climactic shot of the American flag. He doesn't disappoint. He's also never before filmed these obligations with such immediacy and alacrity; if Bay's typical over-employment of a typically overwrought score (by Lorne Balfe) weren't an issue, there would be numerous wartime sequences here nearly on a par with The Hurt Locker's. And while topnotch performers oftentimes show up in Bay projects, they've never been allowed to give such honest, deeply felt portrayals as the ones given by 13 Hours' James Badge Dale, Pablo Schreiber, David Costabile, and John Krasinski – the latter, buff and intimidating, finally shaking off the endearing shackles of The Office's Jim Halpert. David Denman, who played Krasinski's romantic rival Roy on that sitcom, is also excellent here, and when I first saw 13 Hours' preview, I immediately planned my eventual "But this time they're not fighting over Pam!" joke. Given how impressed I am by Bay's movie, the joke is now mirthless. I hate Bay for that. I kind of love him for that, too.
Follow Mike on Twitter at Twitter.com/MikeSchulzNow.