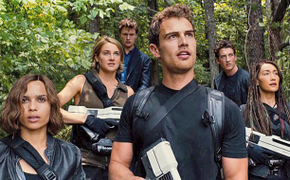 ALLEGIANT
Over the past seven months, YA-lit adaptations have arrived in the forms of Maze Runner: The Scorch Trials, The Hunger Games: Mockingjay – Part 2, The 5th Wave, and now Allegiant, the first part of the second sequel (yeah, I know ...) to 2014's teen-dystopia thriller Divergent. And in each one of these releases, we're taken to a hidden facility where our heroic youths are trained in combat and wartime procedures, sleep in bunk beds, eat in mess halls, and don nearly identical outfits designed, one presumes, to give them a collective sense of unity, purpose, and pride.
For adolescent readers feeling suffocated by a society that's presumably determined to quash their freedom and individuality, it's easy to see why a militaristic life is so frequently the metaphor of choice for novelists including the Divergent franchise's Veronica Roth: What, to your average teen, could be more oppressive or insulting than being forced, night and day, to wear the exact same things your friends are wearing? But I didn't think about that while watching director Robert Schwentke's Allegiant. Instead, I thought about the same thing I thought about during the second Maze Runner and fourth Hunger Games and first (and hopefully last) 5th Wave: Who's responsible for making all those matching leather ensembles and body-hugging jumpsuits and fitted tees? Do the compounds in these films also feature on-site Old Navys and Dick's Sporting Goods? Are there underground sweatshops in which youths less attractive than Shailene Woodley and Theo James are made to toil? Were the outfits ordered and shipped in from Korea pre-apocalypse, y'know, just in case?
These are, admittedly, distracting and dopey questions. But seriously: In this deathly unmotivated follow-up to 2015's Insurgent, what else was there to think about? If you're new to the Divergent series, there's really no point in getting caught up now, and certainly Schwentke and his trio of screenwriters don't appear interested in amassing new fans. Much of the introductory voice-over exposition is rendered incomprehensible by the thunderously loud sound effects, and we're plunged into the narrative with no semblance of "Previously on ..." catch-up, even though, for casual viewers such as myself, at least a little would've helped. (It's easy to imagine at least a few patrons confused as to why Ansel Elgort is in handcuffs, or who the unseen yet oft-referenced Jeanine is, or why Naomi Watts is a brunette.) But for those of you unfamiliar with this opus set in a futuristic, fascistic Chicago, I'm happy to nutshell Allegiant's storyline, which finds a group of youths managing to travel from the Loop to O'Hare Airport and back again in a little over two hours. So it's just like real life, albeit with more sci-fi hardware and slightly less gridlock.
Unfortunately, the intensely boring performances of action hotties Woodley and James do suggest portrayals given under the duress of stifling traffic, though it's hard to blame them for their lethargy. Does any blockbuster-minded mini-genre engender more ennui than the now-obligatory first film a series' two-part climax? (Franchise closer Ascendant will be foisted on us a year from now.) This one boasts genetic engineering, toxic red rain, pissed-off factions, heavy gunfire, children forcibly separated from their parents, a memory-erasing vapor, Jeff Daniels as a smug corporate bastard, and Miles Teller dropping endless wisecracks, and it's still a snooze. Barring Watts, who provides more admirable intensity than the movie deserves, everyone on- and off-screen appears to be working on autopilot; even the chintzy visual effects looks like placeholders for the far better effects being saved for 2017. Numerous conversations here involve which of the citizenry are considered "pure" and which "damaged," and how it's hard to immediately identify which are which. "Pure" may indeed be a tough one, but one peek at Allegiant is enough to suggest what "damaged" looks like.
Follow Mike on Twitter at Twitter.com/MikeSchulzNow.