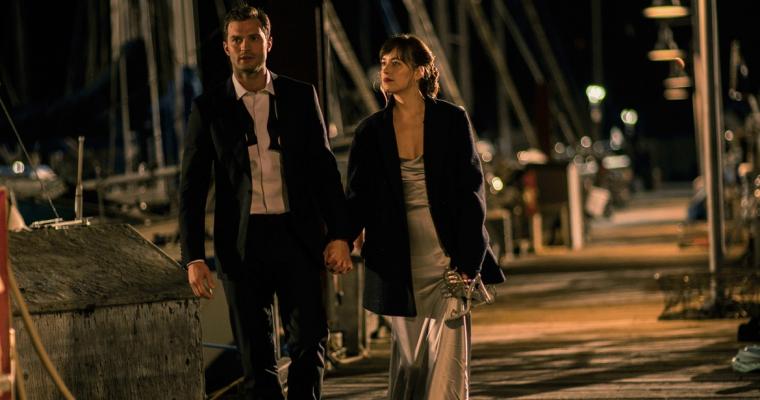 Brand-happy though Hollywood is, it's still rare when three high-profile franchise extenders all debut on the same weekend. Personally speaking, it's even rarer when all three are follow-ups to movies I liked. (One of which, to be accurate, I only kinda liked.)
In order of viewing during one of the more familiar triple features I've yet experienced ... .
FIFTY SHADES DARKER
Its title tells us this is the sequel to Fifty Shades of Grey, the 2015 adaptation of E.L. James' literary potboiler that cast Dakota Johnson and Jamie Dornan as the Catherine and Heathcliff of one-percenter bondage rituals. Its title is also completely misleading, because director James Foley's continuation is nothing if not lighter than its predecessor, both in overall mood and in terms of anything of weight actually happening. There's certainly a lot of incident: a predatory boss making threatening advances; a damaged stalker with an apparent key to the city; a wholly meaningless helicopter crash. But for nearly two hours, to use the characters' parlance, it's really just about Johnson's Anastasia Steele "renegotiating" her complicated S&M relationship with Dornan's über-wealthy Christian Grey – and that proves to be just enough to result in, as before, a pretty-good time.
Dornan again makes for an off-handedly charismatic, unexpectedly approachable Christian, and I can't imagine how badly this series might have fared without Johnson, whose charm, spontaneity, and humor are indispensable here; the performer's unfailingly honest readings and superb listening skills make even the script's stupidest lines sound borderline-sensible. (That also goes for the plagiarized lines, as one scene between Anastasia and a co-worker features a literal word-for-word steal from the finale of Working Girl.) The true key to the movie's semi-success, however, isn't that it's our era's answer to Last Tango in Paris, but rather Dynasty. Fifty Shades Darker is nothing more or less than an unashamedly trashy nighttime soap opera in which the camera – and, I'd argue, the audience – is less aroused by the sex than the unspeakable luxury, and as inarguably silly as the film is, it's rife with juicy, catty pleasures. At one point, Kim Basinger's vixen not only gets a drink thrown in her face à la Alexis Colby and Krystle Carrington, but gets her face slapped immediately after – by a different woman! If it wasn't going to be a year 'til the third installment, I'd totally tune in next week.
JOHN WICK: CHAPTER 2
Considering that 2014's John Wick is one of the decade's truly great action flicks, and perhaps the decade's greatest action-flick surprise, I was hugely psyched for director Chad Stahelski's John Wick: Chapter 2, largely because the original's $42-million domestic gross didn't suggest there'd be a second chapter. (Had I known earlier, I would've purchased stock in tailored black-on-black suits and squib explosives.) So maybe I should've entered with lower expectations, because I found much of JW:C2 a snooze – a film of beautifully choreographed shootouts and hand-to-knife combat too frequently interrupted by conversational pauses that felt longer than most movie previews. While I never thought I'd write this, Keanu Reeves may also, for once, be over-thinking his role, as even Wick's throwaway retorts are delivered (after a pause) with a scrunched expression that I think is meant to imply inner turmoil, but instead suggests Reeves mentally translating his dialogue into English from a teleprompter's Sanskrit.
Still, a few scenes are legitimately spectacular; I loved Wick's battle with an unkillable Sumo-sized assailant and the subway-terminal gunfight involving silencers, with the passers-by not noticing the bullets whizzing past them. While the plot is little more than "Wick comes out of retirement again," there are loads of engaging details (especially the old-timey telephone-operator system) and supporting figures, with the topnotch cast including Ian McShane, Lance Reddick, Peter Serafinowicz, a silent Ruby Rose, and Reeves' Matrix co-star Laurence Fishburne, who delivers as close to a Samuel L. Jackson performance as we're likely to get from him. And with the final 20 minutes echoing both Touch of Evil and Angels in America, the movie is nothing if not ambitious. Hopefully, though, chapter three will give us a Wick that doesn't so routinely lose its fire.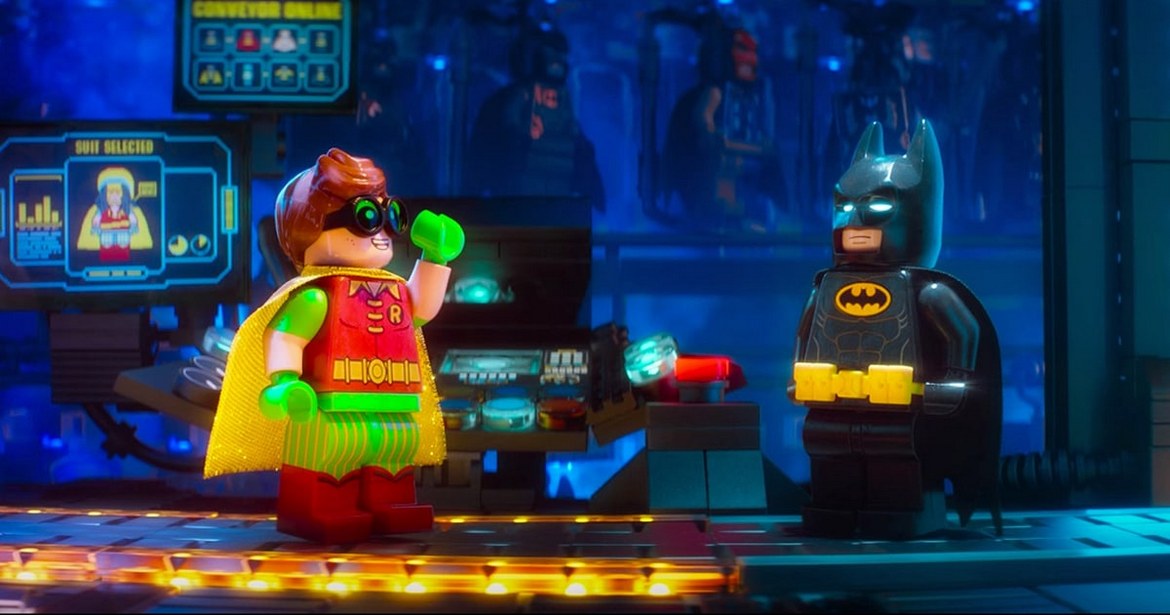 THE LEGO BATMAN MOVIE
So as not to bury the lede, let me state that The Lego Batman Movie is, for the most part, a lot of fun. Returning to his film-stealing role from 2014's The Lego Movie, Will Arnett is a consistent riot as a relentlessly self-aggrandizing Dark Knight, and director Chris McKay and his quintet of screenwriters make frequently marvelous comedic hay out of 78 years of superhero mythology. (The Justice League cameo and Robin's transition into Nightwing are handled with particular deftness.) The jokes fly fast and furious; the vocal talents led by Ralph Fiennes, Rosario Dawson, and Arnett's Arrested Development nephew Michael Cera are winning; the references are dizzying and oftentimes delightfully obscure (The Condiment King? Must Love Dogs?). Yet for too much of its length, this parody of comic-book blockbusters proves inseparable from the genuine article, with the action set pieces, even the satiric ones, as boring as they generally are in any number of Marvel and DC efforts, and the effects lacking the colored-block tactility that made the original so novel and visually arresting. I'd have happily traded all of the film's action-packed Bat-mania for just a few more simple, hysterical scenes of our antihero microwaving lobster thermidor or cackling at the romantic conclusion to Jerry Maguire. But with The Lego Ninjago Movie due in mere months, don't expect this toy-commercial-in-franchise-form to get subtler any time soon.