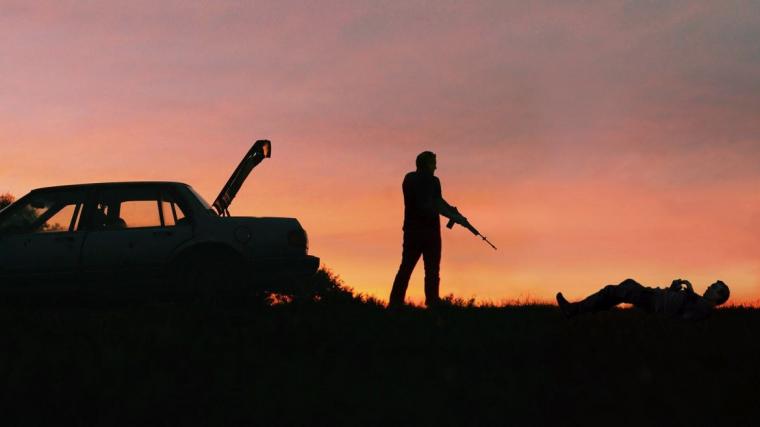 Thursday, April 19, 7:15 p.m.
Figge Art Museum, 225 West Second Street, Davenport IA
A mysterious outsider's quiet life is turned upside down in the Figge Art Museum's April 19 screening of the lauded 2013 revenge thriller Blue Ruin, the latest Cinema at the Figge presentation by Ford Photography, and a work that made the top-10 lists of publications ranging from the Austin Chronicle to The A.V. Club to Las Vegas Weekly.
Wrtitten and directed by Jeremy Saulnier and a nominee for the Independent Spirit Awards' esteemed John Cassavetes Award, Blue Ruin concerns Dwight Evans, a vagrant living out of his car and scavenging for food and money. A policewoman tells him that Wade Cleland – the man who murdered Dwight's parents – is to be released from prison, which leads to Dwight returning to his Virginia hometown and watching as Wade's own parents pick him up from prison. Despite a failed attempt to steal a gun, Dwight follows Wade to a club restroom and, after a fight, fatally stabs him. Dwight then visits his sister Sam for the first time in years, and after telling her that he has killed Wade, Sam is shocked but relieved. But when the killing goes unreported on the news, Dwight correctly surmises that the Clelands have decided to seek revenge without police involvement, leading to a nightmare scenario for everyone involved.
Financed with help from a successful Kickstarter campaign that MTV.com called "the perfect example of what crowdfunding can accomplish," Blue Ruin premiered at the 2013 Cannes Film Festival as part of the May 17 Directors' Fortnight presentation. It went on to receive the International Federation of Film Critics' FIPRESCI Award for enterprising filmmaking at Cannes, and was the beneficiary of numerous raves upon its national release the following spring. Currently sitting with a 96-percent "freshness rating" on Rotten Tomatoes, Saulnier's film was called "more artful and evocative than any recent revenge picture" by New York Magazine, while Empire deemed it "a lean, tough, thoughtful thriller with depth."
The 7:15 p.m. screening of Blue Ruin will be preceded by a 5 p.m. social hour with appetizers provided by the Figge, craft beer provided by WAKE Brewing, and a DJ set by Just Let Go's Ben Crabb, and a 6 p.m. short-film presentation. Donations are appreciated for the free event, and for more information on Cinema at the Figge, call (563)326-7832 or visit FiggeArtMuseum.com or Facebook.com/figgecinema.