THE GREATEST SHOWMAN
Most tedious bio-pics would benefit from choice musical numbers, and that's exactly what we're given in The Greatest Showman – a mostly tepid, obvious, predictable biography occasionally enlivened by spirit-lifting show tunes. I've seen other movie musicals, among them Tim Burton's Sweeney Todd and that unfortunate Phantom of the Opera with Gerard Butler, that have appeared rather embarrassed by their genre. But director Michael Gracey's P.T. Barnum tale is a rarer thing, because for long stretches, it almost seems to forget it's a musical. When it remembers, it's pretty great, yet you can easily imagine star Hugh Jackman standing just off-screen, poking Gracey with a stick and asking, "Uh, Mike – how about a song and dance now?"
Few film stars ever look as happy as Jackman does when crooning and hoofing on award shows, or as he did playing Curley in that recorded-for-posterity production of Oklahoma! And when he's allowed to be that same sort of explosive musical-theatre charm bomb in The Greatest Showman, Jackman's enthusiasm is so infectious, and his talent so overwhelming, that for those few minutes, you can't imagine wanting to be anywhere else on Earth. (Clearly, there's no place he'd rather be.) Unfortunately, though, Jenny Bicks' and Bill Condon' script remains all-too-often earthbound.
Telling of Barnum's rise from impoverished youth to circus impresario, the movie follows a traditional rags-to-riches arc with all the time-saving montages and expected narrative beats in place, and most of it calls for Jackman to deliver a prototypical flawed-hero performance. He does so with customary sincerity and charisma. He also looks ready to burst into song at a moment's notice, and the frustration of Gracey's film is that it so infrequently lets him, preferring to focus more on Barnum's personal, financial, and domestic crises than on his fervent, relentless salesmanship. Why cast Hugh Jackman in a P.T. Barnum musical – an almost comically perfect match of performer and subject – if he's not going to spend more time in shameless-huckster mode?
The overall blandness is echoed in the predominantly dull performances of Michelle Williams (as Barnum's wife Charity), Zac Efron (as future partner Phillip Carlyle), and Rebecca Ferguson (as opera diva Jenny Lind, here presented as an entitled, potentially adulterous social-climber). Sadly, it's also evident in the movie's presentation of its "human oddities," with almost zero backstory given to fascinating figures such as bearded lady Letti Lutz (Keala Settle), trapeze artist Anne Wheeler (Zendaya), and dwarf Tom Thumb (Sam Humphrey), the latter of whom went on to be one of Barnum & Bailey's chief attractions. Late in the film, Lutz thanks Barnum for pulling her and her fellow performers "out of the shadows." But The Greatest Showman, for too much of its length, keeps them strategically and uncomfortably in the shadows; it becomes hard not to notice that for all of the circus stars' various shapes, sizes, ethnicities, and personalities, this is still, at heart, a story about the problems of a bunch of people who aren't the "oddities" the movie is purportedly celebrating.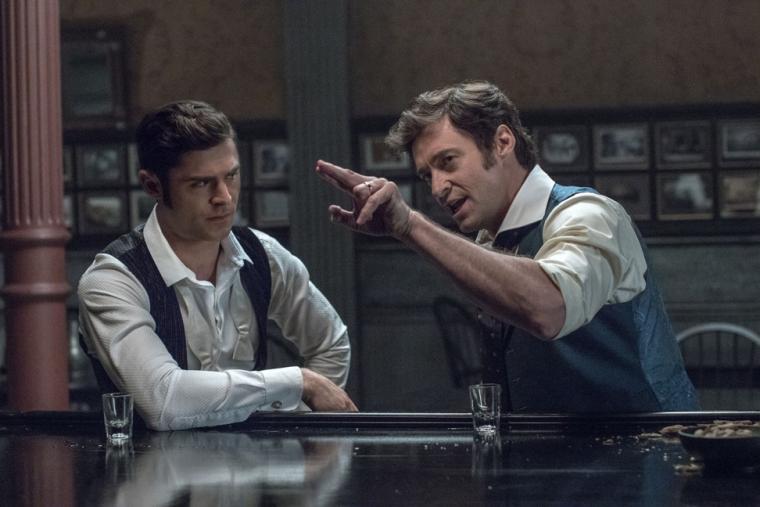 Yet all of the movie's problems, and ours, too, seem to miraculously vanish whenever Gracey and company deliver a true musical show-stopper. For most of her screen time, Williams doesn't appear terribly interested in her obligatory bio-pic role as the lead's dutiful yet concerned spouse. (Who could blame her?) But when she and Jackman, in the first months of their characters' romance, sing and spin on a New York rooftop, Williams radiates a transcendent joy, both of them clearly relishing the chance to play much younger than they actually are. Unless he's allowed to be really funny on-screen, which he isn't here, Efron generally seems like a competent yet uninspired placeholder for a far more animated actor. He absolutely comes to life, though, when partnering Jackman in a sharply choreographed tavern duet that's all crisp movements and shot-glass trickery, like a two-man version of Channing Tatum's sublime sailor routine in Hail, Caesar! Efron's trapèze de deus with Zendaya, meanwhile, with sandbags falling and lovers ascending, is utterly gorgeous, as are the vocals of Loren Allred, the artist whom Ferguson lip-synchs to on the soaring pop ballad "Never Enough." While it's pretty evident that it's not actually Ferguson singing, the actress mimes the song's technique – and the emotion behind it – with such thrilling precision that you really don't care.
And then there are the ensemble numbers "The Greatest Show" and "This Is Me," which are almost enough to make the entire 105-minute experience of the film worthwhile. The first, thankfully, is also the movie's opener, which treats us to Jackman's radiant happiness, our first glimpses at the delightful storybook quality of the production and costume design, and, best of all, Gracey's decision to routinely keep his performers' entire bodies in frame. Although snappily edited, the choreographed routines never turns into whirlwinds of disconnected limbs the way they frequently did in, say, Chicago or Moulin Rouge!, and you can sense the delight that Jackman and his co-stars are taking in their synchronized movements.
It's a delight that's even more evident in "This Is Me," which begins as a deserved showcase for the spectacularly soulful vocals of Settle (a 2013 Tony Award nominee for Hands on a Hardbody) and turns into an exhilarating celebration of both individuality and community, like Lady Gaga's "Born This Way" morphed with the "Freak Flag" anthem from Shrek the Musical. All of The Greatest Showman's musical numbers were composed by the prolific duo of Benj Pasek and Justin Paul, who won Oscars for La La Land and Tonys for Dear Evan Hansen. Gracey's occasionally ambitious, largely underwhelming offering may not increase their statuette tally (although an Oscar nod for "This Is Me" seems guaranteed), but every once in a while, their talents, and how the filmmakers and performers celebrate them, briefly convince you that you're indeed witnessing the greatest show on Earth.
JUMANJI: WELCOME TO THE JUNGLE
Yet another example of that gray area between sequel and reboot when aging intellectual property is dusted off and repackaged for 21st Century consumption, Jumanji: Welcome to the Jungle is like the bike you wanted for Christmas perfectly wrapped and standing beside the tree: It may be hidden under colorful paper and ribbons and a bow, but come on – you know exactly what's inside.
Similarly, fans of 1995's Jumanji, along with anyone who's seen the new film's trailers, will know just what to expect here, with the original adventure-comedy high jinks "upgraded" by trading the old board game for a video game, and Robin Williams and company for teen players who transform into video-game avatars bearing striking resemblances to Dwayne Johnson, Kevin Hart, Jack Black, and Karen Gillan. (The latter is nowhere near as recognizable as her co-stars, but Gillan plays the blue-skinned Nebula in the Guardians of the Galaxy movies, and briefly stole the show, poolside, as a financial whiz in The Big Short.) As this awkward, jungle-tossed foursome attempts to replace a precious jewel, end a curse, and evade dangerous beasts, motorcycle-riding hellions, and Bobby Cannavale, director Jake Kasdan provides all the blithely family-friendly threats, zingers, and sentiment you'd anticipate. He also provides a shocking amount of legitimate fun.
What proves to be the most fun is that avatar angle, particularly in regard to Johnson's portrayal, because the performer constantly keeps you aware of the scared, nerdy kid trapped in the former Rock's magnificently buff frame. Johnson is actually really something here. He's wonderful with fringe business, such as his inability to stop rubbing his bald head in search of hair. But Johnson also smartly rids himself of his usual screen confidence; even his reading of the word "kinda" is delivered with supreme, and supremely appropriate, self-consciousness and panic. Johnson, giving a deeply felt performance in a role he could've easily glided through, is more than funny – he's touching, leaving the more outsize comic gambits to Black (enacting entitled-teen-girl to the hilarious hilt), Gillan (riotous as a wallflower trying to be Lara Croft), and Hart (playing a high-school football star, but really, just doing what he always does).
It's all a bit flavorless in the holiday-comedy fashion of the Night at the Museum films. But Jumanji: Welcome to the Jungle's narrative is solid and occasionally inspired, and the comedians are strong, and it's filled with winningly silly bits that will likely have charming repeat value. Black teaching Gillan how to flirt is pretty awesome, as is Johnson's astonishment at his fantasy-figure musculature and Hart's comic anguish at his relative diminishment. And I both laughed out loud and silently cheered when Black, feeling newly empowered, said, "Ever since I lost my phone, my other senses have heightened." Good for him/her! Most adults I know would just cry.